Biden Confirmations, Stimulus Package Top Priorities for Democrats As Senate Awaits Trump Trial
Former President Donald Trump will face his second trial in the Senate, but with a new administration looking to get to work on its agenda, Democrats also need to prioritize getting President Joe Biden's nominations confirmed and moving his $1.9 trillion COVID relief plan through Congress.
The new coronavirus pandemic is at the top of Biden's priority list and within 24 hours of taking office, he signed multiple executive orders that targeted the outbreak. Biden could meet with congressional leaders as soon as today to discuss his plan for the next round of stimulus and Speaker Nancy Pelosi plans to bring the legislation to the floor when the House returns in February.
Majority Whip Dick Durbin told CNN's Newsroom on Friday Biden's COVID relief package is "really important," in part because of the money he's allocated for the logistics of administering vaccines.
"We can have the best vaccine in the world but it doesn't mean anything if we can't get it into the arms of Americans," Durbin said.
As of Thursday morning, 17.5 million doses had been administered nationwide, half of the Trump administration's goal to have 35 million people vaccinated. With two new strains of the new coronavirus circulating around the world, including one from South Africa that could diminish the efficacy of the vaccine, Dr. Anthony Fauci, director of the National Institute of Allergy and Infectious Diseases, said on Thursday it's more important than ever for people to get vaccinated.
"Viruses don't mutate unless they replicate and if you can suppress that you can actually avoid the diminutive effect by the mutations," Fauci said.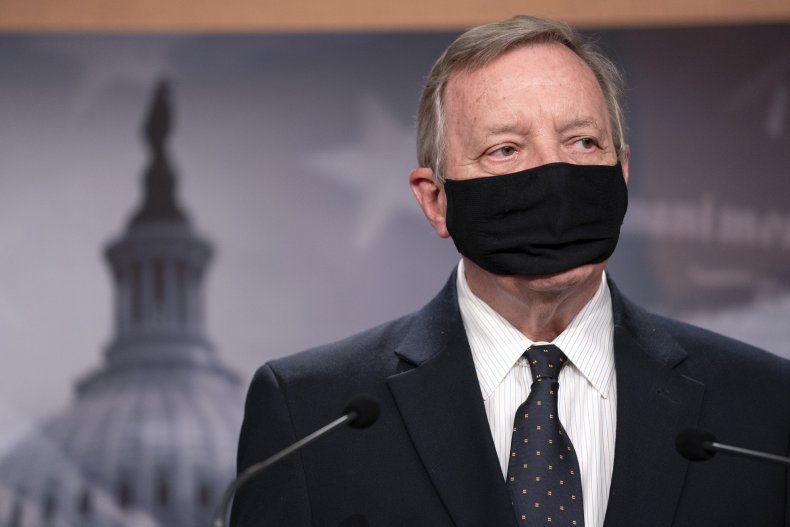 Biden's goal to administer 100 million doses of the vaccine in 100 days is ambitious but doable, according to Fauci. The administration plans to launch a "full-scale, wartime effort" to increase vaccinations, but even with a ramped-up plan, it still could take months for America to reach the herd immunity necessary to return to a semblance of normalcy.
Even ahead of COVID-19 relief in terms of the priority list for Democrats is confirming Biden's picks for his cabinet and other administration positions.
"I can tell you the priority of course is to make sure the Biden admin has their team in place," Durbin told CNN's Newsroom. "I think that is the first priority."
An attempt to strike a bipartisan deal for COVID-19 relief or confirm Biden's nomination will come amid a backdrop of Trump's looming Senate trial. Trump was impeached for a historic second time with just a week left of his presidency and now it's on Senate Majority Leader Chuck Schumer to bring him to trial in the Senate.
Schumer was open to reviewing a request from Senate Minority Leader Mitch McConnell to delay the trial two weeks so Trump's team can prepare. However, on Friday, he said he expects to receive the article of impeachment from the House on Monday and defended the decision to move forward with the trial, saying it makes "no sense" that Trump could commit "a heinous crime" against the United States and avoid a vote that could bar him from holding public office again.
The "first-order" of business, however, should be the confirmation process for Biden's nominees, according to Schumer.
Democrats don't need Republican support to confirm Biden's nominees because in a 50-50 split, Vice President Kamala Harris will cast the deciding vote. However, starting Biden's administration out on a heavily partisan foot doesn't bode well for future negotiations and Democrats need Republicans on board to pass Biden's COVID-19 relief plan.
With Congress needing to tackle multiple areas at once, it's likely that all three issues—Trump's trial, COVID-19 relief and confirming Biden's nominees—will become politically intertwined.