Biden Corruption and the Thursday Debate | Opinion
One of the great tests of the American system is going to occur Thursday night.
The Biden Election Commission (formerly known as the Commission on Presidential Debates) is going to try to rig the debate against President Trump.
Without consultation, the pro-Biden establishment changed the topics for the debate and set up a new rule for muting microphones.
The pro-Biden commission selected as the supposedly neutral moderator NBC reporter Kristen Welker, who was a registered Democrat in 2012 and then changed to unaffiliated in 2016.
The topics imposed by the Biden Election Commission were designed to be anti-Trump—and in several cases have already been covered in the first debate.
However, despite all this, the debate Thursday night might turn into something the commission never expected.
What if Welker decided to behave as a professional reporter rather than a Democratic propagandist?
The biggest story that is emerging—despite every effort to censor it by the propaganda media and big internet companies—is the growing evidence of Biden family corruption, which was built on selling access to the vice president to the tune of millions of dollars.
The Biden corruption story began to be exposed when Sens. Ron Johnson and Chuck Grassley released a report: "Hunter Biden, Burisma, and Corruption: The Impact on US Government Policy and Related Concerns." The 87-page report details an amazing scale of selling influence in Ukraine, Russia, China and Kazakhstan. There are other reports indicating Romania and Oman may also have been opportunities for Biden corruption.
The left-wing media downplayed the Senate report on the grounds it did not prove criminal behavior. (If only the media had treated the Steele Dossier, the Comey notes, the Mueller investigation and every other anonymous leak condemning President Trump with this kind of caution.)
Then, the Hunter Biden computer became public and indicated a lot of influence peddling—and direct involvement by Joe Biden (referred to as "the big guy").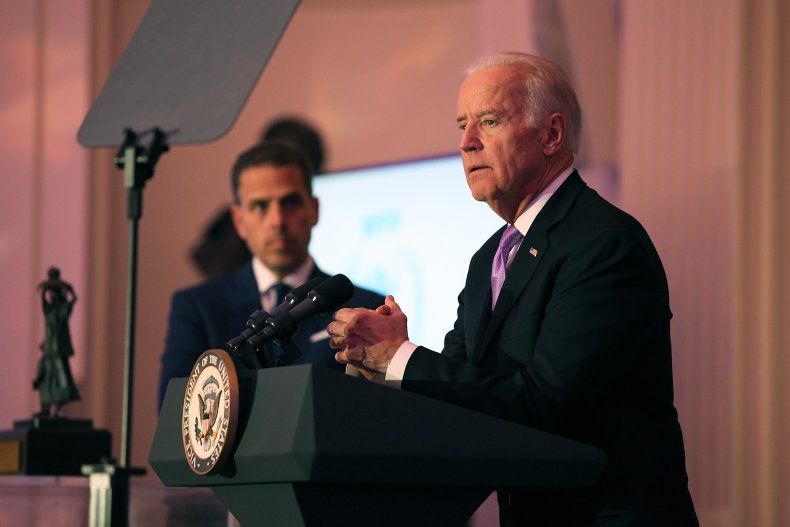 The left-wing media promptly claimed this was Russian interference, without any evidence, even though the Director of National Intelligence said it was not, and the FBI confirmed.
As the Wall Street Journal editorial board noted:
According to the emails, both Bidens were in line in 2017 to benefit from a deal with [Chinese energy titan] CEFC. One email appears to identify Hunter Biden as "Chair/Vice Chair depending on agreement with CEFC." It also refers to financial payments in terms of "20" for "H" and "10 held by H for the big guy?"

Fox News says it has confirmed the veracity of the email with one of its recipients and that sources say the "big guy" is Joe Biden. An August 2017 email from "Robert Biden" (Hunter's legal first name) crows that the original deal was for $10 million a year in fees, but that it had since become "much more interesting to me and my family" because it included a share of "the equity and profits."
The New York Post's detailed coverage of the massive number of pictures and messages from the computer was promptly censored by Twitter (which is still censoring the newspaper). Now we have learned that Facebook has a half dozen Chinese nationals working as online censorship experts in Seattle to perfect the tech company's ability to give Mark Zuckerberg the information control power Xi Jinping has in China.
Since the New York Post story broke, we have had a business partner of Hunter Biden testify that the Bidens were explicitly trading on access to Vice President Biden and saw him as an open checkbook for their enrichment.
Another eyewitness has emerged. Bevan Cooney, according to Peter Schweizer, has 26,000 emails and attachments in which "Biden's associates described capital flowing from "China>USA" and "Former CCP [Chinese Communist Party] USA."
The University of Pennsylvania, which has a Biden Institute, has reportedly received $70 million from donors in the communist Chinese dictatorship and refuses to open its books to reveal how much went to the Biden family. It is conceivable that while he was out of office, Joe Biden was in effect being paid by the Chinese communists, but no reporter has tried to find out.
There are more witnesses coming out and more documents about to be released.
We have a scandal involving Vice President Joe Biden, his brothers and his son dealing with China, Russia, Ukraine, Romania, Kazakhstan, Oman and possibly other foreign influence buyers.
This Biden corruption scandal seems to involve hundreds of millions of dollars.
What if Welker's journalistic training overcame her left-wing leanings and she actually "followed the money," to quote the Watergate film All The President's Men?
I am going to watch Thursday night to see if there is any serious journalism left at NBC.
Welker, it is up to you.
To read, hear, and watch more of Newt's commentary, visit Gingrich360.com.
The views expressed in this article are the writer's own.