Former Vice President Joe Biden could beat Donald Trump in six key swing states that went to the president in 2016, the latest polls show.
According to survey averages from Real Clear Politics, Biden is ahead of Trump in half a dozen states critical to the Electoral College map this November: Arizona, Florida, Michigan, North Carolina, Pennsylvania and Wisconsin.
While Trump took all six in 2016, his trio of victories in the "blue wall" of the Midwest—Michigan, Pennsylvania and Wisconsin—were won by the slimmest of margins. Right now, the closest race is in Florida, which is one of the biggest prizes of the 2020 race, with 29 electoral votes up for grabs. Polling averages show Biden and Trump separated by just 0.4 percent.
The Sunshine State went for Barack Obama in both of his White House runs but flipped for Trump in 2016. The president edged out Hillary Clinton by just over 1 percentage point. In 2018, Republicans continued their hot streak by just barely edging out Democrats in extremely close congressional and gubernatorial races.
Biden's biggest lead over Trump in these battleground states is in Michigan. Polling averages show the former vice president ahead by roughly 4.4 percentage points. Trump's victory in Michigan in 2016 was his slimmest of the entire election, as he defeated Clinton by just 10,000 votes.
In the remaining four states—Arizona, North Carolina, Pennsylvania and Wisconsin—Biden is ahead of Trump by roughly 3 percentage points.
Real Clear Politics also shows Biden besting Trump in the general election. National polling averages find Biden ahead by roughly 6 percentage points. The latest survey from Fox News showed the two candidates tied.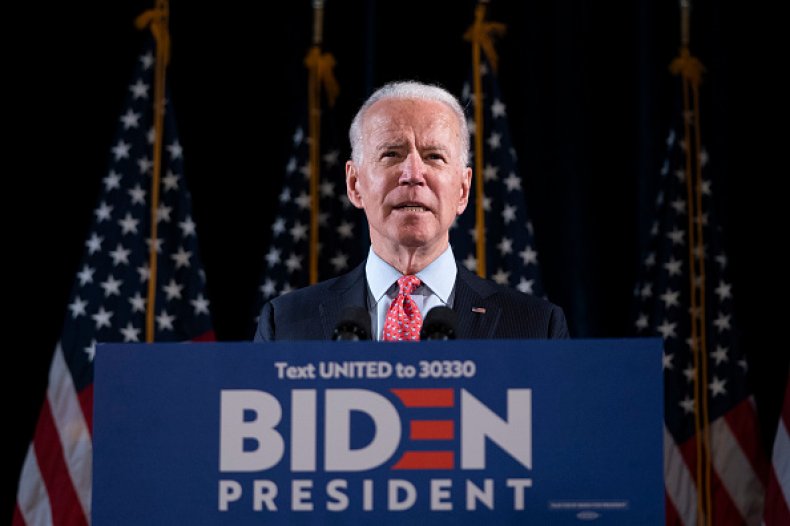 Biden became the presumptive Democratic nominee after Vermont Senator Bernie Sanders dropped out of the race on April 8. At the time of his departure, Sanders was down by roughly 300 delegates. In his exit speech, the senator said he couldn't "in good conscience continue to mount a campaign that cannot win."
A week later, Sanders officially endorsed Biden. In his announcement, the senator urged Democrats to unify to defeat "the most dangerous president in the modern history of this country."
"Today I am asking all Americans—I'm asking every Democrat, I'm asking every independent, I'm asking a lot of Republicans—to come together in this campaign to support your candidacy, which I endorse," Sanders told Biden via live stream.
Biden said he was "deeply grateful" for the support and added that he needed Sanders not just to win but to govern if he is elected in November.
"You've put the interests of this nation and the need to beat Donald Trump above all else. As you say, ''Not me, us,'" Biden said.