Biden's COVID Mandate Rule: Which Health Workers Are Affected?
The U.S. Supreme Court has blocked President Joe Biden's push to get more people vaccinated amid a COVID-19 surge.
This saw a divided court reject the Occupational Safety and Health Administration (OSHA) rule that would have mandated approximately 80 million people to receive vaccinations or periodic tests or risk losing their jobs.
Justices Clarence Thomas, Samuel Alito, Neil Gorsuch and Amy Coney Barrett dissented, with Thomas writing in his conclusion in the Biden v. Missouri case: "These cases are not about the efficacy or importance of COVID–19 vaccines.
"They are only about whether CMS [Centers for Medicare and Medicaid Services] has the statutory authority to force healthcare workers, by coercing their employers, to undergo a medical procedure they do not want and cannot undo.
"Because the Government has not made a strong showing that Congress gave CMS that broad authority, I would deny the stays pending appeal."
Dissenting Justices Stephen Breyer, Sonia Sotomayor and Elena Kagan wrote to say individuals "more than any others" have "little control, and therefore little capacity to mitigate risk" from the spread of the potentially deadly virus.
The Centers for Disease Control and Prevention (CDC) site states 62.8 percent of the country is fully vaccinated, while 37.5 percent of this group have received a booster.
The data also shows more than 842,000 people in the U.S. have died from the virus, as of Friday, January 14.
Which Health Workers Are Affected?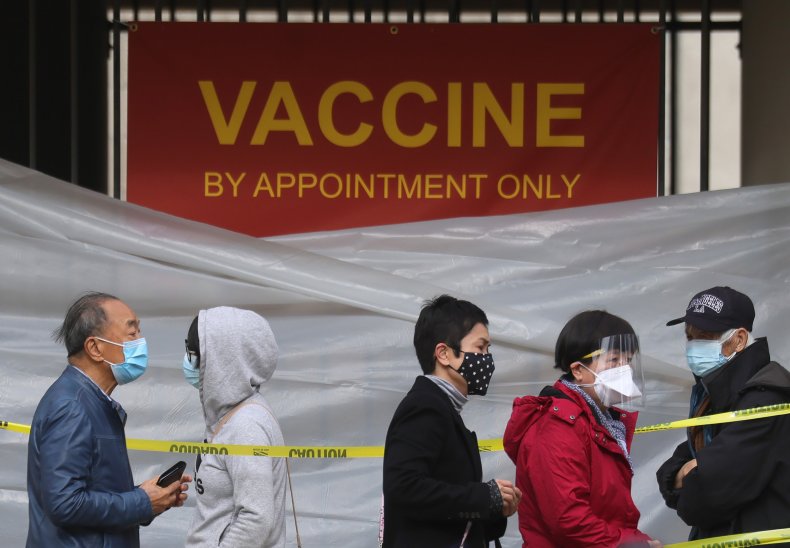 The U.S. Supreme Court at the same time granted Biden's request to temporarily enforce a vaccine mandate for health care workers at facilities that receive federal funding.
This separate rule effectively requires coronavirus vaccination for those working in nursing homes, hospitals and other facilities receiving Medicare and Medicaid payments from the federal government.
However, Thursday's ruling means all other businesses, including those employing more than 100 workers, will no longer be mandated to institute vaccination or regular testing requirements.
Biden reacted to the ruling with a statement on Thursday, where his praise for the health care requirement was tempered with disappointment about the lack of similar requirements for large businesses.
He said: "Today's decision by the Supreme Court to uphold the requirement for health care workers will save lives: the lives of patients who seek care in medical facilities, as well as the lives of doctors, nurses, and others who work there. It will cover 10.4 million health care workers at 76,000 medical facilities. We will enforce it.
"At the same time, I am disappointed that the Supreme Court has chosen to block common-sense life-saving requirements for employees at large businesses that were grounded squarely in both science and the law.
"This emergency standard allowed employers to require vaccinations or to permit workers to refuse to be vaccinated, so long as they were tested once a week and wore a mask at work: a very modest burden."