President Joe Biden is defending U.S. booster shots, stating the administration can offer a third dose to Americans and still donate vaccine supplies abroad.
Biden received a third shot of the Pfizer/BioNTech vaccine at the White House on Monday. Biden completed his first two doses of the COVID-19 vaccine before being sworn into the Oval Office in January.
"Let me be clear, boosters are important," Biden said on Monday. "But the most important thing we need to do is get more people vaccinated."
As he was getting the jab live on-camera, the president was asked by a reporter about the recommendation from World Health Organization (WHO) and other foreign leaders that wealthy nations should donate vaccines before providing boosters.
"We're doing more than every other nation in the world combined," Biden responded, noting the U.S. has already donated 1.1 billion shots and is providing funding to COVAX—a worldwide initiative aimed at equitable access to coronavirus vaccines.
"We're going to do our part," Biden said.
Last week, the Food and Drug Administration (FDA) and Centers for Disease Control and Prevention (CDC) authorized a booster dose of the Pfizer vaccine for older Americans and those considered at high risk for complications from the virus.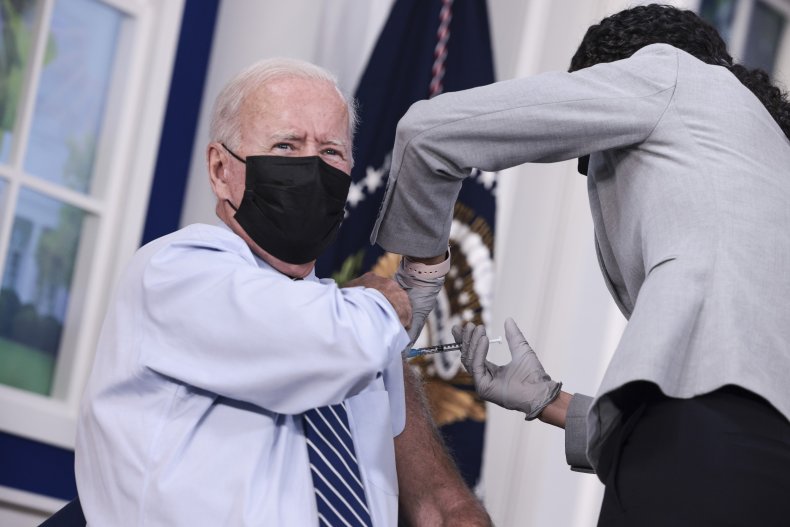 "Starting today, if you are six months out from your last dose of the Pfizer vaccine, you are eligible for a booster if you fall into one of three high-risk groups," Surgeon General Dr. Vivek Murthy said Friday.
The CDC recommends people ages 65 and older, as well as residents in long-term care facilities, should receive a booster shot six months after completing their primary Pfizer series.
Americans between the ages of 50 and 64 with underlying medical conditions should also get a booster, the agency said. For those ages 18 to 48, the CDC said they may receive a third shot if they have underlying conditions and based on their individual benefits and risks.
Underlying conditions that qualify include heart disease, cancer, diabetes, obesity, high blood pressure and more.
Also included in the CDC recommendations are individuals at increased risk of COVID-19 infection in the workplace, such as health care workers and teachers. CDC Director Rochelle Walensky overruled a recommendation by an agency advisory panel that had refused to endorse booster shots for frontline workers.
Walensky said during a press briefing on Friday that regulators will move with "the same sense of urgency" on booster recommendations for the Moderna and Johnson & Johnson vaccines.
Biden said the CDC's new recommendations will expand vaccine boosters to 60 million Americans.
WHO officials have condemned nations that have already immunized a majority of their adult populations and have started administering booster doses. The organization also slammed countries that are hoarding supplies and treatments.
"This is not just unfair, it's not just immoral, it's prolonging the pandemic," Maria Van Kerkhove, the organization's technical lead on COVID, said during a press briefing earlier this month. "And it is resulting in people dying."