Biden Demands Urgent Federal COVID Action as Trump Feuds With Cuomo
President-elect Joe Biden urged the federal government to respond swiftly to the rise in U.S. coronavirus cases on Friday. Meanwhile, in his first public remarks since the election, President Donald Trump said that New York would not be among the first states to receive the coronavirus vaccine because of comments made by New York Governor Andrew Cuomo.
Recent data indicated more than 11 million positive cases of the coronavirus in the U.S. with 249,975 fatalities attributable to COVID-19. Trump has often promised that a vaccine would be available soon but no vaccine has yet been approved by the Food and Drug Administration for widespread use.
On Monday, Cuomo expressed a lack of faith in the White House's vaccine distribution plan. Biden, who has attacked Trump's coronavirus response plan, has already started to assemble his COVID-19 response team.
"I am alarmed by the surge in reported COVID-19 infections, hospitalizations, and fatalities," Biden tweeted. "This crisis demands a robust and immediate federal response which has been woefully lacking."
In another statement released earlier on Friday, Biden called on Americans to "step up" and follow the Centers for Disease Control and Prevention's guidelines on coronavirus.
"I renew my call for every American, regardless of where they live or who they voted for, to step up and do their part on social distancing, hand washing, and mask wearing to protect themselves and to protect others," Biden said.
"I understand it's not easy. I know people are tired. But this will not go on forever," he continued. "We are moving toward a vaccine. We are improving our ability to test. We are developing better treatments."
During remarks about vaccine development on Friday, Trump said that a vaccine could be available "as soon as April," but not for residents of New York.
"For political reasons," Trump said, "the governor decided, they say—and, you know, I don't think it's good, politically; I think it's very bad from a health standpoint—but he wants to take his time with the vaccine. He doesn't trust where the vaccine is coming from."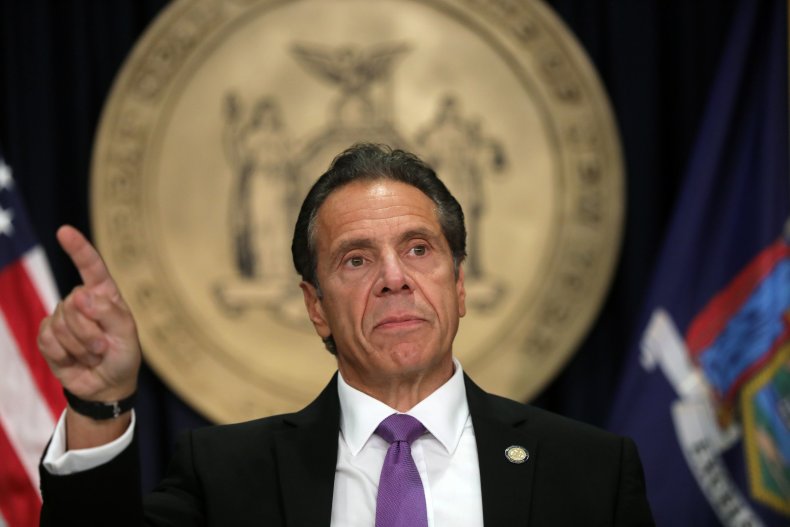 Trump said that even though the vaccines were created by respected pharmaceutical companies, Cuomo "doesn't trust the fact that it's this White House, this administration. So we won't be delivering it to New York until we have authorization to do so, and that pains me to say that."
Newsweek reached out to the Office of the President-elect for comment.
New York was particularly hard hit by COVID-19, marking over 551,000 positive cases statewide. In a Friday interview with MSNBC, Cuomo said that Trump was behaving like a "bully."
"He uses the government as a retaliatory tool, that's what he does," Cuomo said. "He's also a bully. He should be ashamed of himself, but we have been working with the Biden team."
In a November appearance on the ABC program Good Morning America, Cuomo said that if Trump's vaccination plan is allowed to go forward, then Biden "can't undo it 2 months later. We'll be in the midst of it."
Biden has pledged to begin his administration's coronavirus response plan as soon as he takes office. Trump, however, has refused to concede to Biden and claimed that widespread interference allowed Democrats to "steal" the presidency from him. Many observers have described Trump's allegations as unsubstantiated.
Biden has often criticized Trump's perceived lackluster response to the coronavirus and has pledged that his administration will be more proactive in handling the pandemic.
"I want everyone to know on day one, we're going to put our plan to control this virus into action," Biden said in a post-election November speech. "We can't save any of the lives lost, any of those that have been lost, but we can save a lot of lives in the months ahead."
Biden has recommended that all Americans wear a face mask in order to curb the spread of coronavirus. According to his published coronavirus response plan, Biden also intends to make coronavirus testing free, support tele-medicine to keep needed hospital beds free for coronavirus patients and bring back a White House pandemic response team which was absorbed by another federal agency in May 2018.
Biden's coronavirus task force, which was announced Monday, includes former U.S. Surgeon General Vivek Murthy and Rick Bright, the former head of the Biomedical Advanced Research and Development Authority.