Biden, Dems Look to Ride Gains in Jobs and Manufacturing to Midterm Success
The pandemic manufacturing boom has emerged as a rare bit of positive economic news for Democrats seeking to win over midterm voters who remain worried about the direction of the economy under President Joe Biden.
The manufacturing sector has not only recovered the 1.3 million jobs it lost at the start of the pandemic, it has also added tens of thousands of new jobs since Biden took office, driven by a shift in consumer spending from travel and other services to durable goods.
Biden and Congressional Democrats are leaning on this economic success story to make their closing arguments ahead of the midterm elections, claiming the American Rescue Plan, infrastructure law, legislation boosting the U.S. semiconductor industry and other policies have helped spur domestic production while strengthening America's competitiveness with China and other rivals.
"Made in America is no longer just a slogan. It's happening. It's a reality today," Biden said in a speech last month at the groundbreaking for a semiconductor plant outside Columbus in central Ohio.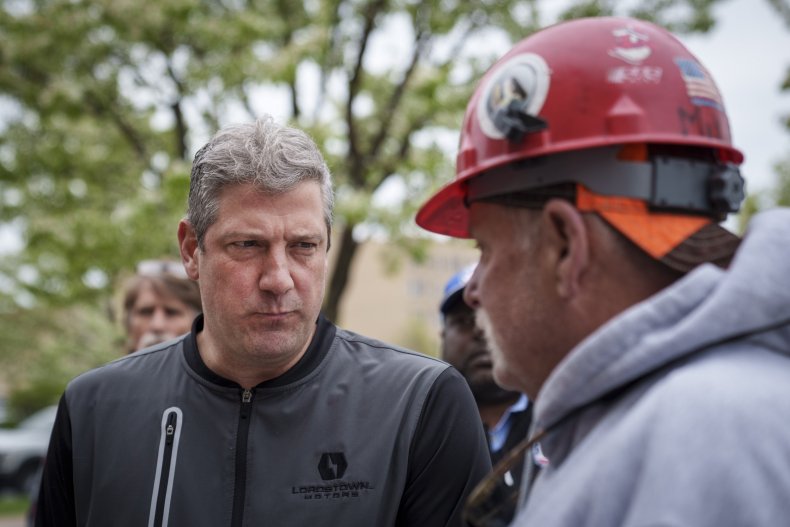 But it's unclear if the message is resonating with voters across the Midwest, where the industrial sector was decimated in recent decades as companies moved jobs overseas or to the South and other parts of the country attracted by tax incentives, fewer unions and lower wages.
In Ohio, Democratic Congressman Tim Ryan is in a tight race against author J.D. Vance race for an open U.S. Senate seat. Ryan is running as a centrist Democrat and champion of middle class Americans — a message similar to Biden's career-long "Amtrak Joe" persona and one tailored to win over moderate and independent voters benefiting from the region's manufacturing comeback.
Yet in most polls Ryan is trailing Vance, who was endorsed by former President Donald Trump, in one of the most closely watched Senate races of the midterm election cycle.
Don DePerro, the president and CEO of the Columbus Chamber of Commerce, said voters are not making the connection between policies in Washington and any job growth in the region.
"There's been a manufacturing resurgence; people are coming back to work; factories are ramping up," DePerro said. But voters "understand how the economy works. They don't attribute this to political successes. They attribute it to supply and demand."
Elsewhere across the Midwest Democrats are faring better. Michigan Gov. Gretchen Whitmer has a comfortable lead over her Republican opponent, and Wisconsin Gov. Tony Evers has a slight lead in his reelection bid.
With five weeks left before Election Day, Democrats are ahead or locked in tight races in key battleground states across the Sun Belt, a fast-growing region that has added manufacturing jobs at a faster pace under Biden than the Midwest and Northeast.
In Arizona, Democratic Sen. Mark Kelly has a comfortable lead over his Republican challenger Blake Masters, who was endorsed by Trump. Democratic New Mexico Gov. Michelle Lujan Grisham is leading her GOP opponent as well.
In Nevada, Democratic Sen. Catherine Cortez Masto is running even with Adam Laxalt, another Trump-backed Republican who served as the state's attorney general.
Through August, Nevada, Arizona and New Mexico were the top three states in the nation in year-over-year growth in manufacturing sector jobs, according to data from the U.S. Bureau of Labor Statistics.
Of course, manufacturing growth is just one part of a broader economic picture that remains bleak due to high inflation and gas prices. The economy, along with the debate over abortion and Trump's resurgence on the national political scene, have dominated the midterms so far.
Despite a drop in gas prices from their high point earlier this year, year-over-year inflation rose slightly in August to 8.3 percent, and remains at its highest level in decades.
Republicans argue voters are more concerned about inflation and a possible recession than they are with any growth in manufacturing jobs since Biden became president.
"Interest rates, inflation, that's what people are talking about here. Manufacturing doesn't really resonate," said Brian Seitchik, an Arizona-based Republican consultant.
There are also signs the recent manufacturing boom may slow as the recovery from the pandemic continues and consumers revert back to pre-pandemic spending patterns.
"There are some headwinds, namely the shift of U.S. consumers away from goods and back to services like travel and tourism we were all doing before the pandemic struck," said George Hammond, the director of the Economics and Business Research Center at the University of Arizona.
Still, manufacturing growth will likely remain steady in the short term, Hammond and others said, giving Biden and the Democrats enough time to tout the issue in the final weeks of the election.
Congressional Democrats "and the Biden administration are going to take credit for anything they can," DePerro said.