Biden, Dems Victorious on Infrastructure, But Will It Help Them Win in 2022?
Amid sagging poll numbers, Democrats have begun a coordinated media blitz touting the $1.2 trillion bipartisan infrastructure package in hopes of bolstering confidence in the party heading into a critical election year.
But experts aren't willing to stake too much on this one piece of legislation. A signature part of President Joe Biden's agenda, the package provides for the largest single investment in U.S. infrastructure and was a badly needed win that, optimistically, could serve to reassure voters that the president and his party can deliver on campaign promises and do so with bipartisan support. But most question whether the infrastructure package has the oomph to move the needle with voters after months of messy infighting exposed party fractures.
Infrastructure projects like the ones paid for in the new federal package often take years to be completed, typically aren't glamorous and can be disruptive in the interim as water systems are ripped out and construction slows road traffic and causes bridge delays.
"Obviously, [water] pipes aren't seen so the challenge here with their replacement is what would be seen would be the disruption," University of South Florida professor Joshua Scacco, who focuses on political communication and messaging, told Newsweek. "It's also very easy to get overlooked."
There's no denying Democrats are at a disadvantage heading into the midterms. A Washington Post-ABC News poll released over the weekend found that while many support the infrastructure package and the larger proposal to expand social programs and climate initiatives, Republicans hold a stark advantage. About 51 percent of registered voters surveyed said they would back the Republican candidate for Congress if elections were held today, while 41 percent said they would support the Democratic candidate, the poll found.
Biden took office in January with narrow majorities in the House and Senate, but even with his party in power he has struggled to get key pieces of his legislative agenda through Congress. Biden is still hoping to pass a larger expansion of the social safety net that he's dubbed his "Build Back Better" plan, but he's struggled to rally support around it, largely because of its hefty price tag.
Meanwhile, consumer prices have been skyrocketing amid a supply-chain crisis, the coronavirus pandemic continues to take its toll on public health and the economy, and divisions over mask and vaccine mandates have created unrest.
"The challenge for Democrats right now isn't that they don't have something popular to sell. There are more immediate impacts that American people are feeling," Amy Walter, a political analyst who is the editor of the nonpartisan Cook Political Report, told Newsweek. "It always is better when you are the party in power to have a reason for voters to keep you in power."
The electoral layout also isn't working to Democrats' advantage, Walter said, as they cling to moderate voters in an increasingly polarized environment, while trying to appease the party's growing left wing.
"They are trying to hold onto purple states, which are still going to be a challenge in a difficult environment like we are in now," Walter said.
Democrats are hoping the infrastructure package will help tip the scales, giving voters a reason to side with them. It includes $110 billion for repairs to highways, bridges and roads; $66 billion for passenger and freight railways; $65 billion for broadband Internet; $46 billion for resilience projects to help states prepare for the effects of climate change, including wildfires, droughts and deadly storms; $39 billion for public transportation; and $17 billion for ports and waterways.
Biden will be highlighting some projects now receiving long-awaited funding during trips to New Hampshire and Michigan this week.
Democratic campaign arms are organizing coordinated efforts to aid candidates on the state and local level as well as state parties through events and phone banks.
"While Democrats will be running on these results, Republicans will have to explain why they are standing against creating more good-paying jobs and investing in their states' roads, bridges, clean drinking water and high-speed Internet," Jazmin Vargas, a spokesperson for the Democratic Senate Campaign Committee, told Newsweek. "And in 2022, voters will hold GOP Senate candidates accountable for prioritizing their own self-serving politics at the expense of working families."
The GOP campaign arms didn't respond to Newsweek's requests for comment. Many Republicans have avoided discussing the infrastructure package, which polls popularly, and instead have focused their ire on the larger social spending bill, which so far has no public supporters on the right side of the aisle.
Stan Veuger, a senior fellow at the American Enterprise Institute, a right-leaning think tank, told Newsweek that he doesn't expect Democrats will get much political bounce out of the infrastructure package.
​​"The most committed supporters are probably too optimistic about its consequences," he said. "I think it will be difficult for people to distinguish what's coming from the bill."
For Democrats to gain any political momentum from the infrastructure package, Scacco said communication will be critical. "The administration and supporters have to be messaging this in their communities."
Scacco pointed out that Democrats could have capitalized more on the Biden-backed American Rescue Plan, a nearly $2 trillion stimulus package that Congress passed this year in response to the coronavirus pandemic, if its rollout had been handled differently.
Scacco argued the administration moved on quickly, shifting to the next piece of Biden's agenda before adequately promoting the plan and its direct impact on people and businesses.
"What happened was the Biden White House got very busy doing a thousand things in its first year and they started de-emphasizing the messaging on the American Rescue Plan," Scacco said. "People won't always connect policy with who did it for them."
As Democrats pivot to the more divisive Build Back Better bill, which leaders are aiming to pass without any Republican support, the same fate could befall the infrastructure package, Stella Rouse, a political science professor at the University of Maryland-College Park, told Newsweek.
"There is a danger of the infrastructure bill being overshadowed," she said.
With the infrastructure bill at least, Democrats have a win that Republicans will struggle to use against them. That's because GOP leadership was split on the package, with House Minority Leader Kevin McCarthy (R-Calif.) voting against it and Senate Minority Leader Mitch McConnell (R-Ky.) voting for it. In total, 13 House Republicans and 19 Senate Republicans voted in favor of the package, which complicates their own party's messaging to constituents.
"It's going to make unified and cross-chamber messaging much, much more difficult," Scacco said.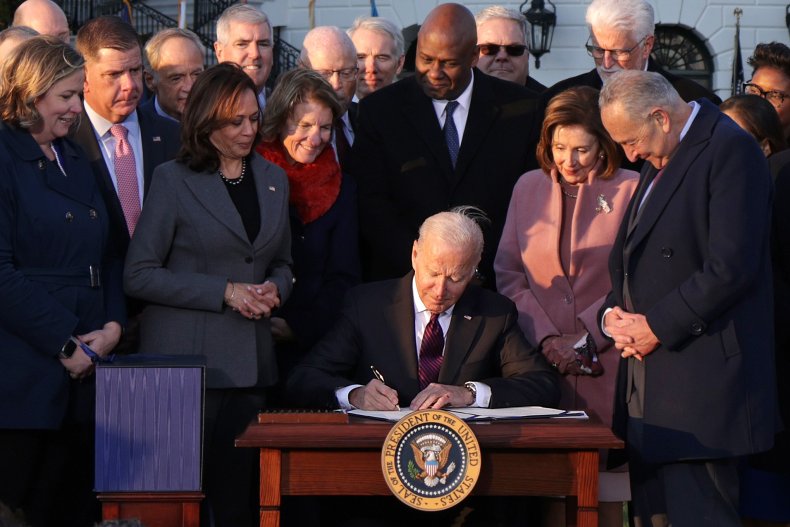 McCarthy had instructed his members to vote against the infrastructure package, even after it had bipartisan support in the upper chamber. Some hardliners in his party have called for those members who voted for infrastructure to be punished, stripped of their committee positions or ranking. McCarthy's office didn't respond to Newsweek's request for comment.
Walter agreed that Democrats have an opportunity to focus on what could be a popular campaign message."That's an important message, but the challenge they have right now is we're in a really polarized electorate," she said.
Rouse said she wouldn't be surprised to see Republicans who voted against the infrastructure bill showing up to ribbon-cuttings for projects being funded by it.
Shortly after Biden signed the infrastructure bill into law on Monday, Representative Gary Palmer, an Alabama Republican who voted against it, released a statement praising its inclusion of $369 million for his state's portion of the Northern Beltline, a segment of the multi-state Appalachian Development Highway System that has languished for years without funding.
"We're in such a polarized world, it's easy for people to detach the messenger from the message," Rouse said. "I'm not sure how much [Democrats] will be able to get out of it."
Meanwhile, states are currently in the process of drawing new congressional maps based on the latest Census results. In many states, the party in control of the legislature controls the process, creating opportunities to carve out new districts in their favor.
Walter noted that, thanks to the redistricting process, Republicans will have as much as an eight-seat House advantage, further diminishing the likelihood Democrats retain control of the chamber after 2022.
Several of the states with the most critical infrastructure needs that stand to benefit the most from the package, including Mississippi and Arkansas, are Republican strongholds without many opportunities for Democrats to pick up seats next year.
"It's going to be very hard for Democrats to keep either the House or the Senate," Walter said.
Additionally, Biden's slumping poll numbers further complicate the terrain for Democratic candidates. Biden's average job rating, as analyzed by Real Clear Politics, currently rests at about 42 percent approval to 52.7 percent disapproval. That has the potential to drag down other Democrats closely linked to the president and his policies heading into the 2022 elections.
"We know that opinions of the president impact electoral outcomes," Walter said. "That's not helpful if you are on the ballot [next] year."
Veuger said voters may notice a sign that says a local project is coming from the federal infrastructure package, as has been done in previous administrations, but there's no evidence that it actually sways them when they go to the polls.
"Who keeps track of whether a bridge gets funded with federal money versus any other money?" he said. "I'm not sure this moves a lot of votes."