During Democratic Debate Joe Biden Denies Advocating For Social Security Cuts—Here's Video Showing He Did
In what was one of the most contentious arguments of Sunday's Democratic debate, Senator Bernie Sanders attacked former Vice President Joe Biden over his record on social security benefits.
"I am saying that you have been on the floor of the Senate time and time again, touting the need to cut Social Security, Medicare and veterans' programs," Sanders said on the debate stage in Washington D.C.
"That's not true," the former vice president immediately shot back. Biden repeatedly denied the accusation, though at one point he admitted that "everything was on the table" during the Bowles-Simpson commission that was formed to inform the Obama administration about how to reduce the national deficit.
"I did not support any of those cuts,'' Biden stressed.
After Biden's denial, Sanders told viewers to "go to the Youtube right now" to watch past speeches and comments Biden made on the issue. Several clips quickly went viral on Twitter following the heated exchange.
It's not the first time that Sanders has attacked Biden on his record over social security. Last week, the senator rolled out a new negative ad accusing Biden of supporting cuts to the program. The ad features past audio of Biden touting the efforts he had made to freeze government spending, including entitlement programs like social security.
During the debate, Biden challenged Sanders to encourage his supporters to stop promoting a video that he said twisted his stance on the issue.
"Will you acknowledge your campaign is taking those things out of context?" Biden said.
Biden has at times supported freezes on social security benefits. But the former vice president has released a plan for strengthening the program and has proposed providing a higher benefit to the program's oldest beneficiaries.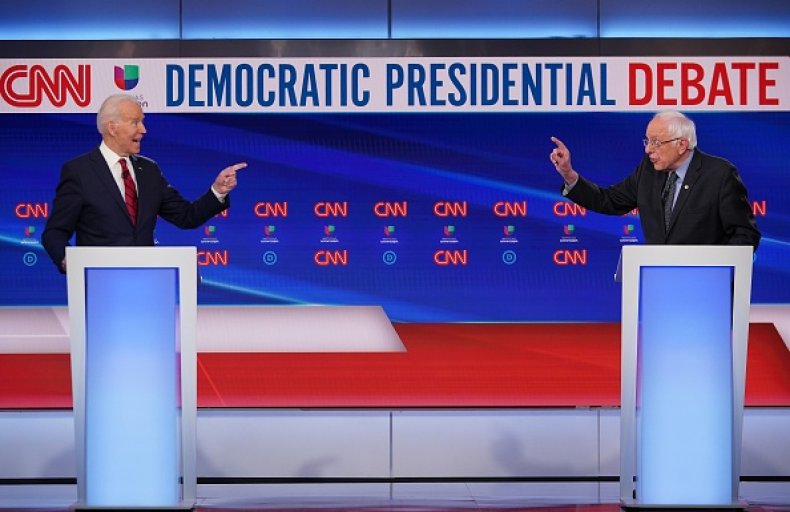 Sunday's debate was the first time that Sanders and Biden, the Democratic primary's two front runners, faced each other in a head-to-head matchup. The event was hosted by CNN and the moderators were the network's Ilia Calderón, Dana Bash and Jake Tapper.
Biden is currently ahead in the delegate count by roughly 150. The former vice president has collected 890 delegates after big wins in Super Tuesday and Super Tuesday 2. Senator Sanders has amassed 736.
The only other remaining candidate in the Democratic primary race is Tulsi Gabbard. The Hawaii Representative failed to qualify for Sunday's debate after the Democratic National Committee announced new criteria requiring candidates to hold at least 20 percent of all awarded delegates by the time of the debate. Gabbard has only captured two delegates so far.