Biden Denies Lockdowns Are Coming Amid Concerns About Omicron Evading Vaccines
President Joe Biden plans to unveil a new strategy to fight COVID-19 this winter, but he said it wouldn't include another round of shutdowns or lockdowns.
Biden said on Monday that he expects the United States to see cases of the Omicron variant, which has the potential to evade vaccines and be more transmissible than other variants. The spreading of the variant is likely to coincide with a winter surge in COVID-19 cases and Biden said he will release a new strategy for fighting COVID-19 on Thursday.
That strategy, according to the president, won't entail lockdowns or shutdowns. When asked if lockdowns were "off the table," Biden responded affirmatively, saying that there was no need for them if people are vaccinated and wear masks.
Instead, he said the strategy will focus on increasing the number of people getting booster doses of the vaccines, as well as initial vaccinations, and more testing.
"We're in a very different place as we enter the month of December compared to where we were last Christmas," Biden said on Monday.
The Food and Drug Administration (FDA) approved vaccinations for certain individuals in December and vaccinations began weeks before Christmas. However, only about 5.4 million people had received their initial dose by the end of December. Fewer than 100,000 people were considered fully vaccinated by the end of last year, a situation that's drastically different now.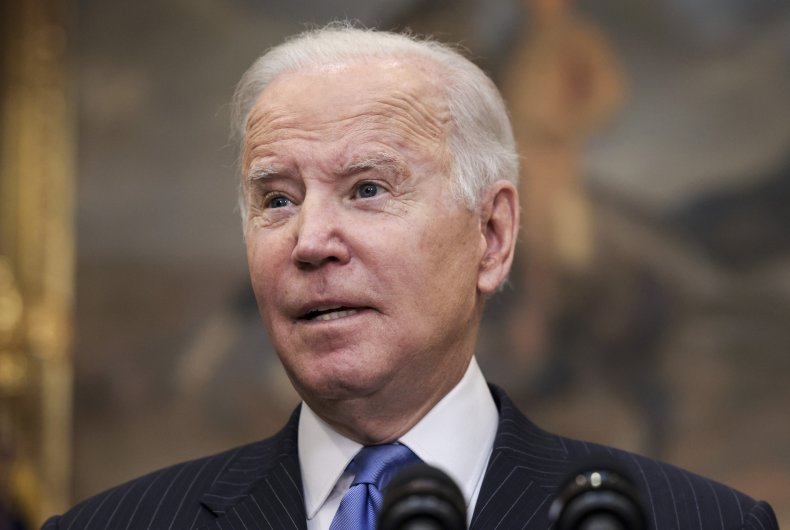 More than 196 million people are considered fully vaccinated, according to the Centers for Disease Control and Prevention (CDC), about 60 percent of the total population. Nearly 70 percent of people have received at least one dose, a number that Biden predicted would increase at least a percent by the time Christmas rolls around.
Biden also noted that last year, there was no vaccine available for children. Although at a lower risk than adults, officials questioned whether it would be safe for children to attend in-person learning and gather with friends if they couldn't be vaccinated.
The FDA has since approved vaccines for children as young as 5 years old and about 19 million children have received at least one dose of the COVID-19 vaccine, according to data from the CDC.
Biden urged people to get vaccinated against COVID-19, as it's the best way to protect themselves from becoming seriously ill or dying from the virus. Although he's working with Pfizer, Moderna and Johnson & Johnson on "contingency plans" for vaccines and boosters if Omicron proves to render them less effective, he said the White House doesn't believe additional measures will be needed.
Monday also marked the start of Biden's travel ban on people coming to the United States from South Africa and seven other African countries. He acknowledged the ban couldn't fully prevent the variant from spreading in the United States, but said it could give people time to initiate their vaccination series or get a booster shot.
Along with getting vaccinated, Biden encouraged Americans to wear a mask indoors in crowded situations, but denied variants emerging is the "new normal." He said he expected the "new normal" to be everyone getting vaccinated and a booster shot, so America reaches herd immunity and no longer sees the spread of the COVID-19.