President Joe Biden denied reports that his administration would resume construction of former President Donald Trump's wall at the U.S. southern border.
On Wednesday, White House press secretary Jen Psaki told reporters: "We don't believe the wall is an answer. We've never believed [that] the wall is an answer to addressing the challenges, the immigration challenges at the border."
"That's why we're proposing investments in smart security at the border, why we're driving what we see as 21st century solutions for border management, and why we believe we should build a functioning immigration system," she continued. "There's a review underway on kind of where this funding had been allocated and not but it's currently paused."
Last week, there were speculations that the Biden administration resumed construction after Homeland Security Secretary Alejandro Mayorkas said that despite the president's priority to cancel construction, some areas may still be worked on to fill leftover "gaps" in the barrier.
Mayorkas mentioned "particular projects that need to be finished," which included "gaps," "gates," and locations "where the wall has been completed, but the technology has not be implemented."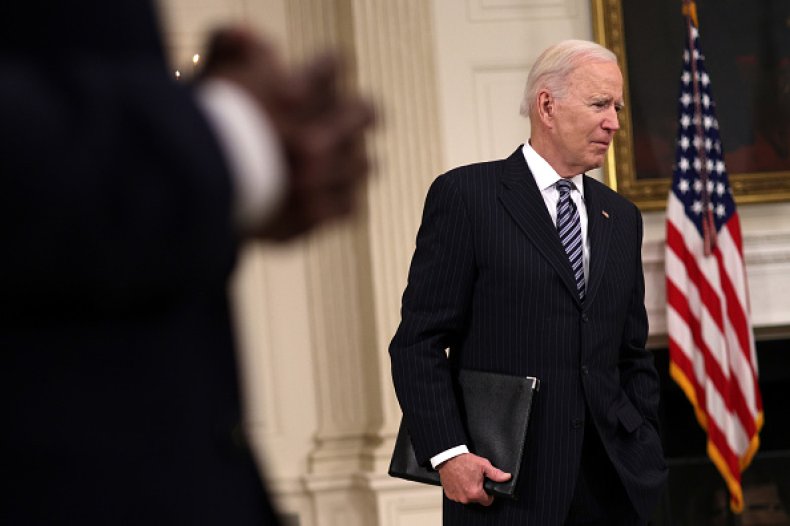 Psaki said that while construction of Trump's border wall was halted when Biden took office, there are some funds that had already been set aside and that the current administration is finding ways to work within those laws.
"While construction remains paused, there is a review underway, taking a look at the funds that had been allocated," she said.
"Funds had been diverted from military construction projects and other purposes toward building the wall—that was not something we, of course, supported," she added. "There are some components of the wall that had already been allocated—the funding to continue building by Congress—so we're working within what is allowable."
On his first day in office, Biden vowed to halt all taxpayer funding for the border wall, calling it a "waste of money" and bad immigration policy. The decision was met with pushback from Republicans, who saw it as a threat to border security at a time when immigration was reaching new record highs.
Last week, Chad Wolf, the former acting secretary of the Department of Homeland Security under the Trump administration, said that he thinks the Biden administration is under "immense pressure" to refocus on the wall.
"The men and women from [U.S. Customs and Border Protection] and Border Patrol are pleading with DHS leadership and the White House to finish sections of that border wall system," Wolf told Fox News.
But Psaki disputed such claims on Wednesday and reiterated that "the president doesn't believe [building more of a wall] is a way to address our immigration challenges at the border."