At the end of his first day in Europe this week, President Joe Biden did not hesitate when asked if getting a firsthand look at the refugee crisis would change his view of the war in Ukraine.
"I don't think so, because I've been to many, many warzones. I've been to refugee camps," he said at a press conference Thursday at NATO headquarters in Brussels.
The president added one more conflict to that list this week during a trip to Europe that was intended to reassure the world that the West remains united in opposing Russia's invasion of Ukraine. On Saturday evening Biden heads back to Washington — after meeting with refugees in Poland — having accomplished much of what he set out to do.
"Let there be no doubt that this war has already been a strategic failure for Russia," Biden said in a speech Saturday evening at the Royal Castle in Warsaw. "The West is now stronger and more united than it's ever been."
Biden also appeared to call for Russian President Vladimir Putin's removal from power in Russia. "For God's sake, this man cannot remain in power," Biden said of Putin. A White House official clarified after the speech that Biden's point was that Putin "cannot be allowed to exercise power over his neighbors or the region," and that the president was not referring to "Putin's power in Russia, or regime change."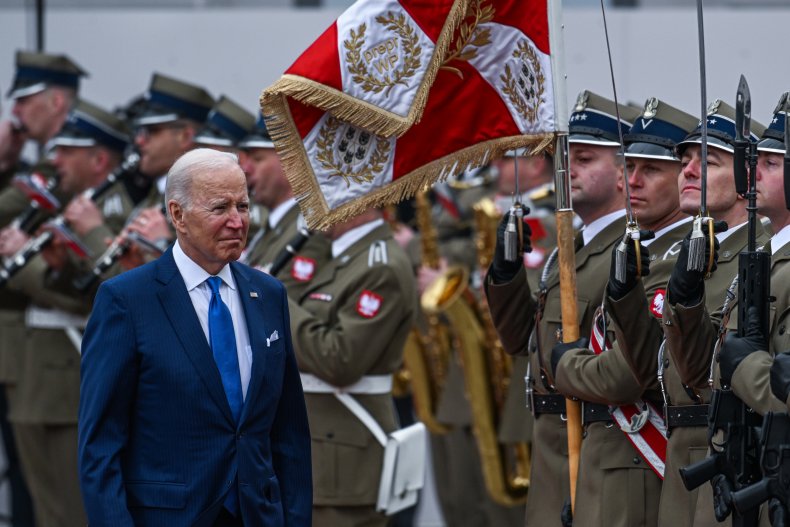 The speech capped a three-day trip to Europe that started with a whirlwind day of summits in Brussels on Thursday. As part of the meetings NATO announced that it had approved a deployment of four additional battlegroups to Eastern Europe, a move aimed at deterring Putin from expanding the war beyond Ukraine's borders.
NATO now has 40,000 troops under its direct command in Europe. The U.S. has 100,000 troops stationed in Europe, the most in nearly two decades.
Biden reassured Ukraine that he would continue providing it with military assistance, noting the U.S. has committed more than $2 billion in military aid to the country since he took office. Biden also announced in Brussels that his administration was prepared to spend more than $1 billion to aid in the humanitarian crisis.
So far, 3.7 million Ukrainians have fled the country in little more than a month, according to the United Nations' refugee agency. Millions more have been internally displaced by the Russian invasion, which appears to have stalled after fierce resistance from Ukrainian forces in the first month of fighting.
A majority of the refugees, more than 2 million, have fled to Poland, which is bearing the brunt of the largest refugee crisis in Europe since World War Two.
The White House waited until the president was in Europe to announce the U.S. would accept up to 100,000 Ukrainian refugees, a sign the administration believes it must take a more active role in aiding families whose lives have been upended by the war.
Biden also used the trip to secure an energy deal with the European Union that both sides said would help Europe reduce its dependence on Russian fossil fuels. As part of the agreement, the U.S. and other countries will secure an additional 15 billion cubic meters of liquified natural gas for Europe.
The agreement stopped short of imposing a European embargo on Russian oil and gas. A ban on Russia's most valuable exports would further cripple the Russian economy, which is already facing unprecedented sanctions against top financial institutions and wealthy elites. But it would also drive up energy prices in Europe, which imports 40 percent of its gas from Russia.
Analysts said the deal announced by the U.S. and Euopre was a sort of sleight of hand in the short term, since most of the additional liquified natural gas is existing supply that will be shifted to Europe from Asia and other markets, and won't come from new energy production.
Liquified natural gas, or LNG, is easier to transport and produces lower carbon emissions than other fossil fuels like coal and oil. But the global LNG market doesn't have enough capacity to entirely replace traditional energy sources in Europe.
Still, the deal, which will also boost renewable energy production, represents an important policy change that could help the European Union reach its goal of ending its dependence on Russian energy by the end of the decade, according to White House officials and independent economic analysts.
"It's a big achievement in terms of trans-atlantic cooperation," said Natasha Kaneva, the head of global oil and commodities research at J.P. Morgan.
The entire trip was intended to showcase a renewed spirit of cooperation between the U.S. and its NATO and European allies, after years of tense relations under President Donald Trump. He clashed with U.S. allies and frequently threatened to pull out of NATO, though he never followed through. Even the so-called family photo, when leaders pose on risers for a group portrait, was often uncomfortable, as Trump stood awkwardly next to counterparts with whom he was openly feuding.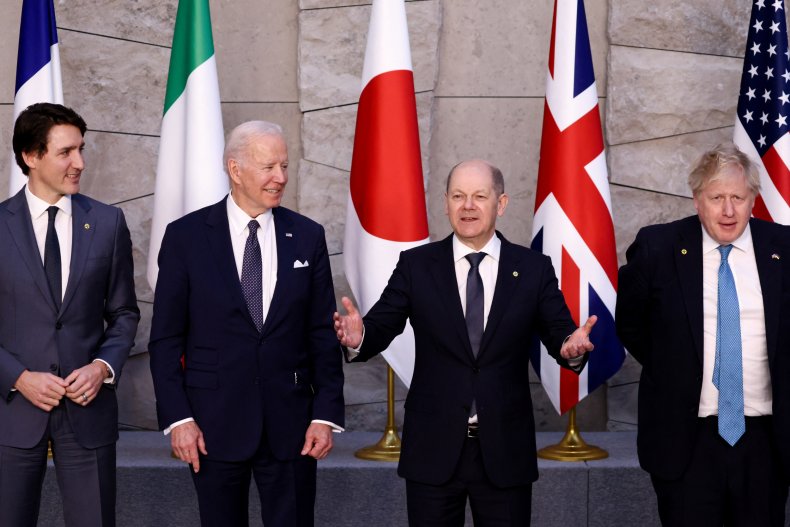 Biden, in contrast, appeared in his element greeting leaders during a full day of back-to-back meetings in Brussels, some of whom he has known going back to his years as vice president.
At the press conference Thursday, Biden gave a lengthy answer about the 2024 presidential election, seeming to relish taking a moment away from global affairs to reflect on U.S. politics. He grew frustrated when a reporter asked him why economic sanctions had not deterred Putin from launching the invasion, but was otherwise upbeat as he spoke about the unity on display from Western leaders confronting Russia.
After arriving Friday in Poland, Biden, dressed more casually in a suit without a tie, joked with U.S. troops stationed at a military base in the southeastern city of Rzeszow, less than 100 miles from the Ukrainian border.
Later in the day, Biden lamented that he could not visit Ukraine itself, something that may have been feasible for him to do as a senator or even vice president.
"I'm here in Poland to see firsthand the humanitarian crisis. And quite frankly, part of my disappointment is that I can't see it firsthand, like I have in other places," Biden said. He added that he understood why, alluding to the security risks of a sitting president entering a country involved in an active war.
White House advisers kept his visit to the border region a secret, only giving the traveling press corps details of the stop the night before.
Biden's last stop of the trip was Warsaw, the Polish capital, where he held a bilateral meeting with President Andrzej Duda and then delivered remarks at the Royal Castle before departing for Washington.
Biden cast the war as part of a larger battle with roots that stretched back to the Cold War era.
"It's nothing less than a direct challenge to the rules-based international order established" after World War Two, he said. Biden also urged the West to be prepared to continue aiding Ukraine for a while to come.
"This battle will not be won in days or months either. We need to steel ourselves" for a long fight, Biden said.
For all the trip accomplished, Biden leaves Europe facing a host of challenges surrounding the United States' continued response to Russian aggression in Ukraine.
A senior Russian general said Friday that Russia was entering a "new phase" of the conflict, centered on securing eastern Ukraine. Sergei Rudskoi, the deputy chief of Russian armed forces' General Staff, claimed that was Russia's primary objective all along, a sign Russia was seeking to reframe the narrative around its invasion after suffering significant military losses in the first month of the war.
With its advance at a standstill, Russia has proceeded to pound Ukrainian cities with airstrikes, rockets and artillery shelling. The UN said Saturday that 1,104 civilians have been killed and 1,754 have been injured in the war, but noted it believes "the actual figures are considerably higher."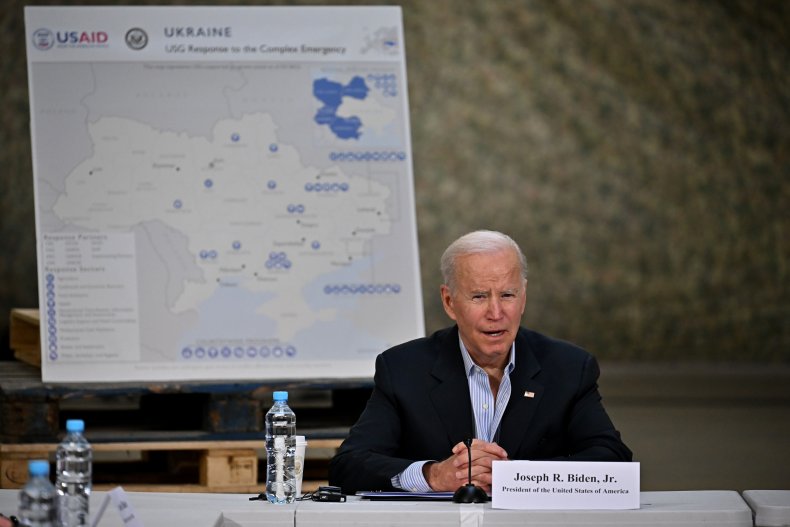 During the first weeks of the war, President Voldymyr Zelensky of Ukraine consistently called on NATO to impose a no-fly zone over the country, to block Russia from targeting civilians from the air. But the U.S. and NATO have rebuffed the calls, arguing it would force a direct confrontation with Russia.
Zelensky did not explicitly renew the request in video remarks to NATO and the Group of Seven nations this week, a sign he may now be resigned to the idea that the no-fly zone won't happen. On the ground in Ukraine, people following Biden's trip to Europe appeared equally resigned to that fact, and urged the U.S. to do more to arm Ukrainians with anti-aircraft systems.
"We understand they can't do a no-fly zone. We get it," Vitaliy Radetsky, a former Ukrainian minister of defense, said in a phone interview. Radetsky, who is leading a battalion of civilian territorial defense forces near Kyiv, added, "but we also know that Russia won't stop."
Voldymyr Omelyan, who served as Ukraine's minister of infrastructure under Zelensky, praised the U.S. and NATO for sending Ukraine so much military aid.
The West's response may be "the right approach to avoid World War Three. But we cannot explain this to dead Ukrainians and dead civilians, that it's a big game, and you should simply get used to being bombed and killed," Omelyan said in a phone interview from Kyiv.
Omelyan said inside Ukraine many are convinced Russia will launch a chemical or biological weapons attack. Biden was asked about the possibility in Brussels. He said the West would "respond in kind," but did not offer further details.
It was a chilling reminder that for Ukraine and the West, darker days may still lay ahead.