Biden Diversity Order Reverses Trump Ban on 'White Privilege' Training
President Joe Biden signed an executive order Wednesday reversing former President Donald Trump's ban on federally funded diversity training that highlighted the concept of white privilege.
In September 2020, Trump signed an executive order calling for an end to federal diversity training based on critical race theory. Critical race theory attempts to place racism and its effects into a historical context. Trump described the diversity training as "racist," adding that the training was "teaching people to hate our country." Trump's order ended effectively ceased funding for the training in federal agencies.
Biden's order reinstating the diversity training said that "a historic movement for justice has highlighted the unbearable costs of systemic racism."
"Because advancing equity requires a systematic approach to embedding fairness in decision-making processes," Biden's executive order read, "executive departments and agencies (agencies) must recognize and work to redress inequities in their policies and programs that serve as barriers to equal opportunity."
Trump's objection to the diversity training was revealed in a September 2020 memo from the Office of Management and Budget Director Russell Vought. According to the memo, Trump had instructed the OMB to halt federal funding for training highlighting "'critical race theory,' 'white privilege,' or any other training or propaganda effort" that taught either the U.S. or "any race or ethnicity is inherently racist or evil."
Trump later expanded the ban to contractors that did business with the government. "Americans should be taught to take PRIDE in our Great Country," Trump wrote in a since-deleted September tweet, "and if you don't, there's nothing in it for you!"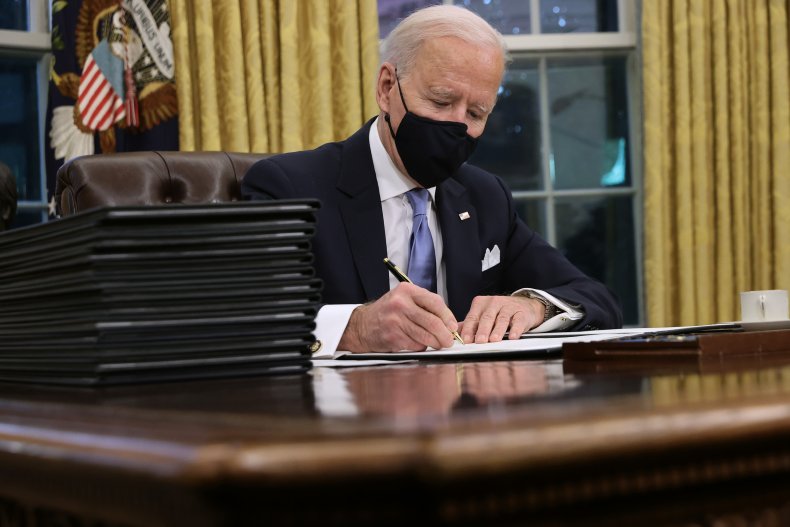 Some civil rights groups filed suit against the Trump administration over the ban, including the National Urban League and the National Fair Housing Alliance. In a complaint filed with the United States District Court for the District of Columbia in October 2020, the organizations described the ban as "an extraordinary and unprecedented act by the Trump Administration to undermine efforts to foster diversity and inclusion in the workplace."
Biden's executive order that strikes down Trump's ban calls for federal agencies to "deliver an action plan within 200 days to address unequal barriers to opportunity in agency policies and programs."
In signing the order ending the ban against that diversity training, Biden also dissolved Trump's 1776 Commission which many viewed as espousing racist ideals. Trump established the commission to create a form of "patriotic education" to be used in U.S. public schools.
"We will stop the radical indoctrination of our students and children," Trump said during a rally in Valdosta, Georgia in December 2020, "and restore patriotic education to our school. We will teach our children to love our country, honor our history and always respect our great American flag."
A report released on Monday by the 1776 Commission was perceived by some observers as attempting to revise America's history of slavery.
"Many Americans labor under the illusion that slavery was somehow a uniquely American evil," the report said, adding that slavery "has been more the rule than the exception throughout human history."
The report, which was released on Martin Luther King Day, was widely criticized upon its release.
"The 1776 Commission is white supremacist propaganda and should be wholly rejected, trashed, and burned to a crisp," wrote lawyer Exavier Pope on Twitter on Monday.
On Wednesday, Biden's executive order simply said Trump's establishment of the 1776 Commission was "hereby revoked."
In a statement sent to Newsweek on Wednesday, Southern Poverty Law Center President and CEO Margaret Huang praised Biden's executive actions. Huang said Biden's "larger commitment to promote racial justice is a priority of his administration inspire us, and we look forward to working with him—and pushing him to do more."