Biden Does U-Turn on Vaccine Mandates Two Months After Declaring Independence from COVID-19
Two months after President Joe Biden's speech celebrating independence from COVID-19, his administration made a U-turn on vaccine mandates to confront surging infection rates and hospitalizations.
Biden issued a mandate on Thursday requiring all federal employees to be vaccinated in the coming months or risk possibly losing their jobs. His administration will also require federal contractors to ensure their employees are vaccinated. The mandate affects some 100 million Americans, according to the Associated Press.
The move was a reversal of the administration's previous stance. Biden's Press Secretary, Jen Psaki, was asked in July whether the federal government should step in and issue vaccine mandates. Psaki said such mandates were "not the role of the federal government."
"Well, I think the question here — one, that's not the role of the federal government; that is the role that institutions, private-sector entities, and others may take," she said. "That certainly is appropriate. Also, local communities are going to take steps they need to take in order to protect people in their communities."
On July 4, Biden delivered a speech "celebrating Independence Day and independence from COVID-19." Psaki argued on Thursday that the declaration was "not premature," pointing at unvaccinated Americans as the cause of the current situation.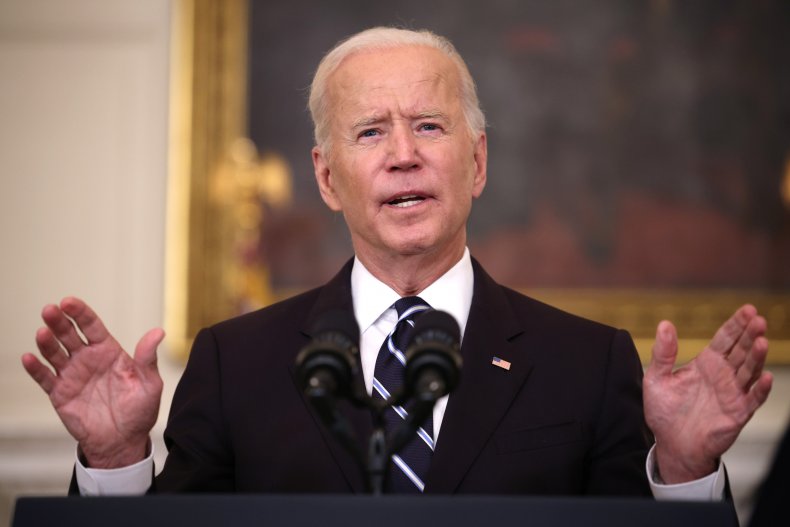 U.S. Centers for Disease Control and Prevention Director Dr. Rochelle Walensky said in late July that there would be no nationwide mandate for Americans to get a COVID-19 vaccine. She didn't mention the possibility of the government issuing mandates for federal employees and federal contractors across the nation.
In his Thursday address, Biden said, "This is a pandemic of the unvaccinated.... We still have nearly 80 million Americans who have failed to get the shot. To make matters worse, we have elected officials actively working to undermine the fight against COVID-19."
"Instead of encouraging people to get vaccinated and mask up, they're ordering mobile morgues for the unvaccinated dying to COVID in their communities," Biden continued. "This is totally unacceptable."
In response to Biden's mandate, Republican South Dakota Governor Kristi Noem called his rule an "unconstitutional ... federal intrusion," and pledged to sue the Biden Administration to stop it from going into effect.
"My legal team is standing by ready to file our lawsuit the minute @joebiden files his unconstitutional rule," Noem said in a Thursday afternoon tweet. "This gross example of federal intrusion will not stand."
In another Thursday afternoon tweet, Republican Kentucky Representative Thomas Massie wrote, "[Biden] doesn't have the power to mandate this. If government could mandate the vaccine for federal employees & contractors, it would require a vote of Congress. It's medical tyranny."
New COVID-19 infections and hospitalizations have both surged in the U.S. since the start of July. As of September 8, the seven-day national average for newly reported cases is 148,563. As of the same date, the seven-day national average for hospitalizations is 12,156, according to the CDC.
The increased hospitalizations have caused hospitals across the U.S. to run out of beds in their intensive care units, where doctors treat people with the worst COVID-19 symptoms. Some hospitals reported a need to ration care, turning away people seeking elective procedures and others seeking urgent care.
Newsweek contacted the White House for comment.