Biden Doesn't Think U.S. Should Worry About Nuclear War Amid Putin Tensions
President Joe Biden said Monday that the U.S. shouldn't panic about nuclear war amid the Russia-Ukraine crisis.
As he was leaving a Black History Month event at the White House, Biden was asked by a reporter if "Americans should be worried about a nuclear war?" The question came after Putin put his nuclear forces into "special combat readiness."
"No," the president responded.
White House officials have also said that the administration is not going to change its nuclear alert levels at this time.
"We are assessing [Russian] President [Vladimir] Putin's directive and at this time we see no reason to change our own alert levels," Press secretary Jen Psaki told reporters during Monday's briefing.
"We think provocative rhetoric like this regarding nuclear weapons is dangerous, adds to the risk of miscalculation, should be avoided and we will not indulge in it."
Russia launched a full-scale invasion of Ukraine on Thursday after months of escalation at the border. Ukrainian and Russian officials met Monday for a first round of peace talks. Ukrainian President Volodymyr Zelensky said that the key demands were an "immediate ceasefire and withdrawal of troops," but his nation continues to be under fire.
The Pentagon said in an update Monday that Russian troops are attempting to get closer to Kyiv, Ukraine's capital. Pentagon spokesperson John Kirby said the Ukrainians have been "fighting very hard for their country and making an impact and making a dent on Mr. Putin's abilities."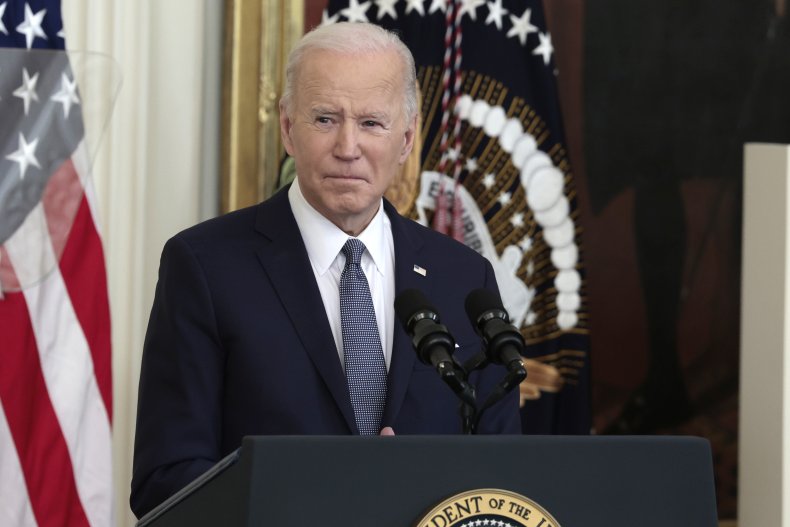 The Biden administration has announced several measures against Russia's financial system and wealthy elites in response to the attack on Ukraine. The sanctions target major Russian banks, the Nord Stream 2 pipeline, Putin himself as well as other oligarchs and their families.
"We're not trying to hurt the people of Russia or the Russian people," Psaki said Monday. "We're trying to squeeze the financial system and sector to make sure there are significant consequences for the actions of the president."
The U.S. will also continue to escalate sanctions if Putin continues to attack Ukraine. Targeting Russia's energy sector with sanctions remains one option, according to the White House.
Amid the conflict, Ukraine submitted an application to join the European Union.
"Our goal is to stand alongside all Europeans and, most importantly, to stand on their level," Zelensky said in a speech on Monday, according to The Guardian. "I am confident that it is fair. I am confident we have deserved it. I am confident that all this is possible."
Update 2/28/22, 4:22 p.m. ET: This story was updated with additional information and background.