Biden Economy Updates: Labor Secretary Calls Jobs Report 'Encouraging'
President Joe Biden is celebrating the latest jobs report, as the United States added 315,000 jobs in August.
This report, however, shows a slowdown in hiring from last month's blow out report of 526,000 new jobs.
Biden also announced Friday that the federal government will provide $1 billion in funding for region economic development in 24 states as part of his Build Back Better Regional Challenge.
This comes on the heels of Biden's prime-time "Soul of the Nation" speech Thursday in which he outlined what he called threats to democracy.
The speech, blasting former President Donald Trump and the extreme MAGA agenda, has garnered criticism from Republicans who accuse the president of further dividing the country.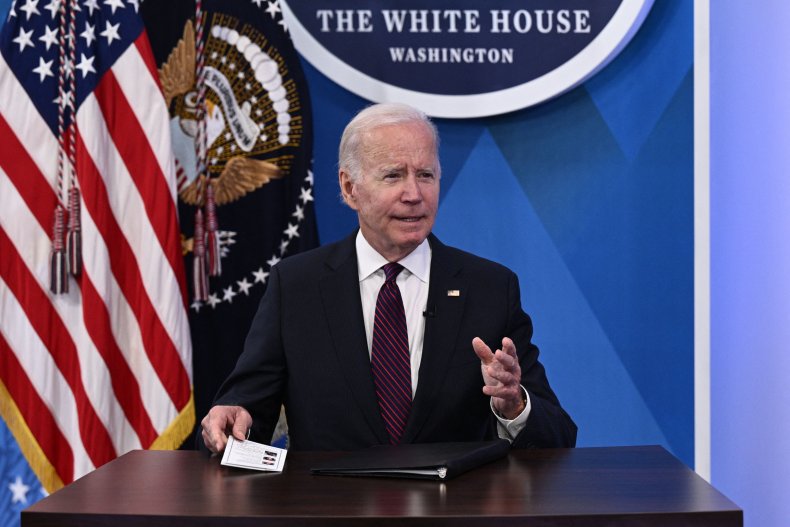 Live Updates Have Ended.
Labor Secretary Calls Jobs Report 'Encouraging'
Labor Secretary Marty Walsh described the August jobs report released on Friday as "encouraging."
The report showed a gain of about 315,000 jobs in the labor market in August, numbers federal officials celebrated.
Speaking with Yahoo Finance on Friday, Walsh said the increase in labor market participation is why the U.S. has seen a small rise in unemployment, from 3.5 percent in July to 3.7 percent in August.
"I'll take a 3.7 percent unemployment rate all day long if we get more people involved in the workforce," Walsh said.
As more people re-enter the job market amid lessening concerns about COVID-19, Walsh said most industries have already recovered to pre-pandemic job numbers, though hospitality and education are still rebounding. He predicted that there will be further growth for jobs in cybersecurity, education and nursing moving forward.
"I think the signs are going in the right direction," he said of the economic data included in the August jobs report. "Our economy, for the most part, is strong. You take away the inflation that we're dealing with, we have a strong economy right now."
President Joe Biden celebrated the jobs numbers in a series of tweets posted on Friday.
"Under my Administration, our economy has created more jobs at this point than any other Presidential term in history," Biden said in one tweet. "And we're only getting started."
Nearly 10 million jobs have been added to the American labor market since Biden took office, according to Treasury Secretary Janet Yellen.
As Biden and officials with his administration celebrated the jobs report, former President Donald Trump was posting on Truth Social about a rally he is scheduled to hold in Pennsylvania on Saturday. He shared a 30-second video promoting the rally Friday afternoon and reposted one of his rally-related comments from earlier this week.
"BIG Rally in Pennsylvania on Saturday Night," Trump's earlier post said. "Crowds already forming. Much, Much, Much to say. Don't miss it!"
Trump's rally in Wilkes-Barre will occur two days after Biden traveled to Philadelphia for a prime-time address, during which the president said Trump and other MAGA (Make America Great Again) Republicans "represent an extremism that threatens the very foundations of our republic."
Biden Asks Congress for Funds for Ukraine, COVID
President Joe Biden is asking Congress for more than $47 billion in emergency funds to help support Ukraine, the COVID-19 response, the monkeypox outbreak and natural disaster relief.
Biden is asking for $13.7 billion for equipment, intelligence support and direct budgetary support to Ukraine.
More than three-fourths of the $40 billion approved by Congress earlier this year has already been spent or committed, according to White House Office of Management and Budget Director Shalanda Young.
"We have rallied the world to support the people of Ukraine as they defend their democracy and we cannot allow that support to Ukraine to run dry," Young said in a blog post.
He is also asking for $7.1 billion for additional vaccines and personal protective equipment and $2 billion for continued testing, including for more free at-home tests.
Congress has not made any progress on Biden's $22.5 billion request for COVID-19 response earlier this year.
The administration is also seeking $4.5 billion to fight monkeypox after officials said they have already depleted reserves from the national stockpile to provide over 1.1 million vials of vaccine. This new request would go towards ensuring access to vaccinations, testing and treatment and funds for the global effort to fight the disease, administration officials said.
As lawmakers return to Congress, they will be engaging with the White House on Congressional budget negotiations before financing for federal agencies runs out Sept. 30.
Janet Yellen Says Inflation 'Remains Too High'
Treasury Secretary Janet Yellen said inflation "remains too high" while addressing the August jobs report during a Friday appearance on MSNBC.
The country's continuing high level of inflation is "causing a great deal of suffering for American households," she said, adding that it is "the Fed's job" to bring inflation down.
The latest jobs report released on Friday showed about 315,000 new jobs were added to the labor market in August. Some economic experts have suggested a slowing job market could aid efforts to reduce inflation. The Federal Reserve has increased interest rates multiple times since March in an effort to tackle inflation, which reached decades-high levels this summer.
Yellen said the August jobs report itself was "excellent" and that it meant the total number of jobs added to the labor market since President Joe Biden took office was about 10 million.
"That's the fastest job growth in our history," she said.
Biden Says Trump, MAGA Are a Threat
During his "Soul of the Nation" speech Thursday night, President Joe Biden attacked his predecessor and the Make America Great Again (MAGA) agenda.
Biden said Donald Trump and MAGA Republicans represent "an extremism that threatens the very foundations of our republic."
But the president did make a distinction, noting that he is not speaking about every member of the Republican party.
"I want to be very clear, very clear upfront. Not every Republican, not even a majority of Republicans, are MAGA Republicans," he said. "Not every Republican embraces their extreme ideology. I know because I've been able to work with these mainstream Republicans."
The president added, however, that the current Republican is "dominated, driven and intimidated by" Donald Trump and the MAGA Republicans.
"And that is a threat to this country," he said.
Biden outlined why he believes MAGA Republicans are a threat to democracy. He said the extreme wing of the Republican party: does not respect the Constitution, does not believe in the rule of law, does not recognize the will of the people and refuses to accept the results of a free election.
"MAGA forces are determined to take this country backwards, backwards to an America where there is no right to choose, no right to privacy, no right to contraception, no right to marry who you love," Biden said.
He said MAGA Republicans promote authoritarian leaders, support "partisans and cronies" and empower election deniers to "undermine democracy itself."
MAGA Republicans also "fanned the flames of political violence" that threaten personal rights the pursuit of justice, the rule of law and "the very soul of this country," Biden said, referencing the mob that stormed the U.S. Capitol Building on Jan. 6, 2021 to stop the peaceful transfer of power after the 2020 election.
Biden said the American people will not back down against threats to democracy.
"There are far more Americans, from every background and belief, who reject extreme MAGA ideology than those who accept it," he said. "It is within our power. Folks, it's in our hands, yours and mine, to stop the assault on American democracy."
He said the country is at an "inflection point" that will "determine the shape of everything that's to come after" and called on all Americans to choose a path forward, towards hope, unity and optimism.
"We are all called by duty and conscience to confront extremists who put their own pursuit of power above all else," he said. "Democrats, independents, mainstream Republicans must be stronger, more determined and more committed to saving American democracy than MAGA Republicans are to destroying American democracy.
"We the people will not let anyone or anything tear us apart," he said.
Biden said the country cannot normalize political violence, attacks on law enforcement or allow election integrity to be undermined, "for that is a path to chaos."
He said democracy cannot survive "when one side believes there are only two outcomes in an election: either they win or they were cheated."
"That's where the MAGA Republicans are today," Biden said. "They don't understand what every patriotic American knows: You can't love your country only when you win. It's fundamental."
Biden also said MAGA Republicans only see "carnage and darkness and despair" in America and spread "fear and lies" for profit and power.
On Friday, Biden clarified his position on MAGA Republicans. He was asked by a reporter if he considers every Trump supporter to be a threat to the country.
"I don't consider any Trump supporter a threat to the country," he said. "I do think that anyone who calls for the use of violence, fails to condemn violence when it's used, refuses to acknowledge when an election has been won, insists upon changing the way in which the rule count votes. That is a threat to democracy."
He added that the people who voted for Trump were not voting for an attack on the Capitol or overruling an election.
"They were voting for a philosophy he put forward," he said.
Republicans Blast 'Bidenflation' Amid Jobs Report
While Democrats are celebrating the jobs growth in the latest jobs report, Republicans are zeroing in on slow wage growth.
The GOP tweeted that the August jobs report released today "shows workers' paychecks are shrinking as 'Bidenflation' is eating up any wage gains."
RNC Research Rapid Response Director Tom Pigott said the slow wage growth that "continues to be wiped out by inflation," mean Americans are earning less.
"The last thing Americans need is wage growth to slow – but that's exactly what today's job report shows," he tweeted. "Americans are poorer than when Biden took office. That's the reality of Biden's recession for American workers."
Wage gains continue to be outpaced by the rate of inflation, which still remains at a decades-high.
Inflation is down slightly to 8.5 percent from a 9.1 percent peak in July.
The pace of average hourly earning only increased 0.3 percent from July, the low lowest rate of increase since April.
Fox Business said the wage earning increase is "weaker than what we we're looking for."
Despite adding 315,000 jobs last month, the national unemployment rate also rose from 3.5 percent to 3.7 percent.
Several Republican lawmakers have taken to Twitter to share their reactions to the jobs report.
Senator Marsha Blackburn of Tennessee said Biden's economy "is not something to brag about."
"Democrat-led inflation has set American families back with each new grocery bill," she tweeted.
Florida Representative Matt Gaetz said Democrats are "still destroying the economy."
Median Worker Salary Was $56k in August
The median salary of U.S. workers was estimated to be $56,000 in August, according to a new report released earlier this week by the ADP Research Institute.
The current median salary represents a 7.6 percent change compared with this time last year, the report said.
The overall growth in worker pay "has stabilized" after recent fluctuations, the institute said in a Wednesday press release, with larger jumps in pay increases seen among workers who change jobs.
Women have seen a slightly larger increase in pay than men, with the year-over-year increase for women moving from 5.1 percent last August to 7.8 percent last month. For men, the year-over-year change increased from 5 percent to 7.5 percent during the same time period, the report said.
Pay increases were also higher in August among younger workers, with those ages 16 to 24 experiencing average wage increases of about 14 percent. Meanwhile, the report said workers 55 and older experienced average pay increases of about 5 percent last month.
Trump Says Biden 'Threatened America' in Speech
Former President Donald Trump slammed President Joe Biden following his "Soul of the Nation" speech Thursday night.
"If you look at the words and meaning of the awkward and angry Biden speech tonight, he threatened America, including with the possible use of military force," Trump said on his Truth Social account shortly after Biden's address.
"He must be insane, or suffering from late stage dementia!" Trump added.
Biden delivered his address from Independence National Historical Park in downtown Philadelphia Thursday night, his second visit to Pennsylvania this week. There, Biden warned against the future of American democracy, saying "Donald Trump and the MAGA Republicans represent an extremism that threatens the very foundations of our republic."
Trump responded on Truth Social saying, "someone should explain to Joe Biden, slowly but passionately, that MAGA means, as powerfully as mere words can get, MAKE AMERICA GREAT AGAIN! If he doesn't want to Make America Great Again, which through words, action, and thought, he doesn't, then he certainly should not be representing the United States of America!"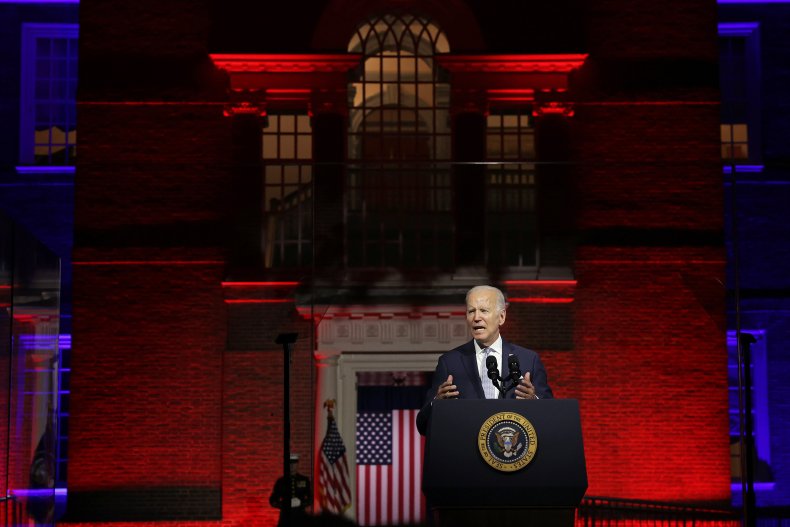 Biden Awards $1B for Economic Projects
The Biden administration is awarding $1 billion in federal funding to regions across the country in an effort to boost economic development, President Joe Biden announced Friday.
The money will go to 21 regions in 24 states in amounts ranging from $25 million to $65 million, according to the U.S. Commerce Department's Economic Development Administration.
Secretary of Commerce Gina Raimondo said the administration is working on creating "industry hubs in diverse communities across the country," an effort she said will be assisted through the federal grants.
"These grants will provide critical and historic funding directly to community coalitions to invest in new infrastructure, research and development, and workforce development programs while creating good-paying jobs, supporting workers, and prioritizing equity," Raimondo said.
The money comes from the American Rescue Plan and is being distributed through the Economic Development Administration, according to the White House.
August Report Shows 315,000 Jobs Added in U.S.
President Joe Biden touted Friday's latest job report, showing 315,000 new jobs were created across the United States throughout the month of August.
"We received more good news," Biden said during remarks Friday, sharing today's job numbers.
"American workers are back to work, earning more, manufacturing more, building an economy from the bottom up and the middle out," he continued, adding that wages are also up.
"Working-age women are now, for the first time, back at work at rates not seen since before the [COVID-19] pandemic."
The White House called this the "fastest job growth in history." Nearly 10 million new jobs have been created across the U.S. since Biden took office, he said.