Biden Energy Sec Warns Americans Will Pay More to Heat Homes: 'This Is Going to Happen'
U.S. Energy Secretary Jennifer Granholm warned Sunday that Americans should expect to pay more to heat their homes this winter due to soaring gas prices amid the coronavirus pandemic.
"This is going to happen. It will be more expensive this year than last year," Granholm said on CNN's State of the Union.
"We are in a slightly beneficial position, we'll certainly relative to Europe, because their chokehold of natural gas is very significant. But we have the same problem in fuels that the supply chains have, which is that the oil and gas companies are not flipping the switch as quickly as the demand requires," she added.
Granholm explained that the Biden administration has been focused on both "immediate-term and the long-term" solutions, such as investing in clean energy, in order to help alleviate high costs.
Last month, the Energy Information Administration (EIA) released a report stating U.S. households that rely on natural gas for heating could spend an average of $746 to heat their homes this winter—up 30 percent from the previous one. Retail natural gas prices are expected to hit the highest levels since the winter of 2005-2006.
In total, the EIA found that households are expected to spend 54 percent more on propane, 43 percent more on home heating oil, 30 percent more on natural gas, and 6 percent more on electric heating compared to last winter.
"Forecast expenditures are based on our expectations of high retail energy prices—many are already at multiyear highs—and of slightly more energy consumption per household than in the previous winter. Notably, many energy prices reached multiyear lows last year as a result of the COVID-19 pandemic," the report stated.
A new forecast on rising gas prices will be released by the EIA on Tuesday, according to Granholm.
The energy secretary also said Sunday that the Biden administration "hopes" that gasoline prices in some parts of the country will not reach $4 per gallon soon, while adding that the Organization of the Petroleum Exporting Countries (OPEC) is "controlling the agenda."
"Every president is frustrated because they can't control the price of gasoline because it's a global market. You can call upon increased supply, which he has done, and OPEC is unfortunately controlling the agenda with respect to oil prices. OPEC is a cartel, and it controls over 50 percent of the supply of gasoline," she added.
The Biden official came under fire from Republicans earlier this week after a video showed her laughing during a Bloomberg TV interview when she was asked what the 'Granholm plan' to increase oil production in the U.S would be.
"Oh my, that is hilarious," she replied, before again blaming OPEC on the rising prices. "Oil is a global market, it is controlled by a cartel – that cartel is called OPEC."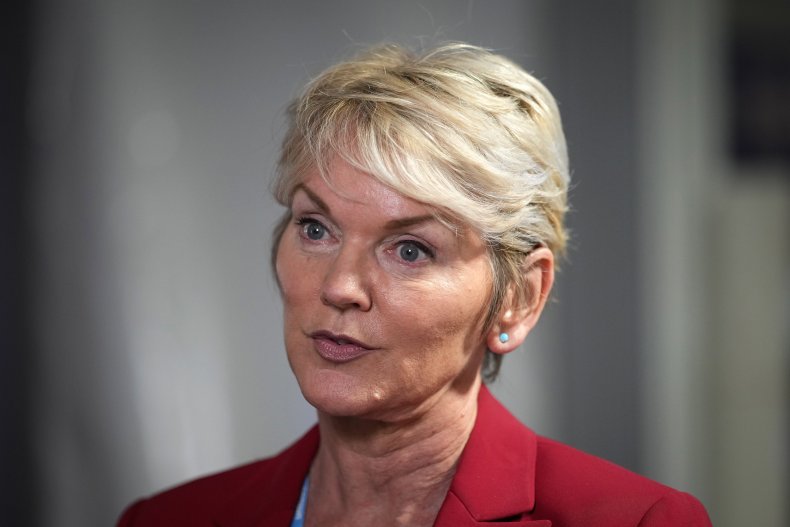 According to AAA, the average price of gas is now $3.42 a gallon, and some experts have predicted that number could surge by another 50 percent next June. A spokesperson for the association told Newsweek last month that the "key driver" for the rise in the price of gas is crude oil.
A recent decision by OPEC to not increase global oil production "only exacerbated the upward momentum for crude oil prices," the spokesperson added.
Granholm said Sunday that Biden has been weighing all options to address the rising prices, including the possibility of tapping into the nation's emergency oil reserves, known as the Strategic Petroleum Reserve (SPR).
"He is certainly looking at that, and I think we'll be looking at that in the forecast that is coming out on Tuesday," she added.