Presumptive Democratic nominee Joe Biden became emotional speaking to a black educator about the death of George Floyd, while addressing the National Education Association (NEA), the largest labor union in the country.
Taking a question from Turquoise Parker, a teacher from Durham, North Carolina, about dealing with the issue of race with her students, Biden spoke about meeting with Floyd's family before his funeral and the earthquake of societal change sparked by his death.
"I can't breathe," Biden said slowly, echoing the words the unarmed Minnesota man repeated as he died at the hands of police. "Mama, I can't breathe. What happened was the whole world saw it, they didn't just hear it, they saw it. Eight minutes, 46 seconds...they saw it. They said, 'Oh my god.' Everything changed."
He said the country is at an inflection point where it must root out systemic racism and highlighted his police reform plan, which would ban chokeholds and stop the transfer of "weapons of war" to police officers. He told the NEA no one should go to jail for the use of drugs and cash bail should be ended.
Biden apologized to those watching for becoming emotional, which included NEA president Lily Eskelsen Garcia, Parker, and nearly 8,000 delegates taking part in the organization's virtual representative assembly. The organization endorsed Biden in the primary and was using his appearance Friday to decide on its general election endorsement—which appeared to be a formality, with Garcia saying the "Trump-Devos agenda" must be stopped. The group told Newsweek President Donald Trump could have taken part in the recommendation process that led to Biden's invitation to address the organization, but the White House declined.
Introducing himself as "the husband of Jill Biden" because she is an NEA member, the former Vice President said teaching is "the most important profession in the United States. He then quickly turned to the topic of defeating Donald Trump and "chance to replace Betsy Devos," the secretary of education. He said as president he would foster a "teacher-oriented" Department of Education, "not from the top down, from the teachers up."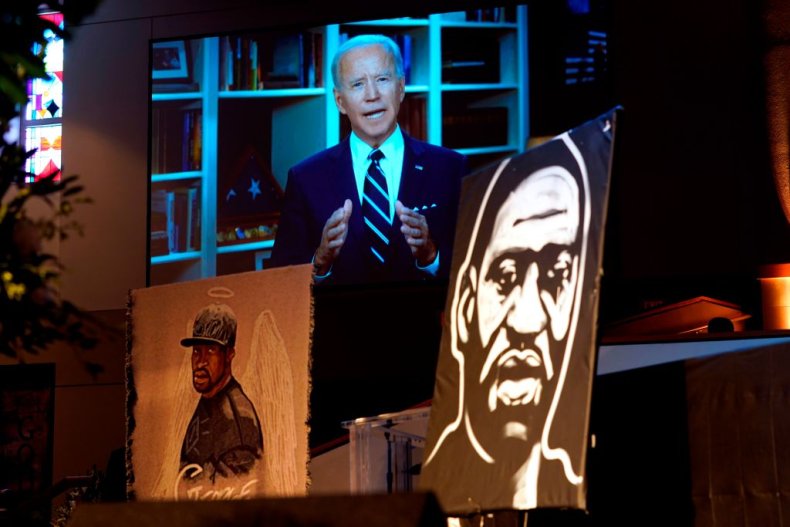 The Trump campaign responded to Biden's address to the NEA, by singling out the school choice issue, with Republicans traditionally in favor of charter schools, and Democrats more apt to walk a fine line because of their support from teachers' unions.
"Biden's allegiance is to the unions, not to our children and it's clear that he's taken the Black vote for granted," Katrina Pierson, a senior advisor for the Trump campaign, said in a statement. "In fact, 68% of Black Americans and 82% of Latino Americans support school choice."
Biden has in the past said he was opposed to for-profit charter schools, because "it siphons off money for our public schools, which are already in enough trouble." He fielded a question on that funding issue from an NEA teacher Friday.
Biden also was critical of President Donald Trump's handling of the pandemic, saying that he was warning the coronavirus should be taken seriously as early as January, while Trump "failed to take any action."
He slammed Trump for his much-criticized comments at a rally that his administration sought to slow down testing for the coronavirus to keep positive cases down, which White House aides said was a joke. The president subsequently doubled down, saying "I don't kid."
"It's not about him," Biden said Friday, exasperated, saying the focus should be on getting the nation back on its feet.
Biden won't know if he officially has the backing of the organization until August, the union told Newsweek, but he said teachers have an ally close to him if he does win.
"You won't just have a partner in the White House, you'll have an NEA member in the White House," Biden said, referencing his wife. "And if I'm not listening I'll be sleeping in the Lincoln bedroom.