U.S. President Joe Biden has said he anticipated intensive competition with China throughout his administration, and the People's Liberation Army has warned it would not back down from any test as Washington and Beijing feud over a range of international issues.
Responding to the White House's recently released Interim National Security Strategic Guidance that described China as "the only competitor potentially capable of combining its economic, diplomatic, military, and technological power to mount a sustained challenge to a stable and open international system," Chinese Defense Ministry spokesperson Senior Colonel Ren Guoqiang blasted a document he claimed bore a "Cold War mentality."
He dismissed the strategy as "an excuse to continue to seek hegemony, which reflects its stubborn hegemonic mentality." Ren said during a press conference early Thursday that China is "firmly opposed" to such remarks, which amount to a "dangerous mistreatment" of the People's Republic.
"China has no intention of 'challenging' anyone, but is not afraid of any challenge," Ren added.
The senior colonel said China "adheres to the path of peaceful development, pursues a defensive national defense policy." Rather than stirring up tensions, he said that "China and the United States will benefit both from cooperation."
"Cooperation is the only right choice for both parties," Ren said. "We hope that the U.S. can clearly understand the situation, view the development of China and the Chinese military in a rational manner, correctly handle the relationship between the two countries and the two militaries, meet the Chinese side halfway, strengthen dialogue and communication, expand mutually beneficial cooperation and properly manage differences, and promote the health and stable development of China-U.S. military relations."
The remarks came hours prior to Biden's debut presidential press conference, in which he discussed the topic of China and his approach to the rising power.
Recalling a two-hour conversation last month with Chinese President Xi Jinping, Biden said he made it clear to his counterpart in Beijing that the U.S. is "not looking for confrontation, although we know there will be steep competition."
"We'll have strong competition, but we'll insist China play by the international rules, fair practices, fair competition, fair trade," he said.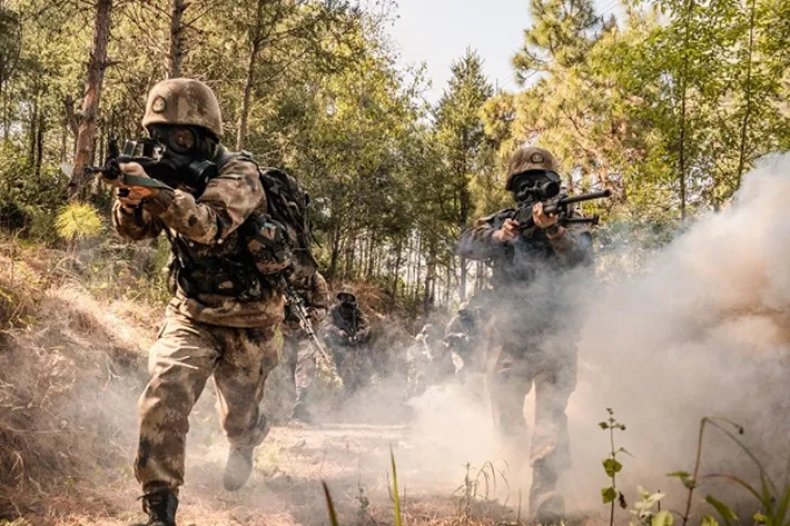 Biden has lengthy experience in dealing with Xi, as the two met previously when they each held the position of vice president in their respective nations a decade ago. Xi became president two years later, in 2013. After assuming the U.S. presidency, Biden said he has spent more time with the Chinese leader than any other foreign head of state.
He referred to Xi on Thursday as a "very, very smart guy," but warned that he, like Russian President Vladimir Putin, was among those who believe "that autocracy is the wave of the future—democracy can't function in an ever-complex world."
In order to prove Xi wrong, Biden said his administration would invest in science and technology at home, and reestablish U.S. alliances across the globe, though he emphasized they would not be "anti-Chinese" in nature.
Biden further asserted that he would "hold China accountable in the region," both for alleged human rights violations about which the the U.S. has become increasingly vocal, and across other venues of dispute, including the South China Sea.
China holds vast claims across that strategic body of water, and has increasingly developed military assets on islands and reefs also claimed by Southeast Asian states. Most recently, the Philippines and Vietnam have lodged protests over the presence of some 200 Chinese fishing vessels they claim to be part of a broader maritime militia encroaching on territory claimed by both countries.
The People's Liberation Army has said the boats were hiding from a storm sweeping the area.
Chinese Foreign Ministry spokesperson Hua Chunying dismissed U.S. concerns over her nation's military activities in the sensitive region during a press conference Thursday.
"China is not the first to carry out construction activities and deploy necessary facilities on islands and reefs in the South China Sea, nor is it the one that has conducted the most of such activities," Hua said. "The U.S. can by no means deprive China of the right to self-preservation and self-defense for its own territory by putting a label of militarization on China."
She accused Washington of being a bellicose party, claiming that the U.S. had been at war for all but 16 of its 250-year history. To support her argument, she said that the Pentagon had 800 military bases across the globe, including in the South China Sea, thousands of miles away from the U.S. mainland, and a massive military budget.
The U.S. "has also repeatedly sent aircraft carriers and strategic bombers to the South China Sea and deployed military aircraft and warships there on regular basis," she argued. "It even conducted activities in the South China Sea more than a hundred times by impersonating civil aircraft of other countries. No one is more suitable than the U.S. for the label of militarization and jeopardizing freedom of navigation."
The developments come after the Biden administration held its first in-person talks with Chinese officials at a summit last Friday in Anchorage, Alaska. The meeting turned tense as Chinese Communist Party Central Foreign Affairs Commission Director Yang Jiechi dismissed the U.S. claim to a "position of strength" in their relationship.