Biden Fails to Win Any of the 31 Iowa Counties Trump Flipped From Obama in 2016
Voters came out strong for President Donald Trump in Iowa and the president kept his hold on every county he flipped red in 2016.
In 2016, Iowa voters flipped 31 counties from blue to red. And one, Howard County, was the sole county in America to vote for both Presidents Barack Obama and Donald Trump by at least 20 points.
Accounting for about 26 percent of the state's total population, the 31 pivot counties helped give Trump the 10-point victory over Democratic candidate Hillary Clinton, who only won five counties.
Looking toward election night, Dennis Goldford, a professor of Political Science at Drake University, told Newsweek that if Trump retained his margin in the swing counties, he'd win the state. But, if those margins slipped, it would open the door for Biden to take Iowa and the six electoral college votes that come with it.
Unofficial results from the Secretary of State gave Trump a victory over Biden by about 140,000 votes. While the margin of his victory was smaller than in 2016, Trump received about 90,000 more votes on Tuesday night's election.
Part of the reason Trump was able to swing counties in Iowa in 2016 was that voters disliked Clinton and wanted to take a chance on a political outsider, Tim Hagle, a political science professor at the University of Iowa, told Newsweek.
Four years later, the question on Hagle's mind was whether swing voters would still support Trump or if Biden's blue-collar, Catholic background was enough to bring them back to the Democratic side.
Final votes are still being tallied but Trump's first term in office proved to be enough for him to secure election victories in the 31 pivot counties from 2016, and the state as a whole.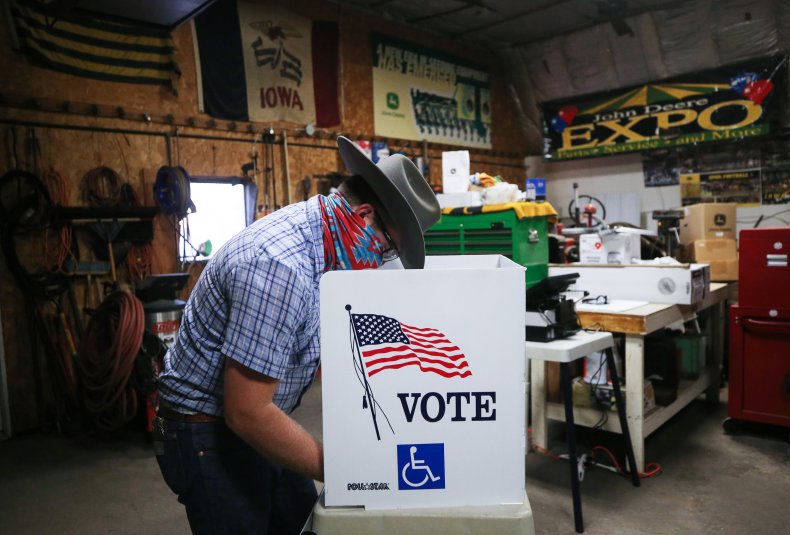 Fifteen of the 31 counties, a plurality, that Trump flipped in 2016 were in Congressional District 1. Going into the election, Republican voter registration in the district trailed not only Democrats, but "no party" voters, as well. It's a position Republicans are familiar with, as the same was true in 2016.
What may have seemed like a deficit going into the election proved not to be a hindrance to Trump's re-election chances, as he secured a victory in all 15 swing counties in Congressional District 1.
Voters in Howard, a county in Congressional District 1, were confident in Trump's ability to keep the rural 9,300-person county red. Even Laura Hubka, chair of the local Democratic Party, hoped only to shave a few points off the margin, not swing the county back to blue. In September, when she spoke to Newsweek, she said the county became more vocal in its backing of Trump since 2016. "Everybody seems to have a flag," she added.
"Trump has talked more about farmers than any president as long as I've been alive," Aaron Schatz, a farmer who voted for Obama twice and then Trump, told Newsweek. "He's trying to do things to help us in the middle of the country. Not saying it always worked out how we wanted or how he even wanted it to, but he's at least talking about it and wants us to succeed."
After Congressional District 1, Congressional District 2 had the second highest number of swing counties in 2016. Republicans once again had fewer registered voters than Democrats, although they closed the gap by about 2,000 voters.
In Congressional Districts 3 and 4, where Trump flipped only six counties in 2016, Democrats had the edge with voter registration in the former and Republicans in the latter. Going into the 2020 election, Republicans had more registered voters in both of the districts.
Ahead of Election Day this year, Trump had an average 1.5 percentage point lead over Biden and both parties were confident their candidate would take the state. Preya Samsundar, the GOP's Iowa and Minnesota communications director, told Newsweek in September that she couldn't think of a "single issue" that would encourage voters to go for Biden.
Iowa Democratic Party Chair Mark Smith, however, saw Trump as a president that broke "every promise" he made to Iowans and considered Biden's Build Back Better plan as a motivator for people to vote democratic.
Ultimately, Iowans decided that Trump earned another four years in office, giving him a victory in a state that helps his path to reelection.