Biden Fires Back at Marjorie Taylor Greene on Fentanyl Deaths
A laughing President Joe Biden mocked GOP Representative Marjorie Taylor Greene while shooting down her false claim that he was responsible for Trump-era fentanyl overdose deaths.
Greene shared a clip to Twitter on Tuesday of House testimony from Rebecca Kiessling, a mother who lost two sons to fentanyl overdoses in July 2020—when former President Donald Trump was in office.
While sharing the clip, Greene claimed that "both of [Kiessling's] son's murders" were caused by "the Biden administrations refusal to secure our border," an impossibility since the Biden administration did not exist at the time.
Deaths from opioids are continuing to rise, the National Institute on Drug Abuse says, driven largely by increasing use of fentanyl. Opioid-involved overdose deaths rose from 21,089 in 2010, to 47,600 in 2017, and were steady in 2019. This was followed by a significant increase in 2020 to 68,630, and again in 2021 to 80,411. Of the deaths in 2021, 70,601 were attributed to synthetic opioids other than methadone, primarily fentanyl.
During a speech at a gathering of Democrats in Maryland on Wednesday, Biden mocked Greene while speaking about bipartisanship, provoking laughter from the crowd by suggesting that Republicans would flock to become Democrats if there were more GOP lawmakers like Greene.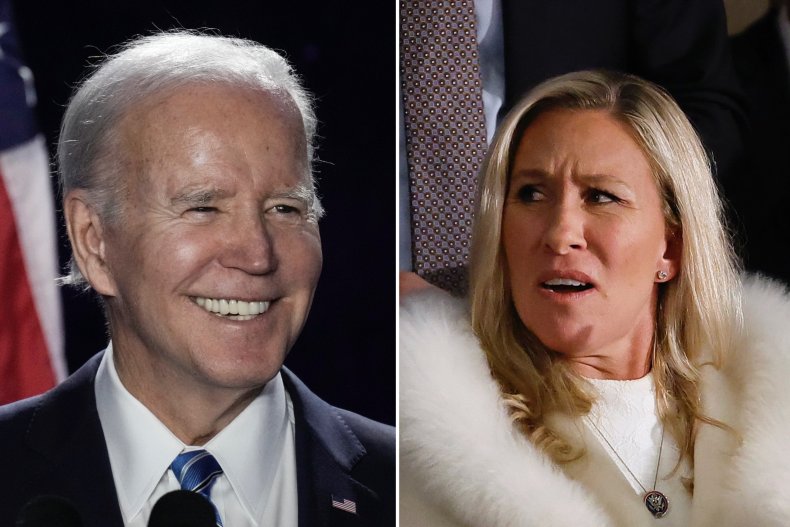 "You know, a little bit more Marjorie Taylor Greene, a few more and you're gonna have a lot of Republicans running our way," Biden said while chuckling. "Isn't she amazing? Oof!"
The president then addressed Greene's fentanyl overdoses claim, briefly laughing again after pointing out that the congresswoman failed to mention that the deaths took place under Trump.
"She was very specific recently, saying that a mom, a poor mother who lost two kids to fentanyl, that I killed her sons," said Biden. "Well, the interesting thing is that fentanyl they took came during the last administration."
Biden quickly received online backlash from critics, including some who misleadingly suggested that he was laughing about the fentanyl deaths rather than Greene. However, the laughter of the president and of his audience was clearly directed at the Republican congresswoman.
The Republican National Committee (RNC) Research Twitter account shared a short clip of the moment that was edited in a way that removed references to Greene, with the video captioned: "Yesterday, a mom who lost her two sons to fentanyl poisoning told her story. Today, Biden laughed about it."
"Shameful and embarrassing ..." Republican Congressman Jim Banks wrote while sharing the RNC Research tweet.
"Biden just laughed while talking about a Mom whose kid was killed with Fentanyl," said conservative commentator Robby Starbuck while tweeting the clip. "This is so incredibly inappropriate and vile."
Greene's tweet remained online at the time of publication, although a Twitter context note was added to correctly state that the Trump administration was in power at the time of the overdoses.
Nick Dyer, Greene's communications director, apparently did not address the congresswoman's error in a foul-mouthed response to CNN fact-checker Daniel Dale's request for comment on the falsehood.
According to tweets from Dale, Dyer said that people would not "give a f*** about" his "bulls*** fact checking" before telling him to "f*** off" when asked about Greene also spreading Trump's false claims of massive fraud in the 2020 presidential election.
Newsweek has reached out to Greene's office for comment.
Update, 3/2/23, 4:25 a.m. ET: This article was updated with additional background information.