Biden Flashed by 'Large, Naked Scottish Man' as His Motorcade Traveled to Glasgow
President Joe Biden was reportedly confronted by the sight of a "large, naked Scottish man" taking his picture on Tuesday as he traveled from Edinburgh to Glasgow to meet with world leaders for the U.N. climate change summit.
The president's motorcade was flashed by the naked man as he stood in a house's front window as the procession drove past, according to a White House media pool report.
"At one point when we were still on smaller country roads, a large, naked Scottish man stood in his front window taking a picture of the motorcade with his phone," the report said.
The location of the incident and Biden's reaction to the unusual sight have not yet been reported. Newsweek contacted the White House for additional comment but did not hear back before publication.
Biden arrived in Scotland on Monday for the U.N.'s Climate Change Conference (COP26) to discuss with world leaders the effects of global warming and address issues concerning gas, oil, deforestation and farming.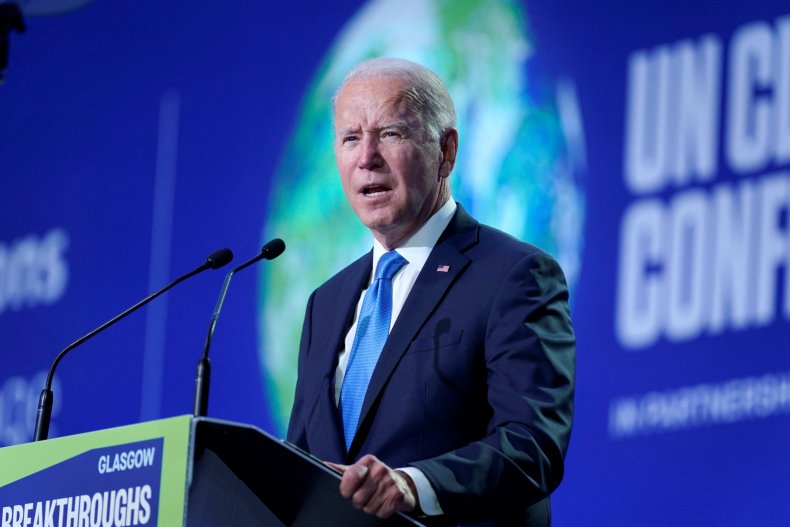 During his opening remarks Monday, Biden cited his Build Back Better plan for the U.S., which he said would include investing in clean energy, reducing carbon emissions and creating job opportunities. The president also revealed a long-term U.S. strategy for combating climate change by achieving "net-zero emissions economy-wide by 2050," according to the White House.
Meanwhile, British Prime Minister Boris Johnson warned the 130 global leaders gathered at the summit of a "one minute to midnight" moment in the fight against global warming.
On Tuesday, more than 100 leaders from such countries as the U.S., U.K., China and Brazil, vowed to end deforestation by 2030 in an effort to preserve forests, which absorb carbon dioxide. Additional initiatives that have been announced include a coalition of more than 80 nations working to fast-track the building of clean energy structures such as solar power stations and wind farms around the world.
Biden also said Tuesday that the U.S. and the European Union are launching the Global Methane Pledge, a commitment to reduce methane emissions by 30 percent by 2030. Methane is the second most problematic greenhouse gas warming the planet, after carbon dioxide.
"This is a decisive decade in which we have an opportunity to prove ourselves," Biden said during the summit's opening ceremony. "We can keep the goal of limiting global warming to just 1.5 degrees Celsius within our reach if we come together, if we commit to doing our part of each of our nations, with determination and with ambition. That's what COP26 is all about."
The president continued, "Over the next several days, the United States will be announcing several new initiatives that demonstrate our commitment to providing innovative solutions across multiple sectors, from agriculture to oil and gas to combatting deforestation—to tackling hard and to abate industries."
The president also came under some criticism Monday when a video appeared to show him falling asleep during speeches.