Biden Gaffes Cloud SOTU Speech as He Mixes up Iranians and Ukrainians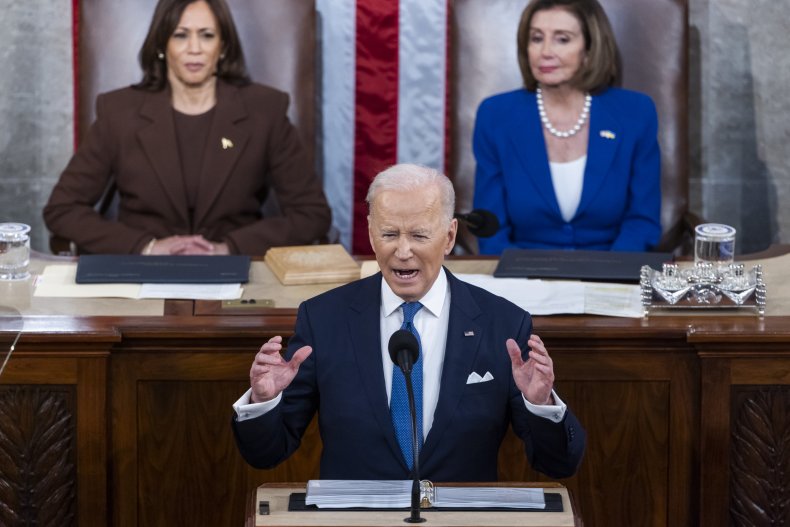 President Joe Biden's first State of the Union address drew immediate ridicule for a series of gaffes that included the president mistaking Ukrainians with Iranians.
Biden addressed the Russian invasion of Ukraine during his speech by praising Ukrainian resistance before prompting a standing ovation from both sides of the aisle after asking the lawmakers in attendance to "send an unmistakable signal to the world and Ukraine." While the president went on to deviate from his prepared speech many times, some of his gaffes changed the meaning of the speech.
"Putin may circle Kyiv with tanks, but he'll never gain the hearts and souls of the Iranian people," Biden said during his address, mirroring a prepared version of the speech supplied by the White House while substituting "Ukrainian."
Biden's mistake was almost immediately seized upon on social media, with conservatives in particular rushing to ridicule the error.
"Biden: 'Putin will never gain the hearts and minds of the Iranian people!' That's a relief," conservative commentator Ann Coulter tweeted.
"BREAKING: Biden announces unconventional plan to win the hearts and souls of Iranian people in Kyiv...," Representative Matt Gaetz (R-Fla.) tweeted, while noting that Biden's remarks did not come from the conservative satirical website The Babylon Bee.
"Here comes the meltdown!" online talk-show host Jimmy Dore tweeted. "'Iranian People.'"
"Putin will never weaken the will of the 'Iranian' people?" tweeted Representative Ken Buck (R-Colo.). "Someone please get Joe Biden a map."
While speaking about U.S. military forces defending NATO territory in Europe during an earlier part of the speech, Biden said that "our forces are not going to Europe to fight Ukraine." The prepared version of the speech specified that forces were not going to Europe to "fight in Ukraine."
The president later appeared confused while speaking about "vaccinating the world" by providing COVID-19 vaccine doses to other countries.
"We've sent 475 million vaccine doses to 112 countries, more than any nation on Earth," said Biden. "We won't stop, because you can't build a wall high enough to keep out a...a vaccine, the vaccine can stop the spread of these diseases."
Although it was not clear whether Biden was referring to former President Donald Trump's now-canceled plan to build a U.S.-Mexico border wall, conservatives on Twitter quickly drew the connection.
"You can't build a wall high enough to stop a vaccine?" Representative Lauren Boebert (R-Colo.) tweeted. "You CAN build a wall to stop the unvaccinated illegals, though."
Multiple social media users leapt to Biden's defense over the gaffes, pointing out that the president has struggled with stuttering since childhood while arguing that what may seem like easy-to-avoid mistakes are related.
Newsweek reached out to the White House for comment.