President Joe Biden called for a three-month federal gas tax holiday during a Wednesday afternoon press conference.
Biden asked oil companies to lower the prices at the gas pump as the price of oil goes down, saying "these are not normal times."
U.S. gas prices have broken records amid Russia's war with Ukraine.
The national average price for a gallon of regular unleaded gas as of Wednesday was hovering just below $5 after breaching $5 per gallon in mid-June.
Biden has attributed rising gas prices to the war in Ukraine and said his office is doing everything in its power to lower costs for consumers.
Energy Secretary Jennifer Granholm will meet with the heads of oil refinery companies Thursday.
The live updates for this blog have ended.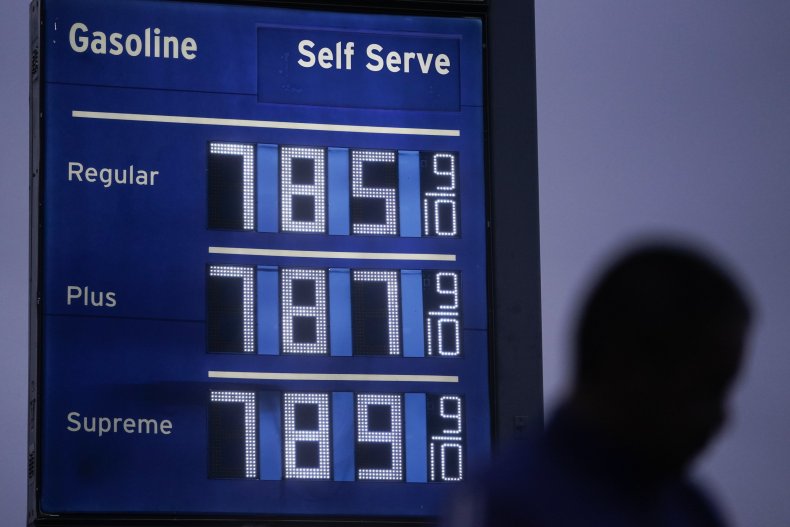 Energy Secretary Calls For End to Reliance on Fossil Fuels
U.S. Energy Secretary Jennifer Granholm pushed for a move to renewable energy to prevent future fuel price spikes.
"The real truth is that as long as our nation remains overly reliant on oil and fossil fuels, we will feel the the price shocks again," she said during the White House press briefing Wednesday. "This is not going to be the last time."
Granholm said the the next time there is a war, pandemic, natural disaster or extreme weather, "they will impact the access that we have to fossil fuels."
The only way out of these "boom and bust cycles," she said, is to diversify our fuel sources by deploying clean energy.
Movement towards a clean energy economy will make the country more secure from both a national security and energy perspective, Granholm said.
Being more secure means "we are not under the thumb of petrol dictators like [Vladimir] Putin," she added.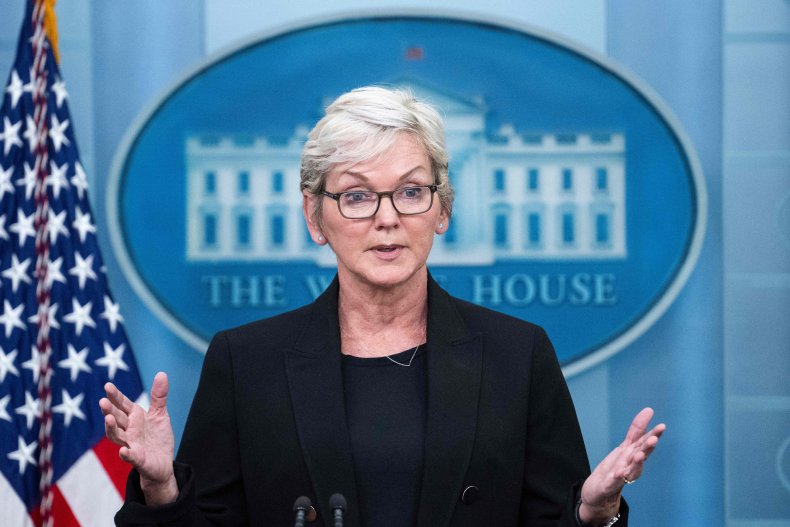 Average Prices Above $5 Per Gallon in 14 States
Average prices for a gallon of regular unleaded gas were above $5 in 14 states on Wednesday, according to the American Automobile Association (AAA).
The average price per gallon was also above $5 in Washington, D.C.
Gas prices have been on the rise over the last few months in the wake of Russia's invasion of Ukraine. Record prices have been set at the state and national levels.
According to AAA, the national average cost for a gallon of gas hovered just below $5 on Wednesday. The latest national average gas price record was set earlier this month, at $5.02 on June 14.
At the local level, California is the only state with an average gas price above $6. Statewide average prices were at $6.37 on Wednesday.
Nevada had the second-highest statewide average gas price at $5.63 per gallon. Alaska, Hawaii, Washington and Oregon also had statewide average gas prices above $5.50 on Wednesday.
Mid-week prices were above $5 per gallon for eight other states: Illinois, Arizona, Idaho, Utah, Michigan, Indiana, Maine and Pennsylvania. The average price in Washington, D.C. was $5.13 per gallon.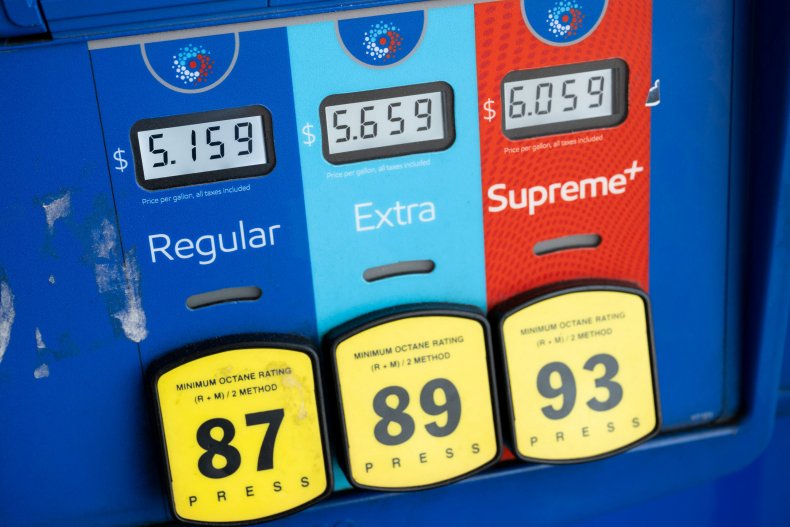 Gas Prices Rose $2 Since Russia's Invasion of Ukraine, Biden Says
President Joe Biden continues to blame the rising gas prices on the war in Ukraine.
He said gas prices have risen about $2 a gallon since Russia began it's invasion, but the rise in cost was a sacrifice the United States had to make to stop Russian President Vladimir Putin.
"Defending freedom and democracy does not go without costs for the American people and the rest of the free world," Biden said.
If the West "turned a blind eye" to Putin's "murderous ways," then there would not be a spike in gas prices.
"I believe that would be wrong," Biden said. "The free world had no choice."
Biden rebutted criticism from Republican lawmakers who blame him for rising gas prices.
Are you saying we were wrong to support Ukraine?" he said. "Are you saying that we would rather have lower gas prices in America and Putin's iron fist in Europe? I don't believe that."
Biden said he will do everything he can to "blunt the Putin Price Hike."
Pelosi Responds to Proposed Tax Suspension
House Speaker Nancy Pelosi said the Democratic Party is "united in our determination to lower gas prices" for American families after President Joe Biden proposed a three-month federal gas tax holiday.
Pelosi's office released a statement Wednesday afternoon that addressed the President's proposal. Biden asked Congress to suspend federal gas taxes through the summer and called upon states to take similar actions. He also encouraged oil companies to pass that tax suspension directly on to consumers.
"It is unacceptable that American families are being squeezed at the pump while Big Oil rakes in massive profits at their expense in the middle of Putin's War," Pelosi's statement said.
The Speaker continued by contrasting the President's "strong action" on rising prices with Congressional Republicans who have "consistently chosen big oil's outrageous profiteering on the backs of hard-working Americans."
"We will see where the consensus lies on a path forward for the President's proposal in the House and the Senate, building on the strong bills to lower prices at the pump already passed by the House Democrats including the Consumer Fuel Price Gouging Prevention Act and the Lower Food and Fuel Costs Act," Pelosi said.
Biden Calls on Oil Companies to Lower Prices at Pump
As the price of oil goes down, Biden said the price of oil at the pump needs to go down as well.
The price of oil has fallen by more than $10 a barrel in the last two weeks, Biden said Wednesday. While this would usually reduce the price at the gas pump by 25 cents, the price has only dropped a few cents, if at all.
Biden is calling on the companies that run gas stations and set gas prices to bring down the price at the pump to reflect the price they pay for oil.
"This is a time of war, global peril," Biden said. "These are not normal times. Bring down the cost you are charging at the pump to reflect the price you are paying for the product."
He said consumers need relief now.
This could drop the price at the pump by about $1 a gallon, Biden said, which won't reduce all of the pain, but would "be a big help."
"I'm doing my part," he said. "I want the Congress, the states, the industry to do their part as well.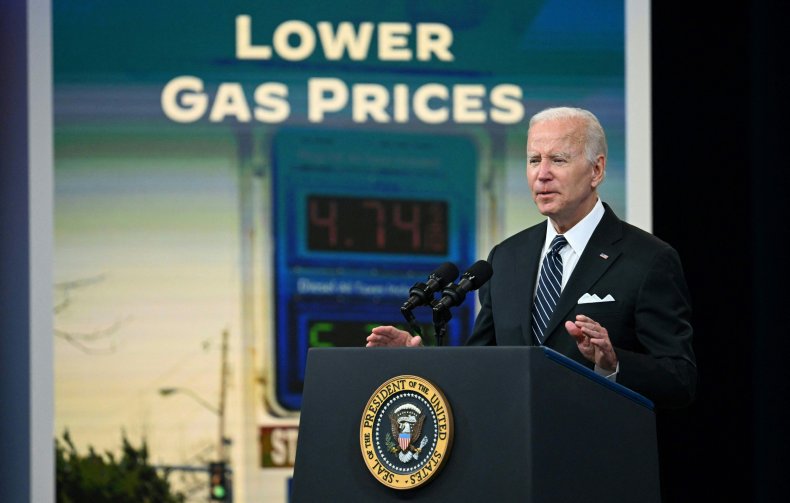 Administration to Meet with Oil Refinery Companies Thursday
Key members of the Biden administration will meet with oil refinery companies Thursday amid record-breaking gas prices.
President Joe Biden called on the oil industry to use their profits to refine more oil to gasoline Wednesday.
He recently sent a letter to the CEOs of the largest oil refinery companies asking them to work with his administration to "bring refineries back online" and "get more gas to the pump at lower prices."
Energy Secretary Jennifer Granholm and other members of the administration will meet with companies tomorrow.
"I hope they will come to the table with some real ideas and practical steps in the near term," Biden said. "I am prepared to act quickly and decisively on the recommendations that makes sense to address the immediate challenges in front of us and the American people."
Biden Wants States to Also Pause Taxes
President Joe Biden is urging states to pause state gas taxes "or find other ways to deliver some relief" for consumers amid record-high gas prices.
Biden called upon individual states to take action while addressing the public about his request for Congress to suspend the federal gas tax Wednesday. He asked for a three-month suspension, which would take the country through the end of the summer.
Americans currently pay federal taxes worth 18 cents per gallon for gas and 24 cents per gallon for diesel, Biden said. With the national average price of a gallon of regular unleaded gas just below $5 on Wednesday, Biden said suspending the federal gas tax will give American families "just a little bit of relief," though he noted the move "is not going to fix the problem."
If Congress agrees to his tax suspension proposal, Biden also urged gas companies to pass "every penny" of that relief on to consumers.
It would also help consumers if states take action, Biden said, noting the average state gas tax is about 30 cents per gallon.
The President noted some states have already taken steps to alleviate strain on consumers. He pointed specifically to New York and Connecticut, both of which have implemented temporary suspensions of state gas taxes. Illinois and Colorado have also postponed tax increases, according to the White House.
States are currently in a "strong" position to "afford to take some of these actions" due to the strong economic recovery seen after the onset of the coronavirus pandemic, Biden said.
"I'm calling on more states and local governments to take actions like these," Biden said.
Biden Pitches Tax Suspension Through September
President Joe Biden is expected to ask Congress on Wednesday for a three-month federal gas tax suspension, according to the White House.
The request is intended to alleviate some of the financial strain consumers across the U.S. are feeling at the pumps.
A White House fact sheet noted gas prices are up not only in the U.S., but around the world in the wake of Russia's late-February invasion of Ukraine. The White House said Biden recognizes the impact these high prices have on working American families. He is now suggesting a federal gas tax holiday after taking other actions, including emergency releases from strategic oil reserves.
"Today, he is calling on Congress and states to take additional legislative action to provide direct relief to American consumers who have been hit with Putin's Price Hike," the fact sheet said.
The federal government currently applies taxes of 18 cents per gallon for gas and 24 cents per gallon for diesel. That money goes to "critical highways and public transportation" projects through the Highway Trust Fund, according to the White House.
Biden's proposed tax suspension would last for three months, or through the end of September.
The White House said Biden wants this tax suspension to occur without the federal government removing funds from the Highway Trust Fund.
Biden is also calling upon individual states to "take similar action to provide some direct relief, whether suspending their own gas taxes or helping consumers in other ways," the White House said.
Watch: Biden Remarks on Record Gas Prices
President Joe Biden is calling on Congress to suspend the federal gas tax for three months amid record-breaking prices. He is asking for a "gas tax holiday" through September.
Biden is scheduled to deliver remarks Wednesday at 2 p.m. ET. Watch live on the White House YouTube page or below.