Biden Gets an 'F'—37 Percent of Voters Say He's Failed After a Year in Office
After one year in office, a plurality of surveyed voters is giving President Joe Biden an "F" for his job performance.
That's according to a new poll from Politico/Morning Consult released Wednesday. When asked to grade the first year of Biden's term, 37 percent of respondents gave him the "failing" mark.
Twelve percent of those surveyed gave Biden a "D" grade, 18 percent gave him a "C," and 20 percent said he deserved a "B." Just 11 percent of voters said the job he has done is worthy of an "A" mark, or "excellent."
The findings come as Biden nears the one-year anniversary of his inauguration. The president entered office with an approval rating in the high 50s, but that has dropped to 41 percent approval after a series of crises over the past six months, including the chaotic withdrawal of U.S. troops from Afghanistan, the coronavirus's Omicron wave and rising inflation.
Roughly half of voters also gave Biden a failing grade on foreign relations, COVID-19 and the economy.
Biden scored one of his worst marks on the issue of national unity: 52 percent of respondents gave him a failing grade. That finding comes just after the first anniversary of the U.S. Capitol riot.
Biden campaigned on uniting the nation and addressed the issue in his speech on January 6. "I believe the power of the presidency and the purpose is to unite this nation, not divide it; to lift us up, not tear us apart; to be about us—about us, not about 'me,'" he said.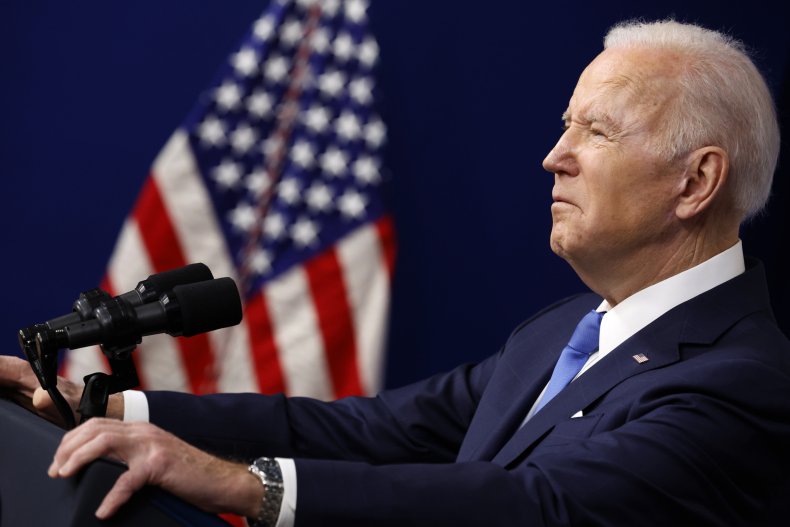 Even more disheartening for the White House, most respondents (42 percent) said they believed Biden's performance as president will get worse over the next three years. Meanwhile, 29 percent of voters said they believed it would get better, and 23 percent said they think Biden's performance will stay the same.
The marks for Vice President Kamala Harris were also underwater. Asked if they had a favorable or unfavorable view of Harris, more than half of respondents—54 percent—said they viewed her unfavorably.
The public's view of the Biden administration is a serious problem for the Democratic Party as it aims to keep control of Congress in this year's midterm elections. But the poll showed both parties to be neck and neck, as 41 percent of voters said they'd support the Democratic candidate for Congress if the election were held today, while 42 percent said they'd support the Republican candidate.
Politico and Morning Consult surveyed 2,005 registered voters between January 15 and 16. The poll has a margin of error of plus or minus 2 percentage points.