President Donald Trump welcomed American biotechnology company Moderna's announcement regarding the effectiveness of its experimental COVID vaccine and sought to put his stamp on the progress.
Moderna revealed in a press release on Monday that its vaccine, named mRNA-1273, was 94.5 percent effective, according to its Phase 3 study data.
The breakthrough came on the back of American pharmaceutical firm Pfizer and German biotechnology company BioNTech last week declaring their own COVID vaccine candidate 90 percent effective in preventing COVID-19.
The developments increase confidence that vaccines can help end the ongoing pandemic.
After Moderna's news, Trump took to Twitter on Monday to emphasize the vaccine advances announced to date had taken place during his presidency. "Another Vaccine just announced. This time by Moderna, 95% effective," Trump tweeted.
"For those great 'historians', please remember that these great discoveries, which will end the China Plague, all took place on my watch!"
On his Twitter feed, President-elect Joe Biden said Moderna's announcement offered "further reason to feel hopeful" while also cautioning that widespread vaccination and any eventual end to the pandemic remains "months away".
"What was true with the first vaccine remains true with the second: we are still months away. Until then, Americans need to continue to practice social-distancing and mask-wearing to get the virus under control," Biden wrote on the social media platform.
"Once again, I congratulate the brilliant women and men who produced this breakthrough and have brought us one step closer to beating this virus.
"I am also thankful for the frontline workers who are still confronting the virus around the clock."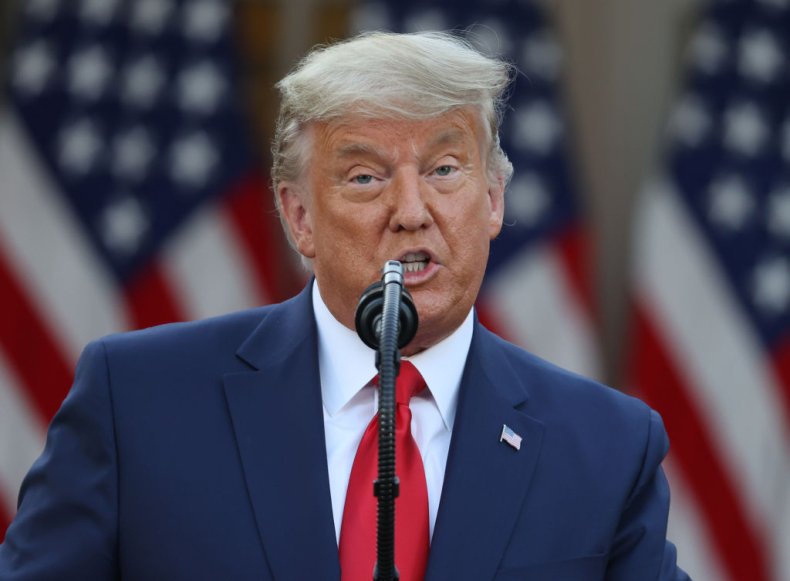 Moderna plans to request an emergency use authorization for its vaccine from the U.S. Food and Drug Administration "in the coming weeks."
The company said it is collaborating with bodies including the U.S. Centers for Disease Control and Prevention in order to get ready to distribute the vaccine in the event authorization is granted.
It expects to have approximately 20 million doses ready to ship in the U.S. by the end of this year and is aiming to produce up to one billion doses for use around the world in 2021.
The company's announcement of its results came after enough volunteers in the study caught COVID-19, prompting an independent monitoring board to unveil who had taken placebo and who received mRNA-1273.
More than 30,000 people in the U.S. took part in the study, including those considered to be at high risk from COVID-19, such as people above the age of 65 and those with certain underlying health conditions, as well as members of communities often underrepresented in trials, such as people of color.
The company arrived at the figure of 94.5 percent after 95 participants developed COVID-19. Of those, 90 were given a placebo, and five took mRNA-1273.
Scientists also looked for severe cases of COVID-19 among the participants and found 11. None of these volunteers were immunized.
The graphic below, provided by Statista, shows the claimed efficacy of the current vaccine candidates.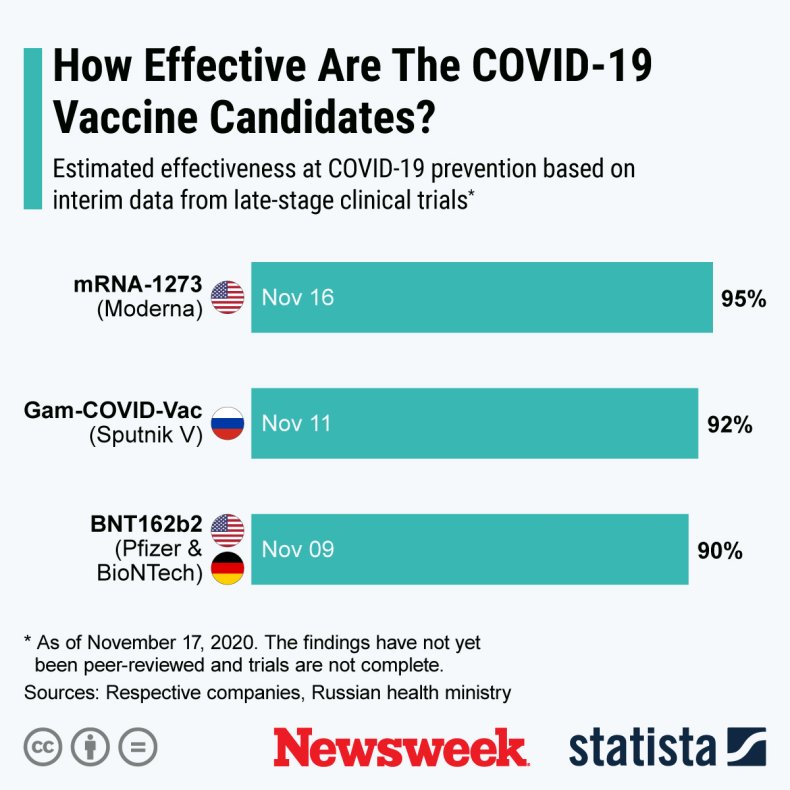 This article was updated to include an infrographic.