Biden-Harris Campaign Logo 'Bat Light' Projected Onto Chicago's Trump Tower
Vice President Joe Biden and Senator Kamala Harris's campaign logo found an ironic spot to encourage folks to vote in Chicago: a tower that bears President Donald Trump's name.
The Biden-Harris logo was projected onto the Trump International Hotel & Tower on Saturday, as part of a campaign by the United Steelworkers union to get workers to vote this November 3, NBC Chicago reported.
The words "Biden Harris" appeared in gigantic blue letters across one of the Trump Tower's sections, with the United Steelworkers logo underneath.
"We didn't?! We did!! And it felt so good. (The most action that sad, half-empty building's seen in a while.) Good morning Chicago," the Twitter account dedicated to the USW Bat Light posted on Saturday.
Another tweet from the account cheekily called Trump's modern tower overlooking the Chicago River "an eyesore no more."
Biden and Harris's campaign logo also lit up other Chicago sights on their "tour stop" in the Windy City: the Chicago Theatre, the Art Institute of Chicago, and Wrigley Field.
The 'bat light' travels with four women, who have visited several states to display their support for the presidential candidates. The campaign logo has already appeared on buildings throughout Michigan, Minnesota, Ohio and Pennsylvania.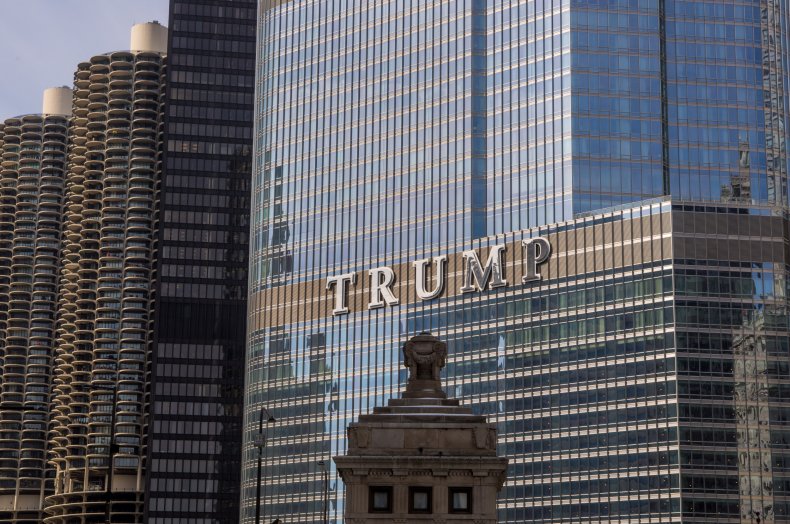 "This election is obviously very important and there's a lot at stake for workers," Jess Kamm Broomell, spokeswoman for United Steelworkers, said, as per Chicago Sun-Times. "A lot of issues facing working people are on the ballot this year: Affordable healthcare... retirement security, workers' rights, health and safety on the job, all of these things are at stake."
The United Steelworkers represents over one million members and retirees.
"The bat light project was born out of our existing political work, we wanted to be able to spread the message in a way that was COVID-friendly," Broomell continued. "Mostly to let people know how important this election is, how important it is to make a plan to vote and start some conversations about these really important issues facing workers."
"We are trying to shine a light on the need to make a plan to vote," Jess Kamm, communications director with the United Steelworkers, also emphasized via Dayton Daily News. "And of course, this is to reinforce our endorsement of Biden as the presidential candidate."
According to the USW Voices webpage, the union also endorsed Alan Jones for the North Carolina House of Representatives.
Newsweek reached out to the Trump Organization and the United Steelworkers for additional comment Sunday morning.