Biden and Harris Host Hispanic Leaders at White House to Confront Lagging Latino Vaccinations
While much of the focus on unvaccinated Americans has been on Republicans in southern states, the reality is far more complicated.
The Kaiser Family Foundation, which regularly releases a Vaccine Monitor report looking at the profile of the unvaccinated, found that while 37% of unvaccinated adults are white Republicans, second on the list were Hispanic adults comprising 18% of the group.
But while 65% of unvaccinated whites and 58% of unvaccinated Republicans reported they are "definitely not" getting the vaccine, that number was only 13% among Latinos, with 27% saying they were still taking a "wait and see" approach.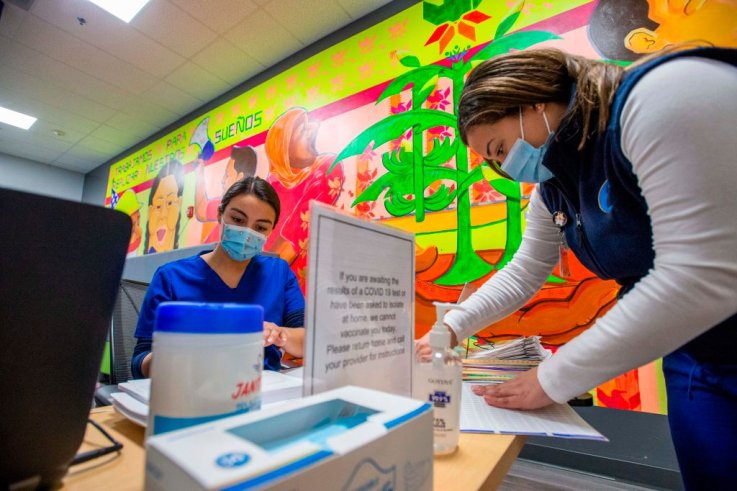 Medical staff organize paperwork before people show up for their appointments to be vaccinated at La Colaborativa in Chelsea, Massachusetts on February 16, 2021. With a population of close to 40,000 people, Chelsea is one of the hardest hit cities in the United States by Covid-19 with close to 8,000 infected people and over 200 deaths from the virus. The community is made up of close to 70 percent Latino or Hispanic people,and also retains a large undocumented population.
Joseph Prezioso / AFP/Getty Images
That opportunity to change the numbers and save lives was on the minds of Latino grassroots leaders who met privately with President Joe Biden and Vice President Kamala Harris at the White House on Tuesday.
Speaking before the meeting, Biden said that while the Delta variant is a more "transmissible" version of the virus, "we're not seeing a comparable rise in hospitalizations or deaths in most of the country because of the vaccinations."
"This is an epidemic of the unvaccinated, a pandemic of the unvaccinated," Biden said.
But as a meeting that was supposed to last one hour stretched to two, Latino leaders zeroed in on two challenging aspects of getting the Hispanic community vaccinated, according to five attendees who spoke with Newsweek.
Maria Teresa Kumar, the head of Voto Latino, told Biden the story of her mother who works in elder care, but was hesitant to get the vaccine.
It took two months, but eventually her mother told her she was hesitant to get it because her friend from the gym shared WhatsApp videos with her of a woman in a lab coat, who looked "impeccable" and "trustworthy," and argued the vaccines aren't safe.
Unbeknownst to Kumar, who launched a $22 million anti-disinformation lab partnership between Voto Latino and Media Matters to combat disinformation targeting the Latino community and the threat of disinformation on democracy and public health, the battle had reached the home front.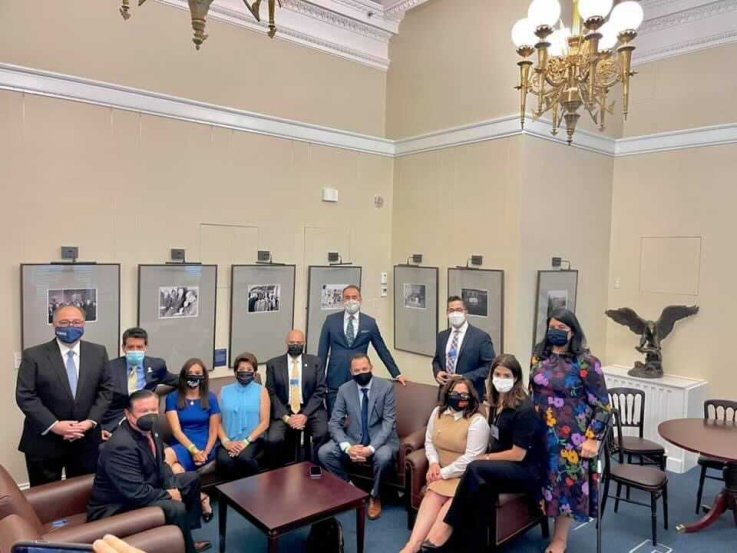 Latino leaders who met with President Biden and Vice President Harris on Tuesday to discuss the challenges of increasing vaccinations are pictured at the White House (L-R), Ramiro Cavazos, Domingo García, Mark Magaña, Maria Teresa Kumar, Janet Murguia, Arturo Vargas, Kenneth Romero, Hector Sánchez Barba, Frankie Miranda, Jess Morales Rocketto, Nathalie Rayes and Lorella Praeli.
Photo Provided
According to attendees, Biden and Harris were very engaged on the topic of disinformation, as they spoke about how difficult it was to identify the sources of disinformation campaigns, and about how they want to dig more into the topic.
As an aside — but one that clearly mattered to Biden — he remarked that disinformation about socialism was one of the reasons he lost Florida.
At one point after the disinformation discussion, Susan Rice, the director of the domestic policy council, passed a note to Kumar asking to speak further on disinformation, a meeting attendee told Newsweek.
In many ways the disinformation discussion tied into the other ask of the White House from Latino leaders, who argued in favor of additional funding to reach Latinos with trusted sources to offset social media misinformation.
Flanked by black and white framed photographs telling the story of the civil rights and voting rights struggle, from Lyndon B. Johnson signing the landmark Civil Rights Act with Martin Luther King Jr. looking on, to John Lewis marching in Selma a year later, the attendees spoke of the need to buttress the work being done in local Latino communities to address vaccine hesitancy.
One such campaign is Somos Salud, a health initiative funded by the Centers for Disease Control and Prevention (CDC), which tackles the various obstacles to accessing the COVID-19 vaccine facing many in non-English dominant communities throughout the country. The partners for the effort include the US-Mexico Border Health Commission, The Latino Commission on AIDS, Presente.org, and 18 Alianza Americas member organizations, which is helping to lead the effort.
Margarita Sanchez, 48, is one of the health promoters, or "promotoras," for the initiative, and has been working with the Latino community in Chicago since 1995. When the pandemic hit and families had three or four people infected in the house and couldn't go outside to get what they needed, the promotoras helped, even leaving oximeters in their mailboxes.
"There are reasons from the political ones, to religious, to cultural," Sanchez said of vaccine hesitancy in the Latino community. "I've heard things like the government wants to put a chip in your brain, or women carry with them what has happened in Latin America where women were sterilized against their will."
She also addressed disinformation on platforms like WhatsApp and Facebook.
"There is so much disinformation that is passed around on social media, things like a doctor in the Dominican Republic said this, or a doctor in Colombia said that," she said. "What is said on social media gets passed around and it goes from country to country in a second."
The White House did not respond before publication to a Newsweek request on what it is doing to address vaccine hesitancy in the Latino community.
Ramiro Cavazos, the president of the U.S. Hispanic Chamber of Commerce, who attended the White House meeting, predicted that more Latinos would get vaccinated once the Food and Drug Administration gives final approval to the vaccines, beginning with Pfizer in September.
He said he believes the administration has the power to enforce health guidelines "the way we enforce wages and taxation," and needs to "get serious" about those requirements.
"As the USHCC we have more than 250 chambers that represent 5 million Latino businesses," he said. "The best way to rebuild the economy is to ensure people are vaccinated, and we're willing to do our part."
Domingo Garcia, the president of the League of United Latin American Citizens, said one attendee spoke about her sister in northern California who was afraid of vaccine side effects.
"If she gets sick and can't work for three to four days," he told Newsweek, "there is no one who can take care of her kids and bills."
A new Voto Latino project, in partnership with Google, is looking to persuade vaccine hesitant people through online ads to drive desired search traffic on COVID and vaccines.

The effort created ads with Latinos saying in English that they got the vaccine, with one reviewed by Newsweek featuring a man identified as Mr. Padilla, a sixth-grade math and science teacher saying he felt "so much safer" and a sense of "euphoria" from receiving the vaccine.
In another, a woman identified as Adriana from California stands in front of farming equipment in a field, and says at first she was scared to get the vaccine because it was so new, but says she finally got it because she was tired of seeing people die from Covid, and now she feels "free."
Kumar told Newsweek that while her political work with persuadable voters made them nine times more likely to vote, people who saw the ads were nearly 54 times more likely to search for "get Covid vaccine" than people who didn't see the ads, according to data from Google.
The ads drove the "highest search lift" with important, high-intent, vaccination and Covid terms, "showing that they were educating viewers and driving them to action," Google said, including a finding that approximately 17,000 people received the vaccine after the ad, with a cost of $0.70 per conversion.
The campaign saw particular overperformance from ads viewed in Florida, as well as in California and Texas.
Kumar said she would like to see the White House convene a summit to discuss vaccine hesitancy at the regional level, and create a European-style agency for non-profits to be able to share research and cutting edge findings rather than sitting on them and keeping new information and tactics siloed.
Hector Sanchez Barba, who helped put the meeting with Latino leaders and the White House together, said it was "productive," with Covid response at the very top of the administration's priorities.
He said comparing Latino leaders access to Trump's White House and Biden's White House was like night and day, calling it a "drastic" change. But he noted that there is "more work to do to invest in minority communities and response."
Still, there remains a sense among some advocates that the White House is not doing enough on the issue of vaccine hesitancy among Latinos, with a source who works with one of the Latino groups that was present calling it "baffling."
"The administration has been saying for some time now that we are going to have a surge among infections of those that are unvaccinated, and Latinos are among the most unvaccinated," the source said. "School is going to start, the Delta variant is out there, and so there tough questions a lot of people need to address."