Biden, Harris Top Targets of Misinformation During July Democratic Debates: Report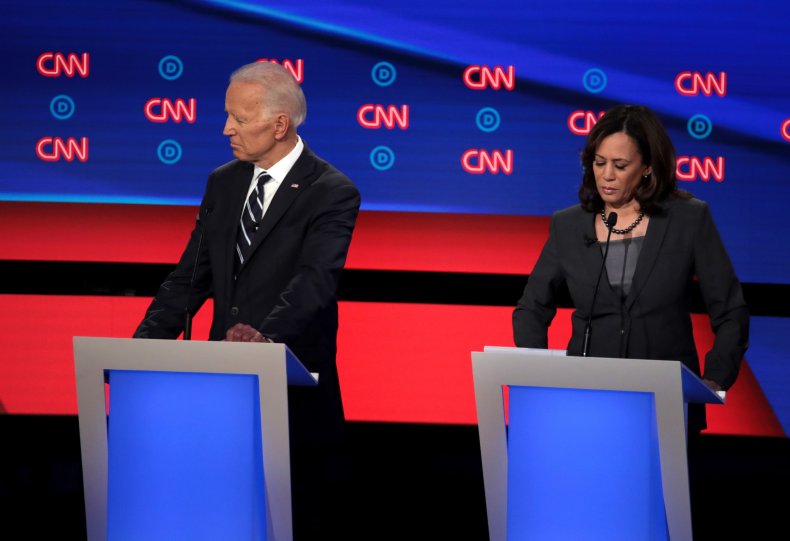 Former Vice President Joe Biden and Senator Kamala Harris, two of the Democratic Party's top contenders for the 2020 presidential nomination, were on the receiving end of more viral misinformation attacks than any other candidate, according to a report outlining the spread of false content on Twitter in the lead up to and following the July primary debates.
VineSight, a self-described AI startup "that detects fake news on social networks," released a new analysis of misinformation directed at 2020 candidates on Twitter. The report found that Biden received 30 percent of all candidate-targeted misinformation leading up to and following the July debates, while Harris received 27 percent.
The falsehoods identified by VineSight were not run-of-the-mill social media jabs, but high-performing tweets that passed a certain threshold for virality. Most of the tweets garnered hundreds of thousands of retweets, conveying a certain level of influence on the platform.
Much of the viral misinformation spread around the time of the July debates relied on old, familiar tropes that have been thoroughly debunked but nevertheless continue to thrive.
Several such tweets targeting Harris revived a classic, racist attack on her nationality. The posts alleged that her identity as a black woman was somehow in question, owing to her father's Jamaican origins, and "trolls have been using videos on Twitter and Facebook to make the story go viral," according to the report. Jamaican identity, of course, does not preclude Harris from having African ancestry.
Similarly borne of pernicious, right-wing misinformation, attacks on Biden included suggestions that he supports infanticide. Extreme rhetoric on the political right often confounds abortion with infanticide, but recent attacks have gone as far as claiming that Biden "supports abortion up until birth," or even the "killing of born alive babies."
Other Democratic candidates received their fair share of misinformation and viral falsehoods. Senators Bernie Sanders and Elizabeth Warren, respectively, received the third and fourth highest amounts of Twitter misinformation around the July primary debates.
Much of the misinformation flagged about Sanders' campaign in the VineSight report did not concern his personal identity, unlike with Harris, but rather his generally leftward political positions. Two Fox News guests identified in the analysis produced viral tweets assailing Sanders' plan for income taxation that would exceed 70 percent, despite his actual plan which would include a top, marginal tax rate of just 52 percent.
Multiple reports in the lead up to the 2020 elections have shown that misinformation campaigns are ramping up on social media as the general election approaches. In January, then-Director of National Intelligence Dan Coats warned that plans from foreign entities to meddle in the 2020 presidential election, including through digital disinformation campaigns, were likely already underway.
"In the last decade, our adversaries and strategic competitors have developed and experimented with a growing capability to shape and alter the information and systems on which we rely," a threat assessment Coats provided to the Senate Intelligence Committee noted. "For years, they have conducted cyber espionage to collect intelligence and targeted our critical infrastructure to hold it at risk. They are now becoming more adept at using social media to alter how we think, behave, and decide."