Joe Biden's presidency started Wednesday with a "Parade Across America," which was designed by the Biden-Harris administration to showcase songs and talents from across the country, while everyone is separated due to COVID.
With singing, dancing and a few familiar faces, a joyful parade streamed live on Biden's inauguration website. Not only did it welcome the president to the White House, but it gave a platform to artists around the country.
The inauguration was different from years past, with no crowd of American onlookers. Politicians, wearing masks, attended Biden's swearing in, awkwardly fist bumping, hugging and perhaps lacking distancing guidelines, but crowds of onlookers were forbidden. The National Mall was decorated with flags instead of faces. Once Biden and Vice President Kamala Harris left Arlington National Cemetery in Virginia, the parade started.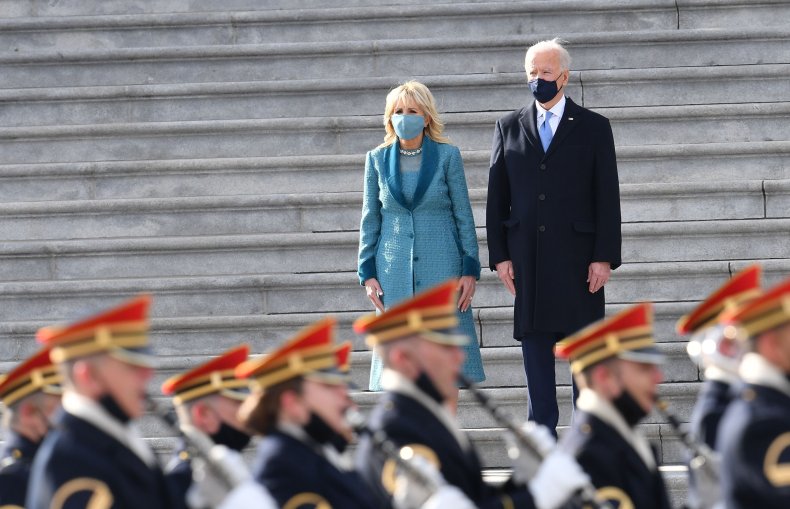 So, to lift the spirits of Americans and to show a united country, Parade Across America was designed to inspire community and showcase talent from all parts of America.
The parade was hosted by a favorite, fictional president: Tony Goldwyn, also known as President Fitzgerald Grant III on Shonda Rhimes' hit show Scandal.
The parade featured performers from every state and U.S. territory. It began with two drum lines, one from the University of Delaware and one from Howard University—the alma maters of Biden and Harris—as they escorted the new president and vice president home.
Later, bands from across the country appeared with their own performances. The parade wasn't limited to music, though. Dance numbers, familiar online faces and a list of heroes were celebrated, too.
An anesthesiologist who found fame on TikTok, Dr. Jason Campbell, was featured due to his goal of spreading kindness and joy during such a difficult year in the medical community.
Another name on the heroes list, which was released by the Biden administration via press release, follows in Campbell's kindness footsteps. Jason Zgonc, a 12-year-old trumpet player, was able to play a duet with his musical idol, Ethan Bensdorf of the New York Philharmonic. Zgonc used his talent to entertain essential hospital workers on their breaks throughout the pandemic.
And there was more. The United States Coast Guard Band and the U.S. Marine Corps Silent Drill Platoon performed, and even High School Musical filmmaker and choreographer Kenny Ortega choreographed a dance for the parade, too.
Viewers from around the country were impressed and inspired by the event, which premiered toward the end of the inauguration day festivities. Twitter users posted sweet notes about the collection of talents, from inspirational people to wonderful music.
Of course, there were memes about the parade, or about inauguration day in general. A photo of Senator Bernie Sanders wearing cozy mittens made the rounds on Wednesday, and fell into the parade conversation, too.
Others pointed to the oddity that was a parade with no audience. During a non-COVID year, there would be thousands of cheering bystanders. Some who commented on the emptiness of the parade were vocally opposed to Biden's leadership.
Many also showed respect for what the parade represents. Wishes for safety and prosperity were found online, and some admitted to being fearful for the safety of the new leaders. As Biden and family stepped out of their car to walk some of the parade route, Twitter users issued notes of concern after violent riots by supporters of former President Trump took over the Capitol on January 6.
Biden and his family made it safely to the White House after walking some of the parade. After, a digital parade continued to celebrate the talents of Americans everywhere, and to thank heroes who have risked their lives for others during the pandemic.