Biden Has Already Broken All of His Promises | Opinion
Joe Biden has a long list of promises for America—it's just too bad that he has already broken them during his lengthy, failure-ridden career in Washington, D.C.
Throughout the heated presidential debate on Tuesday night, the Democratic nominee repeatedly vowed to transform America for the better, but never explained why he hadn't been able to do that during the decades he has already spent holding positions of immense power.
When asked about his economic agenda, Biden insisted that his administration would help America recover from the devastating pandemic, suggesting that his policies would be better for working Americans than President Trump's.
But as President Trump pointed out during the debate, Biden was partially responsible for one of the most lethargic economic recoveries in American history. Instead of cutting taxes and eliminating job-killing regulations—the strategy Trump used to create the strongest economy in history and lure many companies back to America—the Obama-Biden White House stifled job growth across the nation with misguided big-government, anti-business policies.
When the president was making critical life-saving decisions such as restricting travel from China, Biden was calling him "xenophobic"—only to later backtrack and admit it was a good idea. Biden went on to call for President Trump to invoke the Defense Production Act to mobilize production of vital medical equipment, only to discover that Donald Trump had already done just that.
When confronted about health care, Biden attempted to defend his plan by arguing that it is different from the radical liberal push to implement "Medicare-for-all." But the American people who have lived through the era of Obamacare's skyrocketing health care costs know that Biden's promises to double down on that approach could just as easily be interpreted as a threat.
The Trump administration, after all, has improved American health care mainly by repealing the worst elements of Obamacare and implementing common-sense administrative improvements, such as allowing VA hospitals to fire incompetent employees.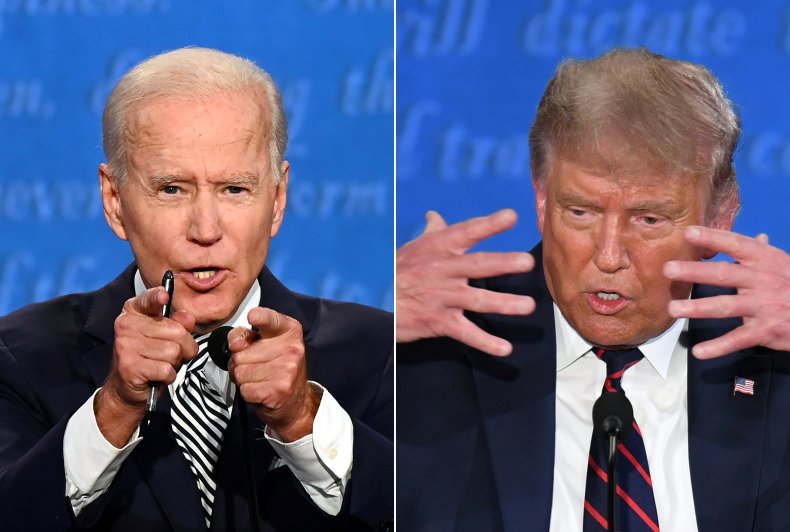 The president has also implemented other obvious solutions to reduce health care costs, including securing favored nation status for the United States when it comes to prescription drugs. "Drug prices will be coming down 80 or 90 percent—you could have done it during your 47-year period in government, but you didn't do it," the president once again pointed out.
Biden even had the nerve to criticize President Trump's stance on law and order and to insist that our country would be more united and "just" under his administration. The president expertly countered the former vice president by listing all of the police departments and first-responder unions that have endorsed President Trump precisely because they trust him, and not Joe Biden, with law and order.
Of course, it's vital to remember that Biden himself was largely responsible for the "tough-on-crime" policies of the 1980s and '90s—while he was chairman of the Senate Judiciary Committee—that subjected generations of black Americans to mass incarceration. Meanwhile Trump has spent his time in office cleaning up that mess by passing the First Step Act, which corrected many of Biden's prejudicial sentencing policies, among other criminal justice reforms.
Shockingly, Biden went on to cover for Antifa, arguing that the group is "an idea, not an organization." Trump was once again on the right side of this critical 2020 issue: "Antifa is a dangerous radical group and you ought to be careful with them—they'll overthrow you," Trump stressed, highlighting numerous instances of violent unrest that have taken place since long before the 2016 election.
The president came off as strong and decisive on very specific issues, and his track record proves he is the "promises made, promises kept" president. Meanwhile, Biden came off as weak, relying on platitudinous, empty rhetoric like nearly every politician we've ever seen—that is, until Donald Trump.
Joe Biden has certainly shown that he can make a lot of empty promises, but his long list of past failures and mistakes in Washington doesn't inspire confidence about his ability to follow through.
Charlie Kirk is the chairman of Students for Trump and host of The Charlie Kirk Show.
The views expressed in this article are the writer's own.