Biden Has Better Chance of Winning Texas Than Trump Has of Winning Pennsylvania
With the general election only nine days away, President Donald Tump and Democratic presidential nominee Joe Biden are prioritizing campaign outreach in this year's key battleground states. As both candidates vie for majority support from those that have a significant presence in the Electoral College, election forecasts estimate Biden's chances of winning Texas, which has voted Republican for decades, were higher than Trump's chances of winning Pennsylvania, considered a toss-up, as of Sunday.
Of the current election cycle's designated battlegrounds, Arizona, Florida, Pennsylvania, Michigan, North Carolina and Wisconsin have become subject to elevated public scrutiny and campaign focus from both sides. A handful of additional states, like Texas, were surprising additions to the list of battlegrounds in 2020. Polls conducted among likely voters in the Lone Star State, which has historically voted for Republican presidential candidates, suggest the current race is closer than others that have taken place in past years.
A poll released Sunday by The Dallas Morning News and University of Texas at Tyler showed Biden narrowly leading Trump among early voters, who have turned out in record numbers. But supporters of the president are expected to make a strong showing on Election Day.
In Pennsylvania, a state Trump won narrowly during the 2016 election against Hillary Clinton, additional polling data indicates that Biden leads his Republican competitor by 5.7 percentage points, according to FiveThirtyEight's latest averages. Biden appeared at two drive-in campaign events in Pennsylvania on Saturday, while Trump hosted competing events in North Carolina, Ohio and Wisconsin.
The election outcome in 2016—when Clinton won the popular vote but lost the election after Trump secured the majority of electoral votes—solidified the importance of winning states with Electoral College representatives in larger quantities. Texas, Florida and Pennsylvania—with 38, 29 and 20 electoral votes, respectively—have the most electoral votes of any swing states in the U.S., and could potentially sway the election's results.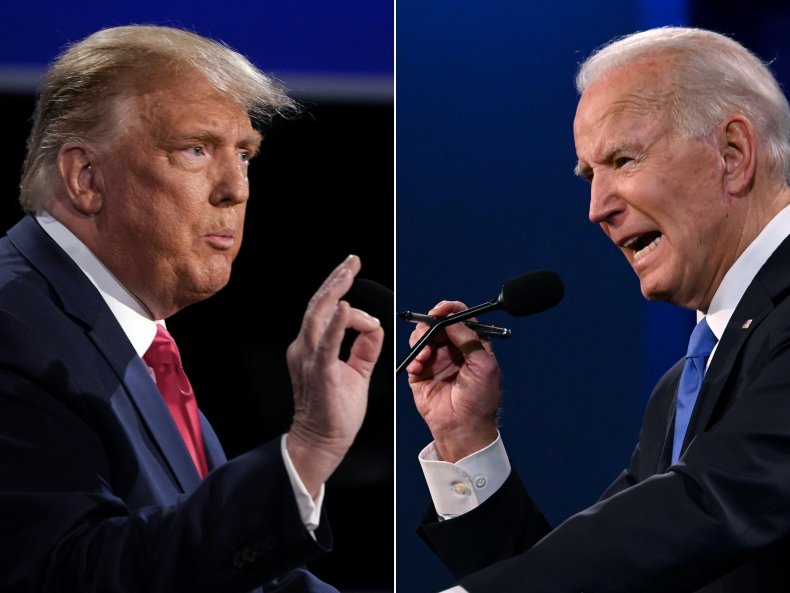 FiveThirtyEight's election forecast, which weighs the likelihood of each current presidential candidate taking office after November 3, offers predictions related to both the popular vote and the Electoral College. Its latest figures, updated on Sunday, showed Trump is the favored candidate to win Texas on Election Day, placing his odds at 63 percent. The forecast comparatively placed Biden's chances of winning the large, and typically red, state at 37 percent.
The same forecast suggested the Democratic nominee's chances of winning Pennsylvania were 86 percent as of Sunday morning, while Trump's stood at just 14 percent. FiveThirtyEight's data additionally pointed to Biden's anticipated success in Florida, estimating his chances of winning the state were 67 percent, compared to Trump's 33 percent.
Although Biden has maintained an advantage over Trump in national polls—and many state polls—over the last several months, some still say the election could be a close call, and many expect swing-state electoral votes will once again prove critical.
Newsweek reached out to Trump and Biden's campaigns for comment, but did not receive replies in time for publication.