Biden Has Less Support from Hispanic and Black Voters Than Clinton Did in 2016: Poll
Although Democratic presidential nominee Joe Biden appears to have higher support from several key demographics that helped propel President Donald Trump to victory in 2016, new polling suggests that he is less popular with Hispanic and Black voters than Democratic presidential candidate Hillary Clinton was in 2016.
The latest national polling from Morning Consult, which was conducted from October 28 to 31, shows Biden ahead of Trump by a margin of 8 percentage points. The Democratic nominee is supported by 52 percent of voters compared to 44 percent who back the incumbent Republican president.
Notably, the poll shows Biden significantly better-positioned to beat Trump than Morning Consult's final survey suggested of Clinton in 2016. Then, Clinton was backed by just 45 percent of voters, compared to 42 percent supporting Trump. Although Trump won the Electoral College by a wide margin, Clinton won the popular vote in the last election by 2.1 percentage points, meaning Morning Consult's final national poll was off by less than 1 percent.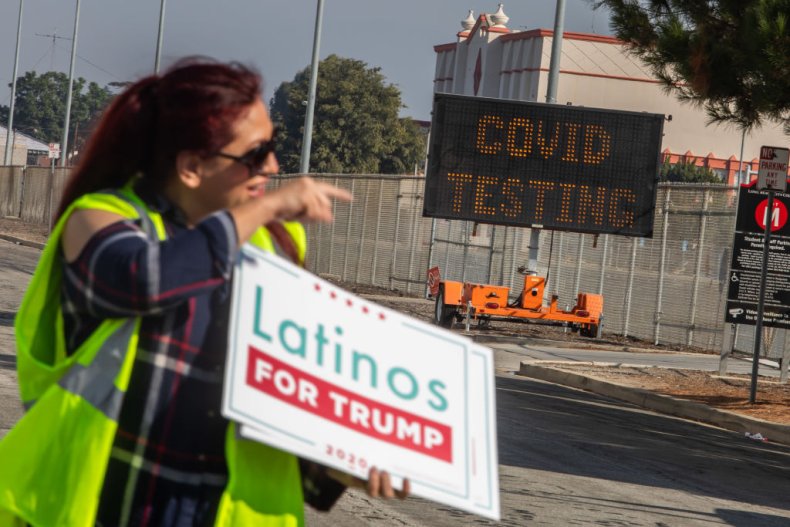 In its latest analysis, Morning Consult compared 2016 exit polling data from CNN to its most recent polling results for the 2020 election. This shows that Clinton had more support from Black and Hispanic voters than Biden does now. While 89 percent of Black voters backed Clinton in 2016, 4 percent less (85 percent) are supporting Biden in 2020. Among Hispanic voters, Biden is down by 3 percent compared to Clinton, who was supported by 66 percent as opposed to 63 percent who back the current Democratic nominee.
At the same time, Biden is more popular with white, rural, elderly, male, female and military voters than Clinton was in the last election.
Among male voters, 49 percent back Biden compared to 47 percent who supported Clinton. While 49 percent of female voters backed the Democratic nominee in 2016, 54 percent support Biden in this election. The former vice president's support among rural voters stands at 40 percent, while Clinton's was 36 percent. Exactly half of voters over 65 support Biden, as opposed to just 41 percent who backed Clinton. With white voters, Biden is now polling at 44 percent, compared to 40 percent who went for the previous Democratic contender. And Biden is ahead of Clinton by 5 percent with voters in military households—or 44 percent to 39 percent.
Morning Consult's final polling also shows Biden ahead of Trump in several key swing states that Clinton lost in 2016. Biden leads Trump by about 6 percentage points in Florida, about 7 in Michigan, about 13 in Wisconsin, and about 9 in Pennsylvania. These four battleground states went for former Democratic President Barack Obama in 2008 and 2012 before flipping red for Trump in 2016.
FiveThirtyEight's polling average shows a very similar national margin in favor of Biden when compared to Morning Consult's data. The Democratic nominee is ahead by an average of 8.5 percentage points, supported by nearly 52 percent of voters as opposed to 43.5 percent who back Trump. The Real Clear Politics average shows a somewhat closer race nationally, with Biden leading by 6.5 percent—or 50.9 percent to 44.4 percent.