Biden has Options with North Korea. Surrender Mustn't be One | Opinion
Among the myriad of foreign policy challenges facing Joe Biden is the North Korean conundrum. Unlike Iran, North Korea is already capable of delivering a nuclear payload that could destroy one of our allies—Japan—and soon even directly threaten the U.S. Meanwhile, we have thousands of U.S. soldiers and civilians in harm's way.
In a recent op-ed in The Hill, Christine Ahn provides a detailed blueprint for President Biden that Kim Jong-Un would certainly welcome. She urges the president-elect to reverse Trump's maximum-pressure campaign, drop all sanctions, end "provocative" joint military exercises with South Korea and end the state of war with North Korea.
Finally, Ahn urges the Biden administration to democratize the "process of shaping foreign policy" by "including women's groups and civil society."
We fully agree that peace, freedom and prosperity for all Koreans cannot be achieved by standing on the sidelines. We also favor civil society involvement, especially women's groups, in overtures toward North Korea.
But to be clear, we aren't talking about breaking bread and staging photo ops with the regime's core elites masquerading as representatives of a "civil society" that doesn't exist due to overwhelming coercion, control, surveillance and punishment.
The women civil society activists should demand to meet North Korean women who have taken the brunt of repression under Kim Jong-Un. It is they who risk their lives by leaving the country without government approval, desperately seeking a chance to improve the lot of their families. It is they who are arrested in China and forcibly repatriated to North Korea; who are brutalized, raped, tortured, imprisoned and executed. If they became pregnant with Chinese men, they face other barbaric practices including forced abortions and infanticide.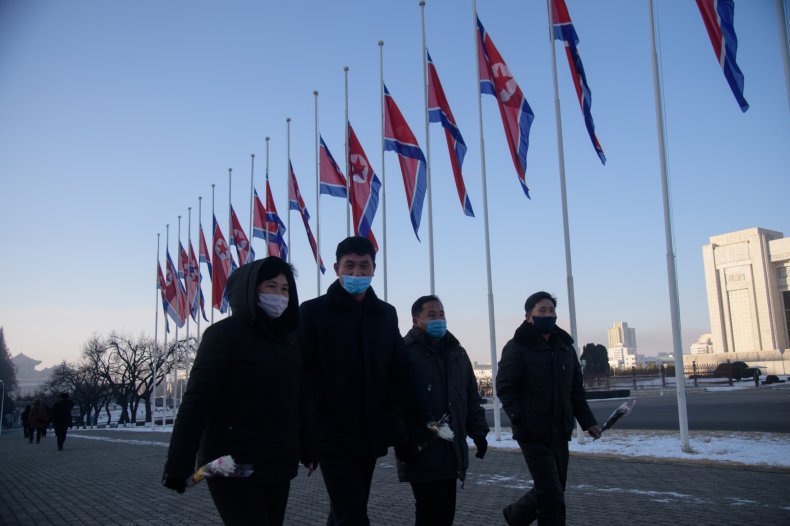 In the aftermath of a horrific famine that killed countless North Koreans in the 1990s, black markets have developed. Women have been the main drivers of these markets. It is those women who are often arrested and imprisoned for alleged wrongdoing. Ultimately it will be interaction with these heroic women who have ensured the survival of their families despite draconian repression that could prove key to inter-Korean reconciliation.
Other civil society organizations will also be critical to any peace process on the Korean peninsula. In particular the organizations that documented crimes against humanity and other human rights violations perpetrated by the Kim regime—details that were confirmed by a UN Commission of Inquiry.
North Korean people from all walks of life have endured 72 years of tyranny from three generations of Kims. Without giving voice to their silent cries, without truth and reconciliation, without justice, there can be no peace.
The U.S. still has a military presence on the Korean peninsula because North Korea invaded the South in 1950. The aggression ordered by Kim Il-Sung resulted in 2.5 million civilian casualties. The Kim Jong-Un regime spends one-third of its GDP on the military and tools of death at the expense of the security of its population. It would take little time for a preemptive American attack to obliterate North Korea's nuclear threat. And yet the U.S. has displayed extraordinary restraint since the July 27, 1953, armistice despite unrelenting North Korean threats and military provocations. To prevent the supreme warlords of North Korea from causing another tragedy of Biblical proportions, the U.S. has kept the peace through strength—especially the strength of our alliance with the Republic of Korea, a staunch U.S. friend, partner and ally and a liberal democracy with a prosperous capitalist economy.
The truth is that no one has the answer to bring peace to the Korean Peninsula. But caving to tyrants' demands isn't an option. North Korea is ruled by a regime that joined the Non-Proliferation Treaty, then withdrew and developed nuclear weapons. The Kim regime commits crimes against its own people and citizens of other countries. By entering a peace treaty and normalizing relations with a criminal regime in possession of nuclear weapons, the U.S. would be creating a precedent and blueprint for other tyrants: brutalize your subjects, develop weapons of mass destruction and the U.S. and the world will blink.
For all its monumental failings, the international system established after World War II has prevented another global conflagration. As enshrined in the preamble to the UN Charter, this system strives "to save succeeding generations from the scourge of war...to reaffirm faith in fundamental human rights, in the dignity and worth of the human person, in the equal rights of men and women and of nations large and small." Should sanctions on North Korea fail, unconditional surrender to a regime that denies human rights and threatens international peace and security is a prescription for disaster. It is a path that President Biden's team should never take. That path will be strewn with innocent victims of Kim's brutalities and bring the entire region to a dangerous, fully nuclearized dead end.
Rabbi Abraham Cooper is Associate Dean and Director, Global Social Action Agenda, Simon Wiesenthal Center. Greg Scarlatoiu is Executive Director, Committee for Human Rights in North Korea.
The views expressed in this article are the writers' own.