Biden Has Taken Lead Over Trump in 3 Battleground States Since May
Presumptive Democratic nominee Joe Biden has taken a lead over President Trump in three key battleground states since May, according to a new poll.
The poll, which was conducted by Morning Consult/Political Intelligence, finds that since May, Biden has leaped over Trump as the preferred choice of presidential candidate among likely voters in Arizona, Florida and Texas. The poll has a graph that reflects a 10-day moving average of vote share across the three different states from May 6 to July 26.
The graph shows Biden leading 49–42 percent in Arizona, 49–46 percent in Florida and 47–45 percent in Texas. In comparison, the graph also shows Trump with a lead over Biden in each of these states during May, as he led 51–42 percent in Arizona, 50–45 percent in Florida and 50–42 percent in Texas.
The poll surveyed 4,400 likely voters across the U.S. "The latest results are based on a 10-day moving average of surveys taken between July 17–July 26, with between 600 to 3,760 interviews per state, and margins of error ranging from 1.6 to 4 percentage points," the poll states.
Biden's leap over Trump in these states comes as they have each seen increasing cases of the new coronavirus, which causes the respiratory disease COVID-19. According to the department of health in each respective state, there are currently over 432,000 confirmed cases of the virus in Florida, over 163,000 in Arizona and over 385,000 in Texas.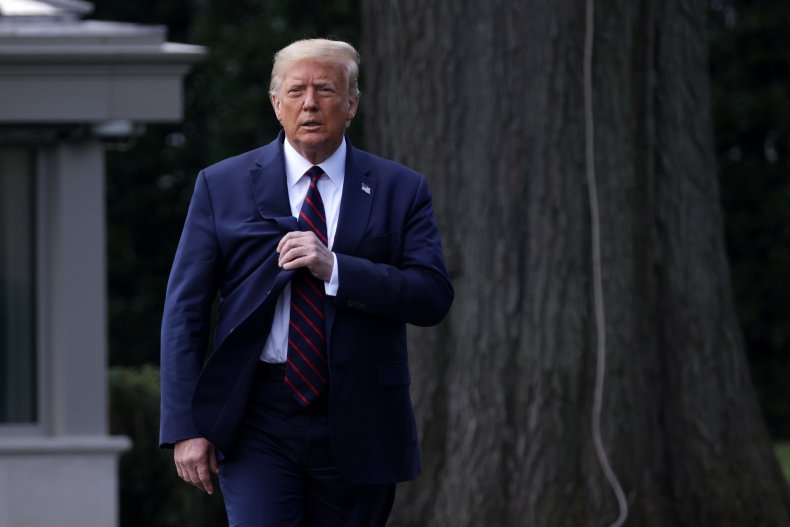 The poll also found the former vice president holding the advantage in a majority of other key battleground states. According to the poll, Biden holds double-digit leads in Colorado (52–39 percent), Michigan (52–42 percent) and Virginia (52–41 percent).
According to the poll, Biden holds a 47–46 percent lead in Georgia, a 47–44 percent lead in Minnesota, a 50–42 percent lead in Pennsylvania and a 50–43 percent lead in Wisconsin.
In Ohio and North Carolina, the poll found different results as Trump led 48–45 in the Buckeye state and the two were tied at 47 percent in North Carolina.
The poll also notes that during the 2016 presidential election, Trump secured victories in several of these battleground states, including, Arizona, Florida, Georgia, Michigan, North Carolina, Ohio, Pennsylvania, Texas and Wisconsin.
Several other nationally conducted polls have recently found Biden holding a lead over Trump. A recent Harvard/Harris poll found 55 percent siding with Biden compared with 45 percent that chose Trump. This poll surveyed 1,932 registered voters from July 21 to July 23.
Another poll conducted by CBS News/YouGov found similar results with 51 percent of respondents saying they'd vote for Biden if the election were held today compared with 41 percent that chose Trump. This poll surveyed 2,008 U.S. adults from July 21 to July 24 and has a margin of error of plus or minus 2.5 percentage points.