Biden Heads Into State of the Union Address With 37 Percent Approval Rating
President Joe Biden's approval rating sits at 37 percent days before he is scheduled to deliver his first State of the Union address on Tuesday, a new poll has found.
According to the poll, which was released Sunday by ABC News and The Washington Post, while a net 37 percent of Americans approve of the way Biden is handling his job as president, 55 percent said they disapprove, and seven percent said they have no opinion. Only 30 percent of independents and 10 percent of Republicans said they approve of Biden's performance.
The survey shows Biden's approval has dropped by four percent since the last time the two news organizations conducted a poll in November of 2021.
Biden's low approval rating comes as Americans are feeling the impacts of inflation. The poll found six out of 10 people say they are "experiencing inflation hardships" and overall, 75 percent of Americans believe the economy is in "not so good" or "poor" shape.
Specifically on his handling of the economy, Biden got a 37 percent approval rating. However, Americans don't blame Biden entirely for inflation. Fifty percent said a good or great deal of blame should fall on him for rising prices, while 68 percent said blame should fall on corporations trying to increase prices, and 73 percent blamed disruptions from the pandemic.
The president's handling of the pandemic earned him higher marks, with 44 percent saying they approve.
The survey also showed Republicans with an overall advantage heading into the midterm elections this year: 50 percent of those polled said they'd prefer to see the next Congress controlled by Republicans, while 40 percent said they'd prefer to see Democratic control.
The poll surveyed 1,011 adults between February 20 and February 24.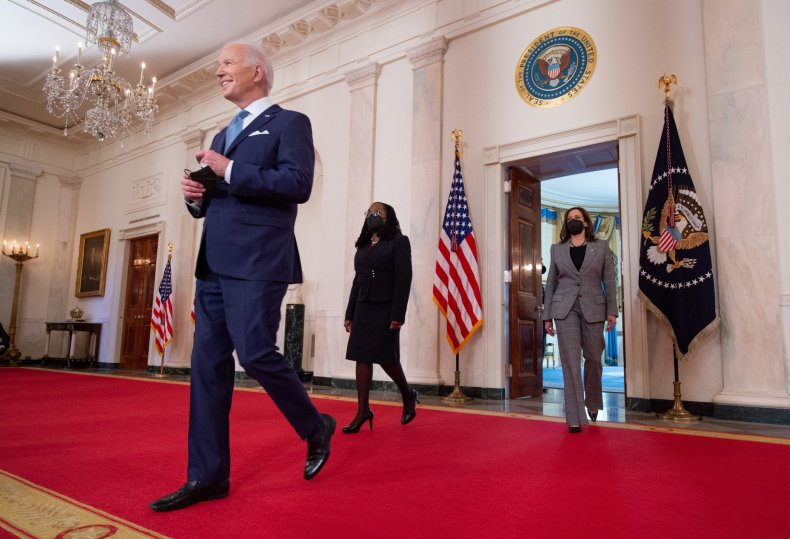 ABC News noted that according to analyzing data that extends back to the administration of President Harry Truman, only two other presidents have had approval ratings as low as Biden's going into their first State of the Union speeches. Former President Donald Trump's sat even lower at 36 percent and Gerald Ford also had a rating of 37 percent.
In an interview with ABC News on Sunday, White House press secretary Jen Psaki said that during his speech, Biden will express "his optimism and his belief in the resilience of the American people and the strength of the American people."
"Leaders lead during crises. That's exactly what President Biden is doing. He'll speak to that, but he's also going to speak about his optimism about what's ahead and what we all have to look forward to," she added.
Newsweek reached out to the White House for comment, but did not receive a response before publication on Sunday afternoon.