Biden Holds 4-Point Lead Over Trump in Arizona, Where 62 Percent of Those Polled Plan to Vote by Mail
Democratic presidential nominee Joe Biden has a 4-point lead over President Donald Trump among registered voters in Arizona, according to a Monmouth University poll published on Thursday.
Biden's lead among polled voters in the battleground state comes less than 50 days before November 3's presidential election, in which more than half—about 62 percent—of respondents told pollsters they plan to vote by mail and 34 percent said they plan to vote in person, either before or on Election Day.
Arizona is one of the handful of battleground states that the Trump and Biden campaigns have focused on in recent months as Election Day draws closer. Though Republican presidential candidates have won Arizona in each election year since 1996, Trump won the state by a slimmer margin than Republican candidate Mitt Romney did in 2012. A FiveThirtyEight average of recent statewide polls estimated that Biden was about 4.3 points in the lead as of Thursday.
Of the 420 registered voters contacted by phone for Monmouth's poll, 48 percent said they would vote for Biden if the election were held on that day, while 44 percent said they would vote for Trump. Biden's lead over Trump has gained 1 point since a similar poll was conducted by Monmouth in March, at which time Vermont Senator Bernie Sanders was still campaigning for the Democratic nomination.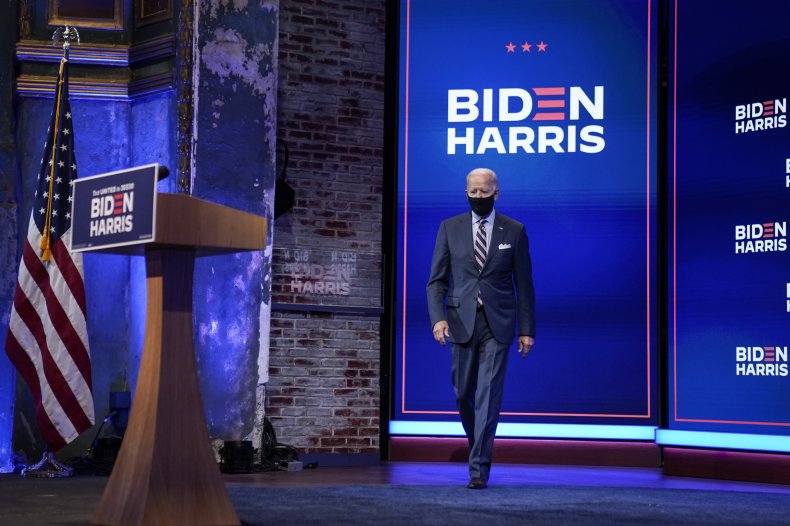 Though more voters told pollsters they favored Biden than Trump, Monmouth researchers drilled down on the results gathered for voters in Maricopa County, which was home to about 61 percent of the state's entire population in 2019, according to the U.S. Census Bureau's estimates. Pollsters said that registered voters there favored Biden by 9 points, but his lead among likely voters was projected to be between 3 and 6 points, depending on how voter turnout varies.
Trump won Maricopa County by just under 3 percent in 2016, and Romney won the county by nearly 12 points in 2012, according to The New York Times.
"Both candidates are solidifying their support in the most partisan areas of the state, but the big prize is still Maricopa County. And we see a notable swing away from Trump there compared to four years ago," Patrick Murray, director of the Monmouth University Polling Institute, said in a news release.
Voter turnout will also have an impact on Biden's support in the state, according to the poll. Though Biden had a 4-point lead among all registered voters polled, Monmouth pollsters said that lead narrowed depending on the number of voters who cast ballots. If voter turnout is higher than it was in 2016, Biden's lead could narrow to 2 points over Trump, the poll said. Fewer ballots cast this year than in 2016 could result in roughly the same levels of support for each candidate.
The number of Latino voters who cast ballots in Arizona will have a significant impact on overall voter turnout in the state, Murray said in the release. Hispanic and Latino voters make up about 31 percent of Arizona's population, according to the Census Bureau, and the poll said Biden has a 30 percent lead over Trump among Latino voters.
"The Latino vote will be crucial to Biden's chances of flipping this state," Murray said in the release. "Latinos make up a larger share of Arizona's voter roll than four years ago, but the question is: How many will show up?"
Monmouth's poll was conducted between September 11 and 15, and the results have a margin of error of plus or minus 4.8 percent.
Biden Holds 4-Point Lead Over Trump in Arizona, Where 62 Percent of Those Polled Plan to Vote by Mail | Politics