Biden Holds Lead Over Trump in Six Key Battleground States
Presumptive Democratic nominee Joe Biden holds a lead over President Donald Trump in the key battleground states of Wisconsin, Pennsylvania, Michigan, North Carolina, Arizona and Florida, according to a new poll.
The poll, which was conducted by CNBC/Change Research, surveyed 2,408 likely voters across these six states from June 12 to June 14. The poll has a margin of error of plus or minus 2 percentage points.
Biden holds the largest lead over Trump in Florida, with a 50 percent to 43 percent advantage. Biden's next largest lead is in Pennsylvania with 49 percent supporting the former vice president and 46 percent favoring Trump.
Biden's lead over Trump is lower in the other battleground states, as he holds a 48-44 percent lead in Wisconsin, a 47-45 percent lead in both Michigan and North Carolina, and a 45-44 percent lead in Arizona.
In the 2016 presidential election, Trump defeated Hillary Clinton in all six states.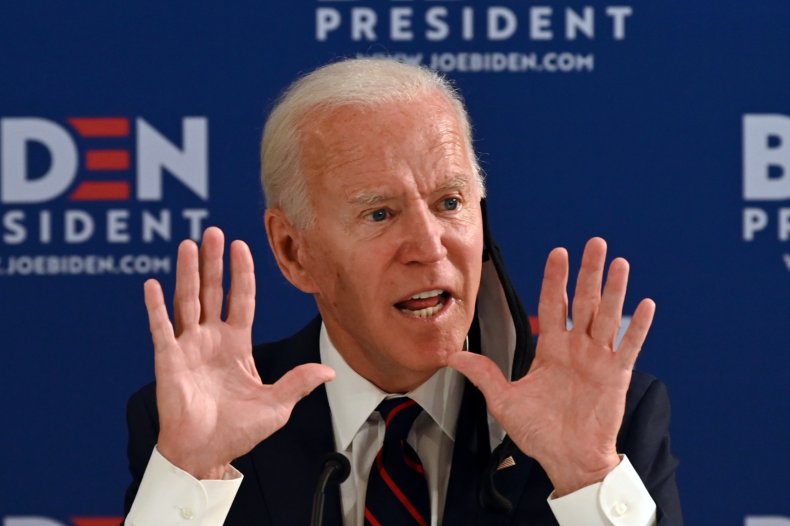 The results of the CNBC/Change Research poll also gave Trump's approval rating on several issues in these battleground states.
Fifty percent of respondents strongly disapproved of Trump's handling of the coronavirus pandemic, while 32 percent said they strongly approve. As for Trump's handling of police violence and discrimination across the country, 51 percent said they strongly disapprove, while 27 percent said the opposite.
Additionally, this poll found that a majority of Americans in the six states and nationally believe that Trump's response to the death of George Floyd in police custody was "harmful." Floyd died May 25 after Minneapolis police officer Derek Chauvin's knee was on his neck for almost several minutes.
Following Floyd's death, protests erupted across the country, and Trump has received criticism for his response, such as suggesting that he would deploy military troops to states that couldn't contain the demonstrations.
According to the poll, 52 percent of respondents in the six battleground states said Trump's response was harmful, while 23 percent it was helpful and 24 percent said it made no difference.
CNBC/Change Research also conducted a national poll of 1,250 likely voters. In the results, 56 percent said Trump's response to Floyd's death was harmful, 21 percent said it was helpful, and 24 percent said it made no difference.
The national poll also found Biden holding a 51-41 percent lead over the president, which is similar to results from several other polls. A Real Clear Politics average of several national polls shows Biden holding an average 8.5-point lead over Trump.
Newsweek reached out to Biden's and Trump's campaign offices for comment but did not hear back before publication.