Biden Immigration Bill Would Reportedly Make Green Cards, Citizenship Easier for DACA Recipients
President-elect Joe Biden's administration will focus on providing a pathway to citizenship for millions of undocumented immigrants and grant green cards to individuals protected under the Temporary Protected Status (TPS) and Deferred Action for Childhood Arrivals (DACA) policies.
Speaking with Univision's Ilia Calderón on Tuesday, Vice President-elect Kamala Harris mentioned a sweeping immigration reform bill that the incoming administration plans to quickly introduce.
The efforts outlined in the bill include granting immediate green card access to immigrants currently protected under DACA, and decreasing the amount of time required to acquire U.S. citizenship from 13 years to eight, Politico reported.
Harris also said that the administration hopes to add more immigration judges to relieve a backlog of pending cases.
Under the new plan, immigrants could become eligible for legal permanent residence after five years, according to the Los Angeles Times.
"It's a smarter and much more humane way of approaching immigration," Harris said Tuesday.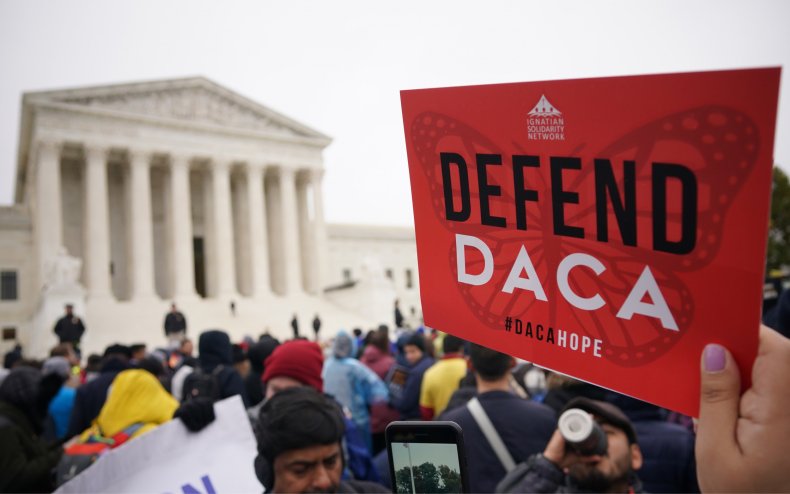 Marielena Hincapié, executive director of the National Immigration Law Center Immigrant Justice Fund, was consulted by the Biden team on the matter. She told the Los Angeles Times that unlike other immigration bills, Biden's proposed legislation will not focus directly on increasing security enforcement and preventative measures.
"The notion concerning immigration enforcement and giving Republicans everything they kept asking for...was flawed from the beginning," she told the news outlet.
The reported bill is much different from President Donald Trump's anti-immigration efforts, which led to much criticism and the separation of over 5,000 families at the border.
In total, Trump has made over 400 alterations to immigration policy in the last four years, some since Election Day in early November, according to the think tank Migration Policy Institute.
Democratic Representative from California Paul Ruiz, chair of the Congressional Hispanic Caucus, said Biden's new plan could allow the nation to heal from "hateful rhetoric" under the Trump administration.
"I believe that our nation has been traumatized," Ruiz said told the Los Angeles Times.
"We need to be able to change the narrative to heal from that, to build trust amongst communities and to tone down the hateful rhetoric from the Trump administration. And to really show—not only ourselves but the world—that America still at its core is good and will uphold our humanitarian values," he said.
But the sweeping legislation is expected to face backlash from lawmakers, and reforming Trump's policies could take longer than anticipated.
"The majority of the Trump administration immigration reforms will be difficult to address immediately either because of legal rule-making barriers, practical realities on the ground or a lack of bandwidth given how many priorities the Biden administration has in contrast to the singular focus on immigration the Trump immigration had," Leon Fresco, an immigration attorney who worked in the Obama administration and sits on a Department of Homeland Security advisory board, told Politico.
Lora Ries, acting deputy chief of staff at the Department of Homeland Security under Trump in 2019, criticized Biden's plan and said granting immigrants an easier pathway to citizenship will undermine border security and create future problems.
"Such rewards will attract more people to illegally enter the U.S. to await their eventual green card, undermining border security," she said, according to the Los Angeles Times.
But immigration activists previously told Newsweek that they would fight to ensure the Biden administration will use legislative and executive powers to transform the nation's policies.
"The reality is we know our power," Cristina Jimenez, the co-founder of United We Dream, and an informal adviser for the Biden campaign on immigration policy, told Newsweek in December. "And because we know our power, we will push Biden to use his through executive and legislative action."
Newsweek reached out to the Biden-Harris transition team for additional comment but did not hear back in time for publication.