The impeachment inquiry into President Joe Biden has prompted fiery responses from Democrats, who are using the latest developments in the House to shed light on the GOP's response to Representative George Santos.
House Speaker Kevin McCarthy announced on Tuesday that he was ordering a formal inquiry into Biden's family business dealings after increasing pressure from conservative firebrands and several Republican-led investigations into the allegations that the president profited off son Hunter's foreign deals.
In response, several Democrats have highlighted the treatment of Santos by GOP leadership.
"McCarthy wants to impeach Joe Biden because he doesn't like him & needs to put down a far right rebellion. But won't expel George Santos who lied about his whole life & is charged w/ fraud, money laundering and more," Representative Jim McGovern of Massachusetts said in a post on X, formerly Twitter. "What a joke."
Newsweek reached out to Santos via email for comment.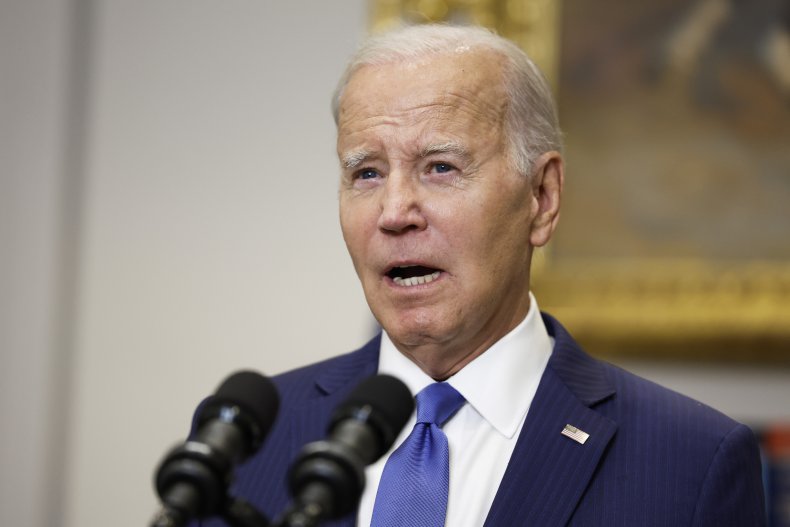 Santos, a freshman congressman from New York, faced widespread calls for his resignation after it was revealed that he fabricated parts of his resume in the wake of his 2022 victory. He was indicted on 13 criminal charges, including wire fraud, by federal prosecutors in May. But even as members of his own party urged him to step down, McCarthy and the other top two Republicans in the House, Representatives Steve Scalise and Elise Stefanik, sidestepped questions and chose not to expel him.
In a statement following the impeachment announcement, Representative Robert Garcia of California called Santos a fraud and a liar and renewed calls for his expulsion from the House.
"News that federal prosecutors are filing 13 criminal charges against George Santos should have been the final straw for Kevin McCarthy, but he refuses to act. Republicans now have a chance to demonstrate to Americans that an admitted criminal should not serve in the House of Representatives," Garcia said on Tuesday.
Anna Kaplan, a Democrat running to unseat Santos in New York's 3rd Congressional District, issued a statement criticizing the impeachment inquiry, accusing McCarthy of launching the request to appease his right flank and secure enough votes to stave off a government shutdown next month.
"Kevin McCarthy has just announced an impeachment inquiry of President Biden," Kaplan said. "Meanwhile, George Santos gets off scot free. This is shameful."
Santos issued his own statement responding to the impeachment news that surprisingly undercut some of the claims made by other House Republicans.
Unlike his colleagues who have aligned themselves with former President Donald Trump, Santos said he has yet to receive "any reports of sufficient evidence worthy of impeachment coming from the three House committees investigating President Biden and his inquiry."
"However, if the committee requires expansion of its scope via an impeachment inquiry, I would be in favor of that," Santos said in a statement. "A cheap indictment that mirrors [former House Speaker Nancy] Pelosi's political stunt against President Trump last Congress after he left the White House degrades the significance of impeachment standards."