Biden: Infrastructure Bill, Spending Package Will Help 'Regain Momentum' After Jobs Report
President Joe Biden pushed two key pieces of his legislative agenda after the latest jobs report from September signaled another slow month in the country's economic recovery.
"It's essential that we have to regain the momentum," Biden said in a Friday speech.
"That's why I proposed two critical pieces of legislation being debated here in Washington right now," the president said. "One focused on the investments we need to make in the physical infrastructure in America—roads, bridges, ports, etc. The second focuses on the investments we need to make in the American people to make us more competitive."
Biden's remarks come after the Labor Department released a report Friday that showed nonfarm payrolls rose by only 194,000 in September—less than half of the 500,000 estimated by Dow Jones.
The unemployment rate did drop from August's 5.2 percent to 4.8 percent, the lowest since February 2020, but those figures have largely been from Americans leaving the workforce.
September had been expected to be a strong month for the labor market with the increase in vaccination rates, the decrease in COVID-19 cases, and the return to schools for students and subsequently the workplace for parents, but the U.S. remains roughly 5 million jobs short of where it was before the pandemic began.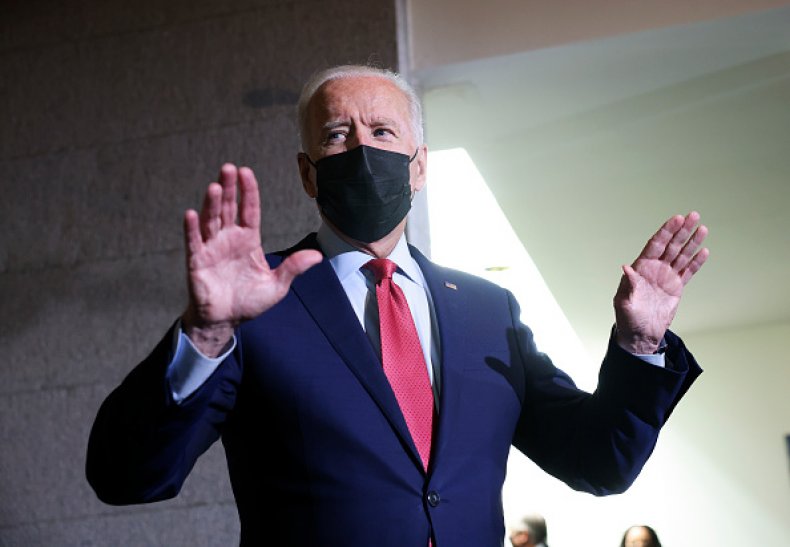 Biden has been trying to pass two sweeping pieces of legislation—the $1.5 trillion bipartisan infrastructure bill and the Build Back Better Act, originally priced at $3.5 trillion by the administration, but the bill's final cost will likely be whittled down to $2.2 trillion by Senator Joe Manchin's unwillingness to pass legislation with such a heavy price tag.
Biden and congressional leaders view the infrastructure plan as complementary to the spending proposal, explicitly tying the two together, which has also led to reluctance from some House Republicans who wanted to support the infrastructure plan, but not the larger Build Back Better act.
House Democrats are hoping the larger spending package will extend the child tax credit expansion in the American Rescue Plan, provide paid family and medical leave, lower child care costs, lower higher education costs and expand Medicaid coverage.
"These bills are about competitiveness versus complacency. Opportunity versus decay. They're about leading the world or whether we're going to let the world pass us by," Biden said on Friday. "The American people understand what's at stake. They understand that when workers and families have a better shot, America has a better shot. Given half a chance, the American people have never, never, ever, ever let their country down. Today, we receive more evidence of the progress we're making and I know we can make a lot more in the days ahead."
Democrats have set an October 31 target to pass both of Biden's bills.
Like Biden, House Speaker Nancy Pelosi argued the new report was proof that Congressional Democrats need to quickly pass Biden's Build Back Better Act, saying enacting the legislation would be another step "to protect families' financial security now and for generations to come."
But Republican National Committee Chair Ronna McDaniel used September's numbers to contend that Biden's proposed $3.5 trillion bill would go to "reckless spending" that could further hurt U.S. economic recovery.
"Joe Biden's Build Back Broke agenda continues to hurt American workers, drive up the cost of everyday goods, and crush small businesses. The latest jobs report, creating 300,000 fewer jobs than expected, proves that trillions more in reckless spending and higher taxes will only further squander the economic recovery and leave working families behind," McDaniel said in a Friday statement. "Americans cannot afford Biden's disastrous Build Back Broke agenda."