President Joe Biden was pressed Thursday on his administration's handling of the surge of unaccompanied migrant children arriving at the U.S.-Mexico border.
"The idea that I'm going to say, which I would never do, if an unaccompanied minor ends up on the border we're just going to let them starve to death and stay on the other side—no previous administration did that either, except Trump," Biden said in his first solo press conference since taking office. "I'm not going to do it. I'm not going to do it."
His remark was in response to a question about whether he might be sending a message to immigrants that they can now cross the border. ABC News correspondent Cecilia Vega told the president that a 9-year-old boy walked to the U.S. from Honduras because his mother believed the Biden administration wasn't deporting unaccompanied minors.
When asked if unaccompanied minors would be allowed to stay in the U.S., or would they be deported eventually, Biden said, "Well, the judgment has to be made whether or not—and this young man's case, he has a mom at home. There's an overwhelming reason why he'd be put on a plane and flown back to his mom."
In 2020, the Trump administration faced criticism for expelling migrants who entered the country without a parent. Under one provision implemented to prevent the spread of the coronavirus at border stations, the government expelled more than 200,000 border crossers, including children. Most Central American minors were flown to their home countries, as Mexico would not allow the return of non-Mexican minors. A federal judge ordered the Trump administration to halt the practice last fall.
Trump also experienced an influx of unaccompanied migrant children during his term. His administration built several new facilities and "tent cities" to house the children while they remained in detention. One report from the Marshall Project published in October 2020 found that more migrant children were being detained for longer periods of time under the Trump administration.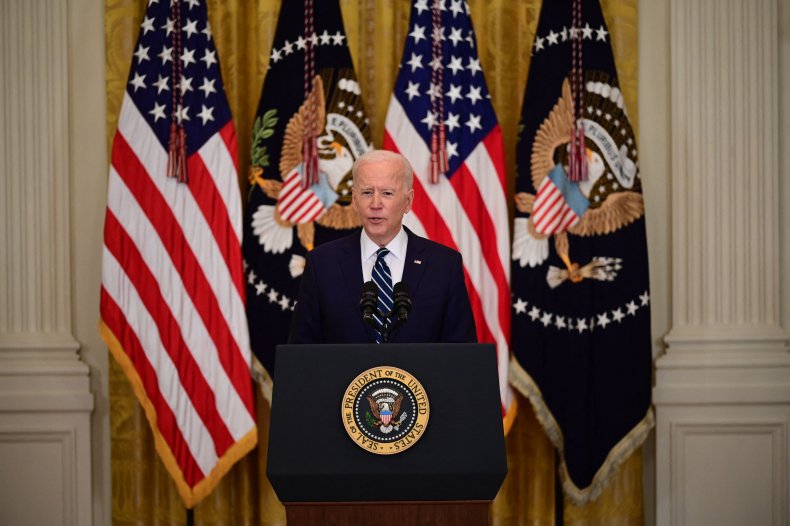 The number of unaccompanied migrant children under the Biden administration is on pace to be the largest in the past 20 years, according to Homeland Security Secretary Alejandro Mayorkas.
But Biden asserted on Thursday that the current surge in border arrivals is not unprecedented. He said that he's seen a 28 percent increase in the children at the border under his administration, compared with 31 percent in 2019 under Trump.
Biden also pushed back against claims that migrants are coming to the U.S. because he's a "nice guy" and that his administration is more lax than that of his predecessor.
"I'd like to think it's because I'm a nice guy, but it's not. It's because of what's happened every year," the president said.