Biden Says He Opposed Iraq War Effort 'Immediately,' Despite Multiple Public Remarks Supporting It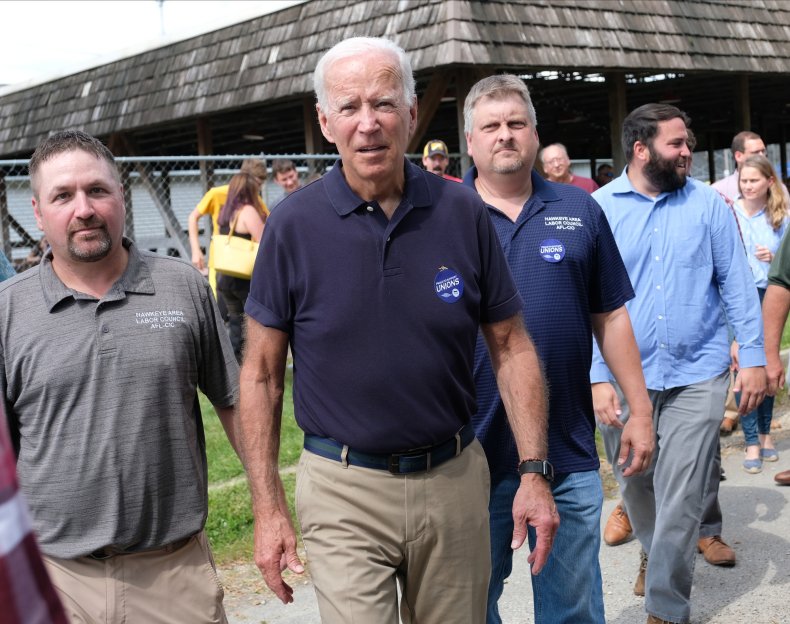 Former Vice President and 2020 Democratic frontrunner Joe Biden is used to playing defense in the nascent presidential campaign, fending off accusations of wrongheadedness from fellow 2020 contenders on his record of race-related issues.
Biden has sought to portray many of these criticisms as naïve and dismissive of the realities of serving as a U.S. senator in the company of segregationists.
In a recent interview with NPR, the son of Delaware cast similar aspersions on critics of his foreign policy record, apparently ignoring his own public comments in the wake of the U.S.-led invasion of Iraq in 2003.
He told the public radio network he thought his "record has been good" on foreign policy, defending his decision in 2002 to vote for the use of military force in Iraq, part of then-President George W. Bush's war on terror.
Biden qualified his commitment to the invasion upon an assurance from Bush at the time that U.S. troops would not be engaged in a protracted conflict.
"[Bush] looked me in the eye in the Oval Office. He said he needed the vote to be able to get inspectors into Iraq to determine whether or not Saddam Hussein was engaged in dealing with a nuclear program," Biden explained. "He got them in and before you know it, we had 'shock and awe.'"
A spokesperson for Bush told NPR that Biden's anecdote is an "innocent mistake of memory, [and] this recollection is flat wrong."
Furthermore, Biden claimed during the interview that the moment the war began in earnest, he "immediately" opposed it.
"That moment it started, I came out against the war at that moment," Biden said.
Although during the time preceding and following the 2002 Authorization for Use of Military Force Against Iraq, Biden, in fact, did not oppose the broader war effort. In many instances, he openly supported it.
During a press conference outside the White House in June 2002, Biden recalled telling Bush there isn't "a single informed person who suggests that you can take down Saddam [Hussein] and not be prepared to stay for two, four, five years to give the country a chance to be held together."
This appears to conflict with his recollection to NPR, that his vote was conditioned on the apparently limited scope of Bush's mission.
On CBS's Face the Nation that same month, after plans were leaked to the press outlining an intelligence operation to remove Hussein, Biden provided his assent to a larger mission.
"If the covert action doesn't work, we better be prepared to move forward with another action, an overt action," he said. "And it seems to me that we can't afford to miss."
Months after the invasion began in 2003, Biden removed any doubt about his support for the effort, telling CNN: "I, for one, thought we should have gone in Iraq."
At a hearing that July, he once more proclaimed his support, saying "I voted to go into Iraq, and I'd vote to do it again."
And in a speech later than month, Biden acknowledged what "we have always known" about the war in Iraq, namely that troops "would have to stay there in large numbers for a long period of time."
"Contrary to what some in my party might think, Iraq was a problem that had to be dealt with sooner rather than later," he said. "So I commend the president. He was right to enforce the solemn commitments made by Saddam. If they were not enforced, what good would they be?"
In May of this year, a Morning Consult poll found that Biden's history with the Iraq War effort is proving to be a liability among younger voters. Twenty-eight percent of Democrats said they were less inclined to support him because of the 2002 vote. More than 40 percent of voters aged 18 to 29 said the same thing.
Biden's campaign did not immediately return a request for comment.