Joe Biden Laughs at Notion That April Jobs Numbers Are Disappointing, Despite 6.1% Unemployment Rate
President Joe Biden spoke Friday following the release of April's jobs report, which fell below many experts' predictions. He tried to paint an optimistic picture, even briefly laughing when talking about people calling the numbers disappointing, yet acknowledged "the climb is steep, and we still have a long way to go."
Nevertheless, the chuckle caught the attention of some of his critics on social media, who felt the report was no laughing matter.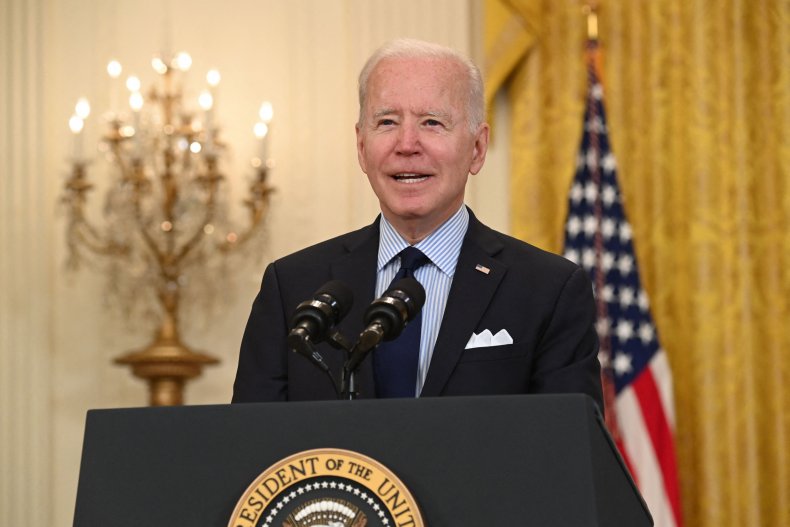 The Labor Department reported the economy gained 266,000 jobs in April, while the unemployment rate increased slightly to 6.1 percent. The numbers were lower than many experts forecast, who expected businesses would be rehiring at greater rates as the COVID-19 pandemic continues to lessen.
Nevertheless, Biden said the economy is "moving in the right direction," and that "we're moving more rapidly than I thought we would."
But the moment his critics are clinging to came after he discussed the job gains. "Listening to commentators today, as I was getting dressed," he said before laughing slightly. "You might think that we should be disappointed. But when we passed the American Rescue Plan, I want to remind everybody it was designed to help us over the course of a year, not 60 days. A year."
The Republican National Committee's RNC Research Twitter account captured the moment.
Ryan Fournier, the political commentator and founder of Students for Trump, also shared the clip. He captioned it with: "When Joe Biden laughs at horrific job growth he's laughing at YOU."
Not everyone agreed with these assessments, though. One person replied to the RNC Research's tweet by writing, "Donald wrecked the economy. Please stay away from this recovery." Another commented: "RNC desperately tries to land a blow on a popular President with popular policies," while one reply simply stated: "You seem desperate."
The unemployment rate rising to 6.1 percent in April is a slight increase from 6 percent in March, the Bureau of Labor Statistics reported. The March jobs numbers were also revised down to 770,000 from the initially reported 916,000.
Biden said the latest jobs report proves "how vital the actions we're taking are." He cited the importance of the American Rescue Plan, which includes stimulus checks, funding for small businesses, and school re-openings.
The president also said that the remaining $1.9 trillion in funding from the plan would still continue to be dispersed.
House Speaker Nancy Pelosi released a statement about the April jobs report. She said the numbers serve as a reminder of the urgency need to pass Biden's remaining economic proposals, which add up to approximately $4 trillion.
"We need to take bold action to Build Back Better from this crisis by investing in our nation, our workers and our families," Pelosi said in the statement.