Biden Leading Trump by Double Digits Among Suburban Voters in 6 Battleground States: Poll
Democratic presidential candidate Joe Biden is currently ahead of President Donald Trump by double digits among suburban voters in six key battleground states, according to a new poll.
The poll, which was conducted by Third Way and David Binder Research, found Biden leading Trump by 11 points among suburban voters in Arizona, Florida, Michigan, North Carolina, Pennsylvania and Wisconsin.
According to the poll, 50 percent of respondents said they'd "definitely" vote for Biden, while 39 percent said the same for Trump. Among those remaining, 4 percent said Trump but still may change, 4 percent said Biden but still may change and 1 percent said someone else.
The poll surveyed 1,200 likely suburban voters from October 18 to October 23 and reported a margin of error of plus or minus 2.8 percentage points. According to the poll, "suburbs were defined using a zip-code level classification."
The poll also provided the percentages of respondents from each state: 7 percent from Arizona, 30 percent from Florida, 21 percent from Michigan, 6 percent from North Carolina, 30 percent from Pennsylvania and 7 percent from Wisconsin.
Biden's 11-point lead over Trump among suburban voters in these states is an increase from previous polls also conducted by Third Way and David Binder Research. In one poll conducted in September, 46 percent said they'd vote for Biden, compared to 37 percent that sided with Trump.
Another poll from early October found similar results to the most recent poll, with 51 percent saying they'd vote for Biden, while 36 percent said Trump.
Additionally, the poll also asked suburban respondents across the six states who they voted for if they already cast their ballot. According to the poll, 66 percent of respondents said they already voted for Biden, compared to 32 percent who said they voted for Trump.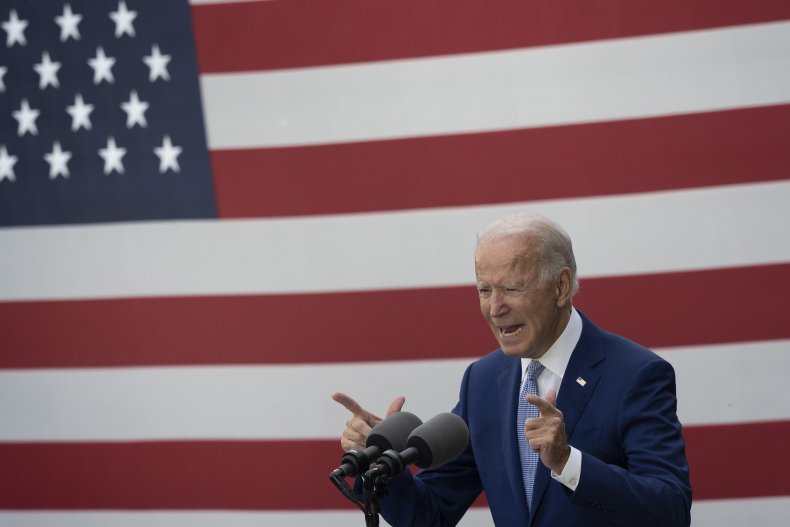 The poll's findings come a week before Election Day, where voters across the U.S. will choose between Biden and Trump.
While the poll found Biden ahead of Trump among suburban voters, the incumbent president has continued to ask for the support of this group, specifically "suburban housewives."
During a recent campaign rally in Pennsylvania, Trump urged suburban women to vote for him, saying, "Do me a favor, suburban women, would you please like me? I saved your damn neighborhood, okay?"
Trump also mentioned suburban voters in an August tweet, writing, "The 'suburban housewife' will be voting for me."
"They want safety & are thrilled that I ended the long running program where low income housing would invade their neighborhood. Biden would reinstall it, in a bigger form, with Corey Booker in charge!" Trump's tweet added.