Biden Leads in 6 Key Swing States Trump Won in 2016
Presumptive Democratic nominee Joe Biden holds a lead in six key swing states, all of which President Donald Trump won in 2016, according to a new poll.
The poll, which was conducted by The New York Times and Sienna College, surveyed 3,870 registered voters from six swing states, including Pennsylvania, Michigan, Florida, Arizona, Wisconsin and North Carolina between June 8 and June 18. The poll has a margin of error ranging from plus or minus 4.1 to 4.6 percentage points.
According to the poll, Biden holds a lead in each of the states, with 11 point leads in Michigan (47-36) and Wisconsin (49-38). The former vice president holds a 10 point advantage in Pennsylvania, as 50 percent of voters chose him as their preferred candidate, compared to 40 percent that sided with Trump.
Biden also holds a 9 point lead in North Carolina (49-40), a 7 point lead in Arizona (48-41) and a 6 point lead in Florida (47-41).
During the 2016 election, Trump held a lead over former Democratic nominee Hillary Clinton in each of those swing states, which helped secure his victory.
The poll also found that voters in those six states have more trust in Biden than Trump to do a better job at handling race relations in the country. In Arizona, 56 percent of voters said they have more trust in Biden, compared to 37 percent that sided with Trump.
In Florida, 51 percent of voters trust Biden more, while 39 percent chose Trump, in Michigan, 59 percent said they trust Biden more and 33 percent chose Trump. In North Carolina and Pennsylvania, Biden holds a 57-35 percent lead, and in Wisconsin, the former vice president leads 63-30 percent.
Additionally, the poll found that across these swing states, Trump received his highest approval rating on his handling of the economy, (56 percent), while 41 percent approved of his handling of the coronavirus pandemic and 31 percent approved of his handling of the nationwide protests following the death of George Floyd.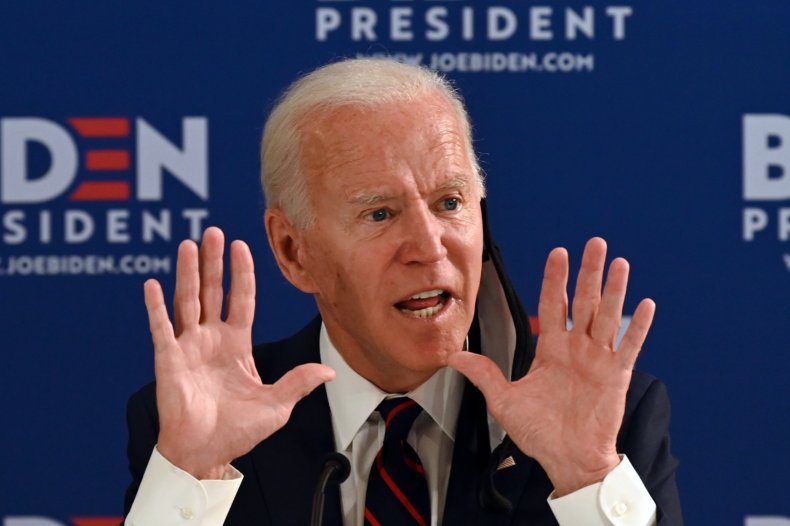 Several other polls have found Biden holding a lead over Trump nationally.
A recent poll conducted by CNBC found Biden receiving 47 percent of votes while Trump received 38 percent. This poll surveyed 800 registered voters from June 19 to June 22 and has a margin of error of plus or minus 3.5 percentage points.
Another poll, conducted by The Economist/YouGov, found similar results, with 49 percent of respondents choosing Biden as their preferred candidate and 41 percent choosing Trump. This poll surveyed 1,500 U.S. adults from June 21 to June 23 and has a margin of error of plus or minus 3.4 percentage points.
Newsweek reached out to both Trump and Biden's campaign offices for comment but did not receive a response in time for publication.