Biden Leads By 8 Percent in Only Poll to Give Trump Recent National Lead
Democratic presidential nominee Joe Biden is leading President Donald Trump by 8 percent in the latest edition of the only national poll to give Trump a lead during September.
A Rasmussen Reports poll released Wednesday found that 51 percent of voters said they would vote for the former vice president, compared to 43 percent for Trump. The survey found that 3 percent are undecided, while another 3 percent intend to vote for a third-party candidate.
A Rasmussen survey from two weeks earlier was the only national poll out of more than 100 conducted in September to show Trump ahead, leading Biden by 1 percent. Last week's edition of the poll, which is released each Wednesday, showed Biden with a 1 percent lead.
The new poll was taken before respondents had a chance to respond to Tuesday night's contentious first debate between the candidates. It was conducted among 3,000 likely voters on September 23-24 and September 27-29, with a 2 percent margin of error at a 95 percent level of confidence.
Rasmussen is also the only polling firm to publicly release surveys showing Trump with a positive job approval rating during September. A poll released last week showed 52 percent of voters approving of the president, while 48 percent disapproved. In a poll released Wednesday, his approval rating had dropped to 46 percent, with 53 percent disapproving.
An average of all recent national polls from polling analysis site FiveThirtyEight shows Biden with a 7.6 percent lead over Trump as of Wednesday. For comparison, the site showed former Secretary of State Hillary Clinton held a 3.1 percent lead over Trump at the same point during the 2016 election. Although Clinton lost the election, she won the national popular vote by 2.1 percent.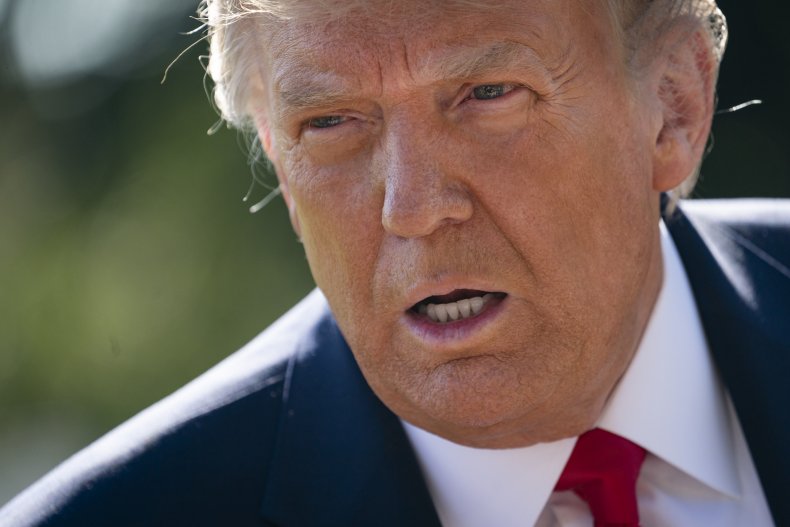 Regardless of his performance in national polls, Trump's standing in surveys of key swing states is likely to be more significant, as the electoral college decides the presidency. However, those polls also show Biden in a more favorable position.
In several states that Clinton lost by small margins, Biden is outperforming the 2016 candidate. An average of polls shows Biden leading Trump by 5.6 percent in Pennsylvania as of Wednesday, while Clinton was ahead by 3.9 percent at the same point. Trump won the state by less than 1 percent, about 44,000 votes, in 2016.
In Wisconsin, Biden leads by 6.9 percent, while Clinton was ahead by 3.9 percent at the same point. Clinton ultimately lost to Trump by less than 1 percent, or fewer than 23,000 votes.
An average of polls in Michigan, a state Trump won by an even smaller margin of around 11,000 votes in 2016, shows Biden ahead by 7 percent as of Wednesday. Clinton was leading in the state by 5 percent on September 30, 2016.
In Florida, Clinton was leading Trump by 1 percent on the same day in 2016, before losing by around 1 percent on election day. Biden is doubling that lead, albeit by a still statistically insignificant 2 percent, as of Wednesday.
Newsweek reached out to the Trump campaign for comment.