Biden Leads by Nearly 20 Percent Nationally, Despite Voters Believing Sanders is More Honest
A new poll shows Democratic voters favor former Vice President Joe Biden by almost 20 percent over Senator Bernie Sanders for the presidential nomination, although a larger number believe Sanders is honest.
The poll released Monday by Quinnipiac University showed Biden with 54 percent support among Democrats and independents who lean Democratic, compared to only 35 percent for Sanders. A full 92 percent of Democrats believed Sanders is honest, while only 84 percent said the same of Biden.
However, Biden was viewed as more electable than Sanders. Although 80 percent of Democrats and independents who lean Democratic believed that Biden was either likely or somewhat likely to beat President Donald Trump in November, only 61 percent were confident that the same was true of Sanders.
Biden's campaign has completed a remarkable turnaround over the last week. Dominant performances on Super Tuesday were likely boosted by a blowout win in South Carolina days earlier, along with last minute endorsements from former candidates including Sen. Amy Klobuchar and former South Bend, Indiana Mayor Pete Buttigieg.
As of Monday, Biden had 661 pledged delegates with 573 for Sanders, although some votes were yet to be counted in the California primary, which could slightly narrow the gap. A total of 1,991 delegates are needed to win the nomination outright.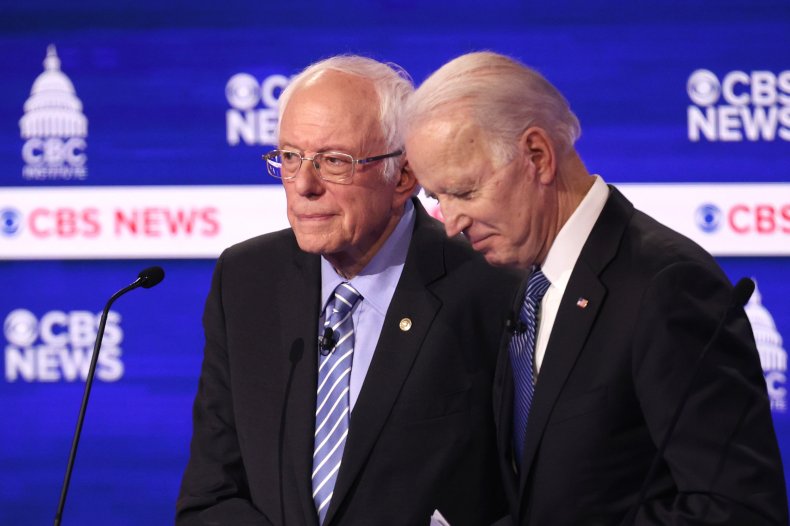 The next phase of the race begins Tuesday, when six states vote in nominating contests. Recent polling in the states has been largely positive for Biden, who some experts believe could soon build an insurmountable lead over Sanders.
Despite respondents in Monday's poll believing Sanders to be more honest, Biden was ahead on overall favorability. The poll found Biden with 77 percent favorability among Democrats and those who lean Democratic, compared to 71 percent favorability for Sanders. Those who found Biden unfavorable numbered 13 percent, with 17 percent for Sanders.
The poll saw Biden with a 52 percent to 41 percent lead over Trump among all voters in a hypothetical general election matchup. Sanders also beat Trump, but by the smaller margin of 49 percent to 42 percent.
Respondents were also asked about Trump's handling of the ongoing coronavirus crisis. Republicans who approved of the president's handling of the virus were 87 percent, while 83 percent of Democrats disapproved. Opinions were similarly polarized in Trump's overall job approval numbers, with 89 percent of Republicans approving and 95 percent of Democrats disapproving.
The poll was conducted from March 5 to 8 and surveyed 1,261 registered voters across the U.S. via cell phones and landlines. It has an overall margin of error of 2.8 percent. Democrats and Democratic-leaning Independents surveyed numbered 559, carrying a margin of error of 4.2 percent.
Newsweek reached out to the Sanders campaign for comment but did not receive a response in time for publication.