Biden Leads Trump by 12 Points—His Win Would Be First Defeat of a Sitting President in 28 Years
Polls give former Vice President Joe Biden a very good chance at winning November's election, and if he does, Donald Trump will be the first president since President George H.W. Bush to fail to win re-election.
Historically, it hasn't been easy for a candidate to defeat a sitting president: It's happened only five times in the past 100 years. Democrats ousted Republican presidents four of those times, the most recent being in 1992 when Bill Clinton beat Bush.
Bush once held the highest approval rating in Gallup's history, but an economic downturn, including a rise in unemployment, and race riots in Los Angeles after the acquittal of police officers who beat motorist Rodney King helped drag down his approval rating to 29 percent in July 1992. It was the lowest point of his presidency.
Although Bush experienced an increase in his approval rating after the Republican Convention, Clinton was ahead by 19 percentage points in mid-August of that year, according to Gallup. Three months later, Clinton won the election with 43 percent of the popular vote.
Fast-forward to mid-August of the 2020 presidential race. Biden holds a 12 percentage point lead over Trump, a Washington Post/ABC News poll reports. The poll, released Monday, found 53 percent of respondents would cast their ballot for Biden and 41 percent would vote for Trump.
The May 25 death of George Floyd after a Minneapolis officer knelt on his neck fueled nationwide protests calling for police accountability and reform. A majority of American adults were sympathetic to people who were protesting, according to a June survey from Reuters, and more than 55 percent disapproved of how Trump was handling the demonstrations.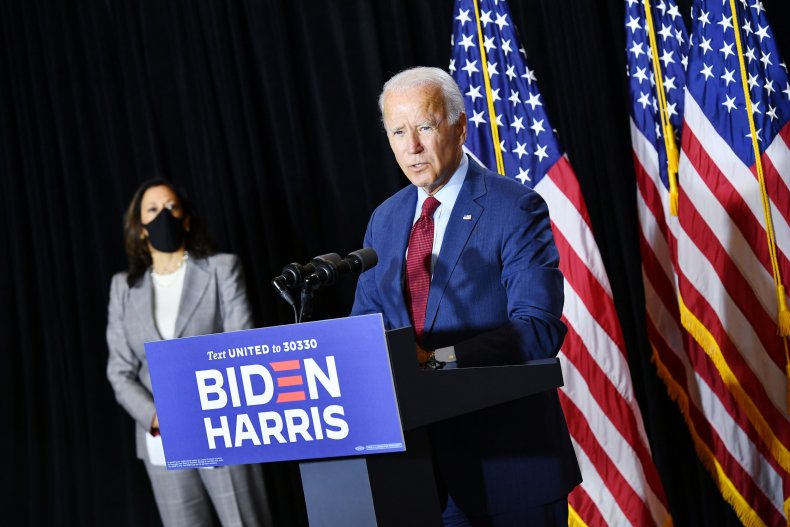 Like Bush, Trump has taken a firm stance against protests that at times have turned violent, pushing back against what the White House calls anarchy and promoting a need to restore order in the nation. Back in 1992, Bush's approval rating for his handling of the Los Angeles riots was 43 percent among white people and 66 percent among Black people, according to a New York Times/CBS News poll.
Also like Bush, Trump has had to campaign for re-election amid rising unemployment. Although the 1990 and 1991 recession was relatively short-lived, unemployment peaked in 1992, reaching 8.1 percent, according to the Pew Research Center.
Nearly 30 years later, unemployment hit post–Great Depression record highs in April as businesses were shut down to curb the spread of the new coronavirus. With businesses reopening, the unemployment rate fell to 10.4 percent in July, according to the Bureau of Labor Statistics, but millions of Americans remain out of work.
Trump, who campaigned heavily on his ability to bring jobs back to America in 2016, placed the blame on the pandemic, reminding people of the massive highs in employment the United States saw before the outbreak. A proponent of quickly reopening businesses and returning to normal life, Trump has promoted the message that a second term for his administration would be better for the economy, compared with a Biden victory.
"2016 proved that the pollsters and political class underestimated President Trump's ability to connect with the American voters, and they still haven't learned," Ken Farnaso, deputy national press secretary for the Trump campaign, told Newsweek. "In a matchup against President Trump's America First agenda and Biden's socialist manifesto, the choice couldn't be more clear—President Trump will be victorious in November."
Trump still holds on to his stronghold of supporters, and the true impact of the economic downturn on his prospects won't be known until Election Day. But there's little doubt that a poor economy is a challenge for Trump, and for three former presidents it was too much to overcome. Besides Bush's loss to Clinton, there was Ronald Reagan's defeat of President Jimmy Carter and Franklin D. Roosevelt's victory over President Herbert Hoover. Hoover, who presided over the start of the Great Depression, ran for re-election when unemployment was over 23 percent, and Carter faced Reagan when unemployment was hovering at about 7 or 8 percent.
"Conventional wisdom would say, 'It's the economy, stupid,'" Adrienne Elrod, a Democratic strategist who was senior adviser to Hillary Clinton's 2016 campaign, told the Associated Press. "If good, a president gets re-elected. If not, he loses."
A lot of attention is being paid to the current presidential election, as was the case in 1992, according to Washington Post/ABC News polls. Eighty percent of people surveyed in August said they were very or somewhat closely paying attention to the election. In July 1992, 76 percent of people polled said they were playing close attention to the presidential race.
Regardless of political party or the candidate favored, the majority of Americans consider it "very important" to vote for president in November, according to an Economist/YouGov poll. If Biden wins, it'll be the first time a challenger defeated a sitting president in 28 years.