Biden Leads Trump by 7 Points in Battleground State Wisconsin: Poll
Democratic Presidential candidate Joe Biden leads President Donald Trump by 7 points in the swing state of Wisconsin, according to polling data released by Emerson College on Thursday.
Wisconsin is considered a must-win state for Trump. Although Wisconsin had consistently voted for Democratic presidential candidates since 1988, Trump pulled out a victory in the state during his first presidential campaign. In 2016, Trump carried the state by less than 1 percentage point. Both Trump and Biden have visited Wisconsin since the shooting of Jacob Blake in August by police officers in the city of Kenosha.
If the election were held today, a majority of Wisconsin's likely voters would cast their ballots for Biden. According to the Emerson College poll, 51 percent of likely voters support Biden while 44 percent support President Trump, a difference of 8 points.
Other recent polls also place Biden ahead of the president in Wisconsin. In a poll released by Marquette Law School on Wednesday, 46 percent of registered voters said they would vote for Biden while Trump came in 6 points behind with 40 percent.
On Tuesday, the conservative-leaning Rasmussen Reports poll placed Biden ahead of Trump by 8 points. Wisconsin voters gave Biden the nod by 51 percent while President Trump garnered 43 percent.
Newsweek reached out to the Biden campaign for comment.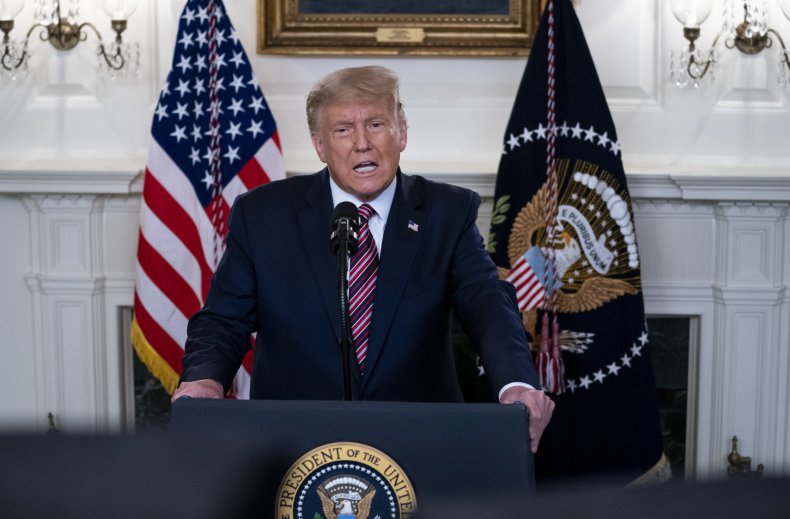 While speaking to a crowd in Oshkosh, Wisconsin in September, Trump exhorted voters to help him repeat his surprise 2016 victory in the state. "I've been here a lot," Trump said. "We won this state. We weren't expected to win this state."
Ideological differences between the two presidential campaigns surfaced during visits to Kenosha, Wisconsin by the two candidates. Biden has spoken repeatedly about the upcoming election being a "battle for the soul of America" while positioning himself as a compassionate leader. In the face of protests in many U.S. cities decrying systemic racism, including demonstrations in Kenosha, Trump has come down firmly on the side of law and order.
During his stop in Kenosha, Biden spoke with Jacob Blake and his family. "What I came away with was the overwhelming sense of resilience," Biden said during a meeting at a Kenosha church in September.
Trump's Kenosha visit occurred despite Wisconsin Governor Tony Evers's request that the president change his schedule. "I am concerned your presence will only hinder our healing," Evers wrote to the president in August. "I am concerned your presence will only delay our work to overcome division and move forward together."
Trump chose not to speak with Blake's family because they wanted their legal counsel to be present during the meeting. "I thought it would be better not to do anything where there are lawyers involved," Trump said during an August press conference. "I thought that was inappropriate."
Trump praised members of law enforcement during his Kenosha stop and blamed Democrats for spreading the "destructive message that our nation and our law enforcement are oppressive or racist."
"We have to condemn the dangerous, anti-police rhetoric," Trump added. "It's getting more and more. It's very unfair."